Las aventuras de Don Quijote de la Mancha para niños (La brújula y la veleta) (Paperback)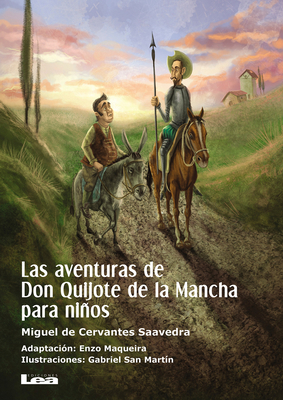 $9.95

Usually Ships in 1-5 Days
Description
---
Don Quijote is a voracious reader of chivalrous novels, those ones in which men travel on horseback across the countryside fighting giants and freeing princesses. Nothing in the stories is true, but Don Quijote doesn't know that. He's determined to become a knight-errant himself. Together with his faithful squire Sancho Panza, he'll cross the Spanish kingdom in search of adventure! This greatest classic of Spanish literature has been adapted for readers ages 9-12.

Don Quijote es un voraz lector de novelas de caballería, esas donde los hombres van a caballo por los campos, combatiendo contra gigantes y liberando princesas que fueron secuestradas por hombres malvados. Nada de lo que cuentan esas historias es cierto, pero Don Quijote no lo sabe. ¡Él mismo quiere convertirse en un valiente caballero andante! Junto con su fiel escudero Sancho Panza, recorrerá los reinos de España en busca de aventuras que lo hagan famoso, mientras suspira por el amor de su amada, la bella doncella Dulcinea del Toboso. Una adaptación para chicos de entre 9 y 12 años del mayor clásico de la literatura en español. Una obra ilustrada a todo color para lectores curiosos y aventureros.
About the Author
---
Miguel de Cervantes Saavedra's work has been translated into many languages and has been read, analyzed, and studied by aficionados all over the world.