The Way of the Leader: 25 Ideas for Leading Wisely in the Digital Age (Paperback)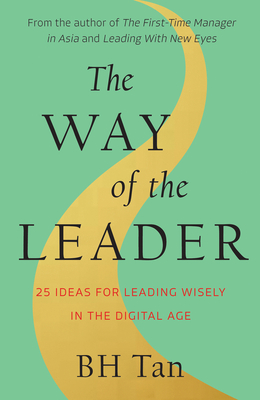 $24.95

Usually Ships in 1-5 Days
Description
---
In the history of human progress, the most fruitful developments take place at the intersection of different lines of thoughts. The timeless topic of leadership has for centuries always been dominated by the ideas and philosophies of Western thinkers, business executives and academics. For far too long, the voice from the East has been deafeningly silent. As Asia rises in the global economy, a question that begs an answer is, "What is the leadership tradition of the East and how will it play out globally?"

Leadership consultant BH Tan has written an outstanding exposition of the Asian perspective on leadership. He has drawn upon his deep appreciation of Daoist principles to propose a complementary approach to the Western-centric leadership mindset.

A lifelong student of Eastern and Western thinking and leadership, he challenges some of our most cherished truths and perspectives. "Either-or" is out. The "both-and" philosophy will lead us to a better future in this complex, chaotic yet interconnected world. This is the essence of leadership paradoxes. When we integrate both streams of thinking, we transcend contradictions and tap into greater possibilities for progress and creativity. This can only help us lead more wisely and courageously.

Each of the 25 chapters is fabulously written, easy to read, with plenty of real-life cases drawn from the author's many decades of experience working alongside leaders around the world. This is the author's third book on leadership.
About the Author
---
BH Tan is a leadership consultant, executive coach, and author specializing in leadership development in culturally diverse environments. He is president of Lead Associates, based in Singapore. Over the last 20 years, he has worked with CEOs, VPs and middle managers in Asia, the United States, and Europe to bring greater value to their organizations.
BH Tan holds a bachelor's degree in engineering and a Ph.D. in leadership studies. The author of The First-Time Manager in Asia, published by Marshall Cavendish andLeading with New Eyes, published by McGraw-Hill, he is a frequent contributor on leadership matters to training and development magazines and the business press.
Praise For…
---
"An outstanding exposition of the Asian perspective on leadership. Leaders in the East and West will benefit from BH Tan's engaging book!" — Thinkers 50 #1 Executive Coach and the only two-time #1 Leadership Thinker in the world

"BH Tan has done it again. The Way of the Leader beautifully combines modern management thinking with ancient Eastern wisdom. Each of the 25 chapters is fabulously written, easy to read, with plenty of relatable examples to help any leader to grow. My own leadership journey is already greatly enhanced, thanks to this book!" —Brian O. Underhill, PhD, PCC Founder & CEO, CoachSource, LLC

"Leadership writing has always been dominated by the ideas and thinking of Western business executives, academics and pundits. It is so refreshing to discover a book from Asia that gives us pause to challenge some of our most cherished truths and perspectives. As BH Tan puts it so powerfully, 'either-or' is out. The 'both-and' philosophy has far reaching consequences that can lead us to a better future." — Andrew Stanleick, Executive Vice President, Coty Americas

"When Nokia was acquired by Microsoft, their CEO said, 'We didn't do anything wrong, but somehow, we lost.' BH Tan's book unveils why some organizations have and may eventually experience the same downfall as Nokia. A key takeaway for me is that leaders need to continually unlearn in order to relearn. If your thoughts and mindset cannot keep pace with time, you will be eliminated." —Elaine Teo, General Manager, SEAU, Ferragamo (Singapore) Pte Ltd

"A must-have on every leader's bookshelf! BH Tan weaves together the key essentials of global leadership today. In the digital age, leaders are most effective when they embrace a paradoxical mindset. This lies at the intersection of Eastern and Western thinking." — Trishia S. Lichauco, PCC, Leadership Development Coach