The Big Bubble: How Technology Makes It Harder To Understand The World (Paperback)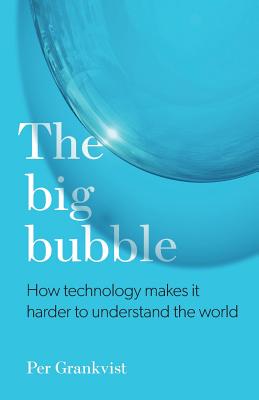 $17.99

Usually Ships in 1-5 Days
Description
---
"A sober and penetrating study of the damage done to journalism in recent years, including the scourge of "fake news." - Kirkus Reviews
Who, or what, shapes our world view? Can facts really be "alternative"? Is Google personalizing search results to each user and how does customization of news affect us? What do you really know about the algorithms that influence everyday life in a world that is increasingly digital?
In The Big Bubble, journalist Per Grankvist explores how algorithms, the changing media landscape and new methods for communication influence our perception of reality. Drawing on behavioral science, psychology and history, and his ability to make technology understandable, Mr. Grankvist helps us see our own bubble from the outside.

At once a reminder that bubbles have always existed, even offline, and a guide to popping them, The Big Bubble will change the way you think about the technology you use every day.
-
About the author: Per Grankvist is a well-known journalist and author in Sweden. He has written on the impact of digital media on politics, civic engagement and communication in some of Sweden's largest newspapers, and frequently appears on TV.
Drawing on science, psychology and history and his award-wining ability to make technology understandable, he makes digital media feel a little less overwhelming and a bit more human. Companies that have engaged Mr. Grankvist as a speaker include DHL, Coca-Cola, H&M, Nasdaq and Staples.
Mr. Grankvist has been called 'a Scandinavian Malcolm Gladwell' for his way of exploring topics and connecting seemingly unrelated and irrelevant stories that first might look unrelated, and weave them together in a way that exposes a larger context. Although Per Grankvist has written four books and several essays in Swedish, including one bestseller, The Big Bubble is his first book to be translated in English.
Mr. Grankvist lives and works in Stockholm, Sweden.