Diccionario Enciclopédico Bíblico Ilustrado (Hardcover)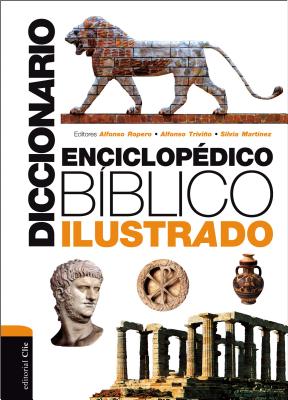 Description
---
El Diccionario enciclop dico b blico ilustrado es el m's actual, completo y til por su calidad y contenido en el que se ha conseguido integrar y combinar im genes e ilustraciones con una detallada informaci n de sus t rminos.
Basado en el contenido del Gran Diccionario Enciclop dico de la Biblia. En esta edici n, han sido seleccionadas las partes m's importantes y se presta especial atenci n a las voces clave de la Escritura, ya sea por su contenido teol gico, tico o espiritual.
Esta obra a ade diferenciaci n y valor respecto al resto de las obras del mercado, por:
La numeraci n de Strong
La traducci n literal del significado original en Hebreo-Griego-Arameo
Su contendio actualizado y ampliado, a nivel, acad mico y teol gico
Se trata de una obra acad mica, divulgativa y pedag gica capaz de satisfacer cualquier necesidad de conocimiento.
Traducci n de los t rminos originales de las lenguas b blicas (hebrero, griego u otras).
Numeraci n en correspondencia a la Concordancia de Strong.
Historia b blica y pol tica de los pueblos vecinos y contempor neos.
Arqueolog a y geograf a. Pa ses, regiones, valles, montes, r os y desiertos: interpretaci n y distintas acepciones de su significado.
Flora y fauna. Animales y plantas mencionadas tanto en sentido natural como simb lico.
Personajes principales y secundarios. Atenci n especial a los m's significativos por su acci n o su relevancia en la historia de la salvaci n.
Doctrina y teolog a. An lisis breve, pero completo, de las ideas y corrientes del pensamiento desde sus or genes hebreos hasta los d as apost licos.
Hermen utica. Informaci n de los m todos de interpretaci n b blica utilizados por los jud os y los cristianos primitivos. Introducci n y rese a de cada libro b blico.
Costumbres y religi n. Alimentos de los tiempos b blicos, ceremonias nupciales, fiestas religiosas, culto, juegos, oficios, agricultura, ganader a, ropa y vestuario.
Visi n can nica de la historia b blica. Estudio del origen y desarrollo de las ideas y creencias jud as a partir de los estratos m's antiguos del Antiguo Testamento y su recepci n en el cristianismo del Nuevo Testamento.
Ilustrado con m's de 500 fotograf as, ilustraciones y gr ficos a todo color.
M's de 50 mapas a color.
Referencias cruzadas entre palabras y art culos relacionados entre's .
Rotulado alfab tico lateral para la localizaci n r pida y sencilla de la informaci n.
Biblical Encyclopedic Dictionary Illustrated
Based on the contents of the Gran Diccionario Enciclop dico de la Biblia. This edition is a selection of the most important components, giving special attention to key voices of Scripture, whether by its theological, ethical or spiritual content.