La amiga estupenda. Novela gráfica basada en el libro de Elena Ferrante / My Bri lliant Friend (Graphic Novel) (Paperback)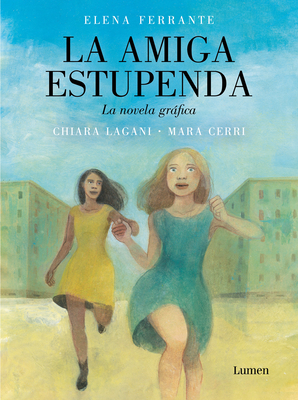 $28.95

Usually Ships in 1-5 Days
Description
---
La esperada adaptación gráfica de la aclamada novela de Elena Ferrante, que ha cautivado a más de veinte millones de lectores.

Esta historia comienza en un barrio pobre de las afueras de Nápoles, en los años 1950, con dos niñas tomándose de la mano para encontrar el valor para enfrentarse al temible Don Achille. Un gesto que marcará la vida de ambas, que se mantendrán unidas hasta la misteriosa desaparición de una de ellas: su último intento de borrar todo rastro.
 
Mara Cerri y Chiara Lagani aúnan fuerzas en esta adaptación gráfica para dar nueva vida a Lila y Lenù, dos personajes que son ya historia de la literatura. «Más inquietante y onírica que la novela» (L'Essenziale), las dos artistas consiguen iluminar desde nuevos ángulos la obra más icónica de Elena Ferrante, una joya de las letras contemporáneas que ha encandilado a millones de lectores de todo el mundo.

ENGLISH DESCRIPTION

Elena Ferrante's New York Times bestselling masterpiece, My Brilliant Friend, book one of her Neapolitan Quartet, that has captivated more than twenty million readers, is now an extraordinary, visually vibrant graphic novel.

HBO's four-season TV adaptation of My Brilliant Friend has enjoyed success with critics and viewers in the U.S.; the novel has been adapted for the stage and radio plays. Here, for the first time, it is brought to vivid life as a graphic novel by one of Italy's most beloved illustrators.
 
This story begins in a poor but vibrant neighborhood on the outskirts of Naples in the 1950s, with two girls holding hands to find the courage to face the terrifying Don Achille. A gesture that will mark both their lives, as they stay together until the mysterious disappearance of one of them: their last attempt to erase all traces.
 
Mara Cerri and Chiara Lagani join forces in this graphic adaptation to give new life to Lila and Lenù, two characters who already have a historic place in literature. The two artists manage to shed light from new angles to Elena Ferrante's most iconic work, a jewel of contemporary literature that has dazzled millions of readers around the world.
About the Author
---
MARA CERRI nació en Pésaro en 1978. Es autora de los libros ilustrados Via Curiel 8 y A una stella cadente, del cómic Dietro di te, y de la historia «Procreare» dentro del libro Cinque, de Giovanni Truppi. También ha ilustrado distintas obras, entre las que destacan La muñeca olvidada de Elena Ferrante, Il nuotatore de Paolo Cognetti, La Pantera sotto il letto de Andrea Bajani, E non mi fermo de Albino Pierro, Il segreto, en colaboración con Nadia Terranova, y Los libros de Oz de Frank Baum, traducidos y contados por Chiara Lagani, con quien los llevó al teatro. En colaboración con Magda Guidi, estuvo detrás del corto animado Via Curiel 8 (ganador de la sección Corti Italia del Torino Film Festival 2011, el Premio della Giuria y el Premio Arte France del Festival de Animación de Annecy), los documentales Ferrante Fever y Samouni Road, y Sogni al campo. También ha dibujado carteles de películas, incluyendo Lazzaro felice de Alice Rohrwacher. La amiga estupenda (Lumen, 2023), la versión gráfica de la novela de Elena Ferrante, es su última obra.

CHIARA LAGANI nació en Ravenna en 1974. Actriz, dramaturga y traductora, compone textos teatrales y adapta textos poéticos y literarios. En 1992 fundó en Rávena la compañía de teatro Fanny & Alexander con Luigi De Angelis, de la cual es directora artística y con la cual ha llevado a cabo proyectos como Ada o el ardor, de Vladimir Nabokov; el ciclo de espectáculos inspirados en el El maravilloso Mago de Oz; el proyecto Discorsi sulla retorica pubblica y, más recientemente, el espectáculo Storia di un'amicizia, inspirado en la tetralogía de La amiga estupenda de Elena Ferrante. En 2017 ganó el Premio Riccione Speciale para la innovación dramatúrgica y en 2018 le dedicaron una retrospectiva en el Riccione TTV Festival. Junto con Elio Germano escribió el espectáculo La mia battaglia, un monólogo dedicado a la manipulación del público en el discurso político. Recientemente ha editado y traducido los catorce Libros de Oz de Frank Baum, ilustrados por Mara Cerri. La amiga estupenda (Lumen, 2023), la versión gráfica de la novela de Elena Ferrante, es su última obra.