Como en casa de mamá: Las mejores recetas de la cocina casera / Like At Mom's Ho use (Paperback)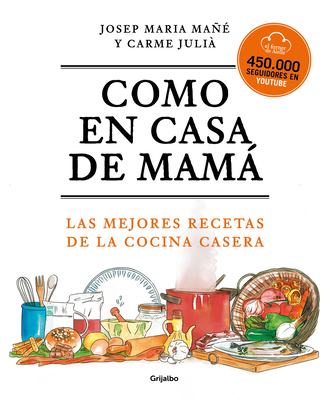 $24.95

Usually Ships in 1-5 Days
Description
---
Disfruta de la buena cocina como en casa de mamá:
100 recetas perfectas para compartir con los tuyos

Los sabores y aromas de los platos cocinados por madres y abuelas forman parte de nuestra memoria y nos evocan momentos felices. Para aquellas personas que deseen revivirlos, este libro les explica de una manera muy sencilla y paso a paso cómo preparar arroces y ensaladas, sopas y guisos, deliciosos postres e incluso maravillosos panes. Auténtica cocina casera al alcance de todos.

Josep Maria y Carme, con una amplia experiencia en el mundo de la pastelería y la restauración, ya han compartido sus recetas familiares con casi medio millón de seguidores en su canal de YouTube, «El Forner de Alella», y reúnen aquí 100 platos imprescindibles, variados y sabrosos.

Un libro bellamente ilustrado que evoca el recetario de nuestra madre y que hará feliz...
a quien cocina todos los días,
a quien se inicia en los fogones
y a quien desea seguir disfrutando de la buena cocina como en casa de mamá.

De los buñuelos de bacalao a las croquetas de jamón, del salmorejo a las lentejas estofadas, del arroz de calamares a la lubina al horno pasando por las clásicas torrijas y la mousse de limón, las recetas de Como en casa de mamá te permitirán servir los platos más celebrados de la cocina de toda la vida. Un recetario práctico, sencillo y que cuenta con una gran variedad de ingredientes, que te resolverá no solo las comidas de diario sino también las de los días de fiesta.

Tanto si eres una persona con buena mano para la cocina como si te inicias en los secretos de los fogones, este libro (concebido como los recetarios que las familias se pasan de generación a generación) está lleno de ideas y propuestas para organizar un menú semanal saludable, rememorar la cocina de siempre en una ocasión especial o descubrir platos tradicionales de toda nuestra geografía. Además, también encontrarás un apartado con recetas para elaborar tu propio pan y otro con algunos menús para las fechas más señaladas de nuestro calendario, con platos deliciosos y sencillos que dejarán boquiabiertos a tus invitados.

100 recetas perfectas para compartir con los tuyos y saborear juntos la mejor cocina casera.

ENGLISH DESCRIPTION

Enjoy good cooking like at mom's house: 100 perfect recipes to share with your loved ones.

The flavors and aromas of the dishes cooked by mothers and grandmothers are part of our memory and evoke happy moments. For those who want to revive them, this book explains in a very simple, step-by-step way how to prepare rice and salads, soups and stews, delicious desserts and even wonderful breads. Authentic home cooking available to everyone.

Josep Maria and Carme, with extensive experience in the world of pastry and catering, have already shared their family recipes with almost half a million followers on their YouTube channel, "El Forner de Alella," and here they gather 100 essential dishes, varied and tasty.
A beautifully illustrated book that evokes our mother's own cookbook and that will make those happy...

who cook every day,

who start in the kitchen

and those who want to continue enjoying good cuisine like at mother's house.

From cod fritters to ham croquettes, from salmorejo to stewed lentils, from squid rice to baked sea bass, to classic French toast and lemon mousse, the recipes from Like At Mom's House  will allow you to serve the most celebrated dishes of the kitchen. A practical, simple recipe book that has a great variety of ingredients, which will solve the question of what to serve not only for your daily meals but also holiday meals.

Whether you are a person with talent in the kitchen or if you are just starting out, this book (conceived from the cookbooks that families pass from generation to generation) is full of ideas and proposals to organize a healthy weekly menu, recall the traditional cuisine for special occasions, or discover traditional dishes from all over our world. In addition, you will also find a section with recipes to make your own bread and another with menus for the most important dates on our calendar, with delicious and simple dishes that will leave your guests speechless.
100 perfect recipes to share with your loved ones and together savor the best home cooking.




About the Author
---
Josep Maria Mañé y Carme Julià regentaron durante cuarenta años una panadería y pastelería y también un restaurante. Ya jubilados, y jugando un día con sus nietos, descubrieron que las recetas que grababan desde la cocina de su casa y que subían a YouTube se convertían en un auténtico fenómeno viral. Su vídeo del pollo a la cerveza, por ejemplo, cuenta con más de 5.000.000 millones de visualizaciones. Y así nació El Forner de Alella, un blog a través del que divulgan la mejor cocina casera de forma práctica y desenfadada con una extraordinaria simpatía que ya ha cautivado a más de 400.000 seguidores en todo el mundo en su canal de Youtube.