Diccionario Enciclopédico Bíblico Ilustrado Clie (Hardcover)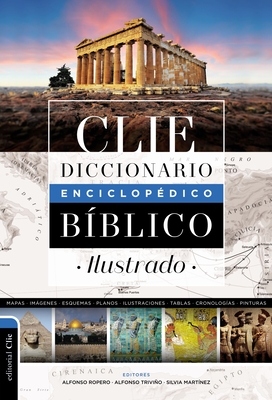 $49.99

Usually Ships in 1-5 Days
Description
---
La nueva edici n del Diccionario enciclop dico b blico ilustrado ha sido actualizada para su edici n del 2021. Cuenta con las aportaciones acad micas de las ciencias b blicas m's recientes, diferenci ndolo de otros Diccionarios incluyendo el formato ePub del Diccionario manual b blico totalmente gratis.
El Diccionario enciclop dico b blico ilustrado es el m's actual, completo y til por su calidad y contenido en el que se ha conseguido integrar y combinar im genes e ilustraciones con informaci n detallada de sus t rminos. Incluye:
Traducci n de los t rminos originales de las lenguas b blicas.
Numeraci n en correspondencia a la Concordancia de Strong.
Historia b blica y pol tica de los pueblos vecinos y contempor neos.
Arqueolog a y geograf a. Pa ses, regiones, valles, montes, r os y desiertos.
Flora y fauna. Animales y plantas mencionadas tanto en sentido natural como simb lico.
Personajes principales y secundarios. Atenci n especial a los m's importantes por su acci n o su relevancia en la historia de la salvaci n.
Doctrina y teolog a.
Hermen utica.
Costumbres y religi n.
Visi n can nica de la historia b blica. Estudio del origen y desarrollo de las ideas y creencias jud as.
Ilustrado con m's de 500 fotograf as.
M's de 50 mapas a color.
Referencias cruzadas.
Rotulado alfab tico.
Cualquier lector aprovechar esta obra para informarse de un modo general o para formarse a un nivel detallado y profundo.
Illustrated Biblical Encyclopedic Dictionary
The 2021 edition of the Illustrated Encyclopedic Bible Dictionary is the most detailed and up to date illustrated Bible dictionary available. It also includes a free digital edition of the Manual Bible Dictionary.
The Illustrated Encyclopedic Dictionary of the Bible is current, complete and useful. Its quality content integrates and combines images and illustrations with detailed information on each term. It is an academic, informative, and pedagogical work capable of satisfying even the deepest thirst for knowledge.
Features include:
Translation of the original terms of the biblical languages (Hebrew, Greek, and others).
Numbering in correspondence to Strong's Concordance.
Biblical and political history of neighboring and contemporary peoples.
Archeology and geography. Countries, regions, valleys, mountains, rivers and deserts: interpretation and different meanings of their names.
Illustrated with more than 500 photographs, and full color graphics.
More than 50 color maps.
Cross references between words and related articles.
And more
Any reader will benefit from this seminal work.