Reiki Healing for Beginners: Improve Your Health, Increase Your Energy and Raise Your Vibration (Paperback)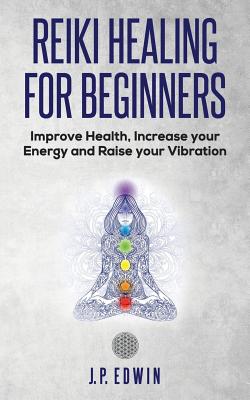 $12.99

Usually Ships in 1-5 Days
Description
---
"Reiki is the greatest secret in the science of energetics." - Madam Hawayo Takata
- Why do you fight your life? - We all have the ability to heal ourselves.
You might not realize how much energy you lose in your everyday life. Energy is drained from you without ever regenerating, causing depression, stress, anxiety, physical and mental affliction.
You feel empty, alone, exhausted.
This emptiness leads to conditions such as chronic pain, heart disease, infertility, fatigue and many more terrible illnesses.
In order to heal, one should treat the cause, not the symptoms.
You must first realize that everything comprises energy. Yet energy is nothing without form, without pattern. You are the one who gives the energy its meaning.
Remember Einstein's words? - "Energy cannot be created or destroyed, it can only be changed from one form to another."
Reiki is a way of relaxing completely - guiding your energy, changing it, improving its flow through your body and removing blocks that cause pain and tension.
Practicing Reiki will raise your vibration and naturally improve not only your health, but every other aspect of your life.
This practice relaxes you into the deep silence, to feel the universal life energy that keeps you alive. In this deep silence there is a sacred space where everything is possible, where a healing takes place.
This unique method of increasing energy and raising vibration has been around for thousands of years, but as many other ancient secrets, Reiki was almost forgotten. But this knowledge is too precious to be ever lost.
In this book you will discover:
● The science of Reiki: how to restore the balance of internal energy;
● The ways of dealing with negative energies and stresses of the world;
● How to do Reiki on Yourself: Physical, mental and emotional healing;
● Connecting with Reiki Energy, Setting Your Intention;
● Healing Others Using Reiki;
● Additional Therapies to Use with Reiki: Crystal therapy, Yoga, Meditation;
No more hesitation: Use this healing guide to advance your Reiki practice, heighten your spiritual connection to the world around you and connect to the healing energies of the universe.