100 Jugos para mejorar tu vida (Paperback)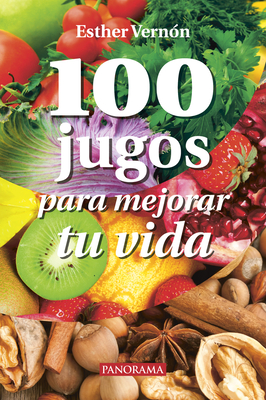 $12.00
Email or call for price
Description
---
Being in good health and maintaining a high quality of life are goals that most people tend of have. The World Health Organization (WHO) suggest the consumption of fruits and vegetables rich in nutrients for the body to function properly. In 100 jugos para mejorar tu vida, Esther Vernón offers a plan of 5 daily servings of fruit and vegetables through smoothies. The raw processing of these foods guarantee the true nutritional content such as vitamins, minerals, and fiber. This book brings together one hundred recipes to prepare juices for anti-aging, slimming, detoxifying, and to strengthen hair, skin, and nails. The recipes in this book will help improve your physical, psychological, and emotional state.
 
Gozar de buena salud y mantener la buena calidad de vida son propósitos que la mayoría de las personas deseamos cumplir. La Organización Mundial de la Salud (oms) sugiere el consumo de frutas, verduras y hortalizas ricos en nutrientes para el buen funcionamiento del organismo. En 100 jugos para mejorar tu vida, Esther Vernón ofrece un plan de ingesta diaria de cinco porciones de jugos y licuados vegetales. El procesamiento en crudo de estos alimentos garantiza una verdadera nutrición de los órganos y sistemas del cuerpo, ya que aportan vitaminas, minerales, fibra y agua. Este libro reúne cien recetas para preparar jugos antienvejecimiento, para nutrir la piel, las uñas y el cabello, jugos desintoxicantes, adelgazantes, revitalizadores, antibióticos y virales, entre otros. Como un complemento de la alimentación, con el consumo de estos jugos y licuados vegetales mejorarás tu condición física, psicológica y emocional.
About the Author
---
Esther Vernon had a taste for a healthy and balanced diet, which led her to begin creating easy and delicious recipes loaded with fruits and vegetables as the main ingredients. Over the years, she has witnessed the benefits of these healthy drinks as her own health has improved.