Mexiconario / Mexiconary (Paperback)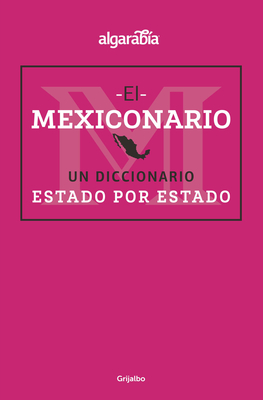 $14.95
Email or call for price
Description
---
Un diccionario ilustrado y lleno de humor que compila palabras y expresiones de todos los rincones del país, para mostrar la riqueza idiomática de cada región de México.

Mucho se ha dicho sobre la riqueza cultural, geográfica, biológica y hasta gastronómica de nuestro país, y si bien somos más o menos conscientes de ella, la verdad es que pocas veces podemos experimentarla en todo su esplendor.

En el caso de la riqueza lingüística, ¿qué tanto conocemos realmente? ¿Podríamos viajar a cualquier región del país y entendernos de forma fluida con cualquier persona? Para poner a prueba nuestros conocimientos y ayudarnos a comprendernos mejor (así como para pasar un buen rato de risas y diversión), Algarabía ofrece a los lectores este compendio de frases, dichos, refranes, expresiones y palabras típicas de todos los estados de la República.
 
ENGLISH DESCRIPTION

An illustrated and humorous dictionary that compiles words and expressions from all corners of the vast country that is Mexico, to show the idiomatic wealth of each region.

Much has been said about Mexico's cultural, geographical, biological, and even gastronomic richness, and although people are more or less aware of it, the truth is that it is rarely enjoyed in all its grandeur.
 
In the case of linguistic richness, how much do we really know? Could we travel to any region of the country and understand each other fluidly? To test our knowledge and help us understand each other better (as well as to have a little bit of fun), Algarabía offers readers this compilation of phrases, sayings, colloquialisms, expressions, and words representative of each state in Mexico.
About the Author
---
En Algarabía editorial hablamos sobre lo que todos hablan y escribimos de lo que nadie escribe, pero con jiribilla, algarabía e ingenio. Porque la cultura no sólo está dentro de las bibliotecas, museos, galerías o salas de conciertos, también está gestándose en las calles de nuestras ciudades; en los modos de hablar, de comer y de beber; en el gusto o el disgusto por lo cotidiano; en las máximas populares, la psicología de todos los días, las leyendas urbanas y los datos curiosos; en la ciencia, las idiosincrasias regionales o nacionales, y el más allá. Por todo esto, en Algarabía editorial cabe lo que no cabe en otras partes, pero eso sí, siempre y cuando sea tratado de un modo inteligente, claro y humorístico.

María del Pilar Montes de Oca Sicilia (Ciudad de México), directora de Algarabía y egresada de la Universidad Nacional Autónoma de México, es lingüista de profesión y de vocación, una apasionada del lenguaje y fanática de los diccionarios: «Es mi vida, mi ocupación diaria, mi inversión biográfica». Es profesora de gramática, lingüística y semiótica, y ha escrito varios libros, entre ellos: El Chingonario, El manual para escribir bien, De todo excepto feminismo y De pura lengua: reflexiones sobre la lengua, nosotros y el mundo. Ha sido compiladora de Mitos de la lengua y Manual para mandar a la chingada. Es conferencista de temas relacionados con la antropología y el lenguaje.