Fun Home / Spanish Edition (Paperback)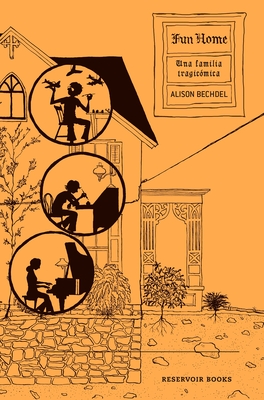 for information about purchasing this book, please contact orders@bookpassage.com
Description
---
Una familia tragicómica, el exitoso relato de maduración de Alison Bechdel, que ha sido calificado de "proeza de retrato familiar" y de "raro y original ejemplo de por qué las novelas gráficas han dado que hablar en la literatura americana". Fun Home fue nombrado Mejor libro del año por Time, The New York Times y People. El padre de Alison es un profesor de inglés obsesionado por restaurar con antigüedades su casa victoriana y es dueño de una vieja funeraria. En consonancia con la frialdad de su entorno, es un padre distante y tiránico que mantiene en secreto su verdadera inclinación sexual. A través de esta narrativa gráfica, cómica y desoladora, nos acercamos a los complejos de Alison, que lucha en soledad por encontrar su lugar en el mundo y redimir su precaria relación familiar.

La crítica ha opinado:

"Fun Home debe ser el trabajo más ingeniosamente elaborado y un ejemplo de prolija elocuencia biográfica [...] una obra pionera del género" -The New York Times-

ENGLISH DESCRIPTION

Through narrative that is alternately heartbreaking and funny, readers are drawn into a daughters complex yearning for her father. Apart from assigned stints dusting caskets at the family-owned "fun home," the relationship achieves its most intimate expression through the shared code of books.
About the Author
---
Alison Bechdel nació en Pennsylvania en 1960. Hija de profesores, su familia también era propietaria de una funeraria. En 1981 se graduó y se mudó a Nueva York. Desde su debut en 1983 con su tira cómica Unas lesbianas de cuidado, Alison Bechdel se convirtió en una institución contracultural. La revista Utne considera su trabajo "uno de los mayores hitos del siglo veinte". Además de su tira cómica, Bechdel ha hecho trabajos exclusivos para varias publicaciones, incluyendo Ms., Slate, The Advocate, y otros periódicos, páginas web, libros de cómic y fanzines. Alison Bechdel ha cosechado éxitos de ventas y reconocimiento crítico; cabe citar: nominación al National Book Critics Circle Award 2007, mejor novela gráfica de 2006 según Entertainment Weekly, número uno de ventas en Time, mejor debut de novela gráfica en 2006 según Salon.com, en la lista de los 100 mejores libros de 2006 de The New York Times, en la lista de los 10 mejores libros de 2006 de New York Magazine , y en la lista de los 10 mejores libros de 2006 en el Times de Londres, entre otros. En 2006, la prestigiosa editorial neoyorquina Houghton Mifflin publicó Fun Home.