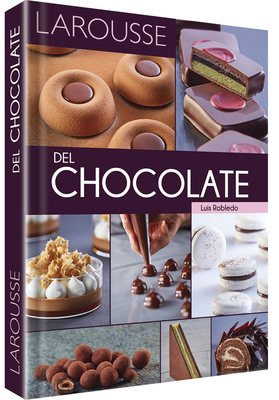 for information about purchasing this book, please contact orders@bookpassage.com
Description
---
"El libro está dividido en dos apartados: Del cacao al chocolate y Recetas. • En el primer apartado se abordan temas que ahondan en el cacao como materia prima para la elaboración del chocolate. El lector encontrará información sobre el origen, las características botánicas y las variedades de cacao; la historia del cultivo y consumo del cacao en Mesoamérica y Europa; el proceso de transformación del cacao en chocolate y el estado del cultivo y la producción actual a nivel mundial; asimismo, conocerá sobre los distintos tipos de chocolate y productos derivados del cacao, así como las técnicas básicas para trabajar este ingrediente. • El segundo apartado se compone de 70 recetas de repostería elaboradas con chocolate como ingrediente de base; éste se divide a su vez en cuatro secciones: Bombones y confitería, Helados, mousses y cremas, Galletas y panecillos individuales y Pasteles y tartas. • La propuesta de recetas de Luis Robledo es contemporánea y apuesta por el uso de ingredientes frescos y naturales, así como la aplicación de técnicas de vanguardia. Encontrará recetas para elaborar bombones con una gran variedad de rellenos, macarrones, trufas, helados, distintos tipos de mousses, pasta para untar, panes dulces, como cupcakes, madeleines, financiers y panes de chocolate, galletas, pasteles para compartir o individuales y tartas. El Larousse del chocolate es un libro de referencia único en el mercado por la precisión con la que se explica la información, lo cual lo convierte en una obra de consulta necesaria para todo aquel que se interese en el tema. Todas las recetas incluyen instrucciones sencillas y detalladas, una lista del equipo y los utensilios necesarios para elaborarlas y una bella foto del producto final. Algunas de las recetas se ilustran paso a paso para facilitar al lector su elaboración. El libro incluye también técnicas y decoraciones ilustradas paso a paso, así como algunos consejos para la confección de productos de repostería con chocolate. El lector encontrará también información clara y práctica sobre términos y utensilios utilizados en chocolatería, así como recetas, técnicas y decoraciones básicas ilustradas paso a paso. Incluye cinco vínculos a videos de recetas explicadas por el autor, que el lector podrá descargar mediante códigos QR desde un dispositivo inteligente."
 
This book is divided in two parts: the process of turning cacao to chocolate and chocolate recipes. Readers will learn about the origin of cacao, botanical varieties, and the history of cultivation and consumption. 70 recipes where chocolate is the base ingredient are also included. This unique reference book features cutting edge techniques in addition to step-by-step instructions so a variety of levels can create their own chocolate masterpieces.
About the Author
---
Luis Robledo is a Mexican chocolate chef with over 20 years of experience. He is the owner of Tout Chocolat, a high-end artisanal chocolate shop located in one of the busiest areas in Mexico City for its contemporary and avant-garde culinary offer. He has appeared on the list of Top Ten Chocolatiers in North America.