Un libro para renacer cada día (Paperback)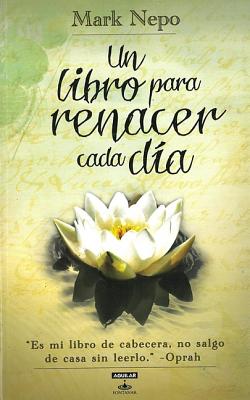 Description
---
Un libro profundamente espiritual con un pensamiento diario, tejido a partir de la propia historia de humanidad y sabiduría del autor, quien es sobreviviente de cáncer. Una serie de reflexiones que cada día sirven como una guía para un viaje hacia el alma. Cada entrada se acompaña con una práctica que nos ayuda a entender y atender el llamado para despertar la mente y el corazón.
Es un libro que se puede convertir en un compañero, en un amigo del alma. Es, de hecho, un libro de despertares. Para escribirlo, explica el autor, ha tenido que vivir, en el sentido que va más allá de la literalidad de la palabra.
"Me ha dado la oportunidad de reunir y compartir la sabiduría de los maestros que he conocido en toda mi vida. El viaje de desenterrar y dar forma a estas entradas me ha ayudado a traer a mi vida interior y exterior más estrechamente. Me ha ayudado a conocer y usar mi corazón. Espero que pueda ser una herramienta para quienquiera que lo lea", explica Nepo.
Una obra que se convertirá en un soneto espiritual de nuestra época, un recipiente lleno de pequeñas dosis de lo que en verdad importa en la vida.

ENGLISH DESCRIPTION

An Oprah's Ultimate Favorite Things for 2011. Given to Oprah Winfrey as a birthday gift, she does one lesson from the book every morning: "If we do it all together, we can begin to open our hearts, change the world and begin to have the life you want by being present to the life you have now," she says. Philosopher-poet and cancer survivor, Mark Nepo opens a new season of freedom and joy. Reading his poetic prose is like being given second sight, exposing the reader to life's multiple dimensions, each one drawn with awe and affection. An inspiring work, The Book of Awakening is the result of his journey of the soul, offering insight on pain, wonder and love. Nepo speaks of spirit and friendship, urging readers to stay vital and in love with this life, no matter the hardships. Each entry is accompanied by an exercise that will surprise and delight the reader in its mind-waking ability.