Personas Decentes (Paperback)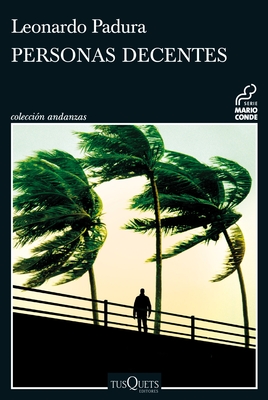 $24.95

Usually Ships in 1-5 Days
Description
---
La mejor de las novelas de Mario Conde: el asesinato de un exdirigente cubano en el momento de m xima efervescencia en Cuba con la visita de Barack Obama.
La Habana, 2016. Un acontecimiento hist rico sacude Cuba: la visita de Barack Obama en lo que se ha llamado el Deshielo cubano --la primera visita oficial de un presidente estadounidense desde 1928--, acompa ada de eventos como un concierto de los Rolling Stones y un desfile de Chanel, ponen patas arriba el ritmo de la isla. Por eso, cuando un exdirigente del Gobierno cubano aparece asesinado en su apartamento, la polic a, desbordada por la visita presidencial, recurre a Mario Conde para que eche una mano en la investigaci n. Conde descubrir que el muerto ten a muchos enemigos, pues en el pasado hab a ejercido de censor para que los artistas no se desviaran de las consignas de la Revoluci n, y que hab a sido un hombre d spota y cruel que hab a acabado con la carrera de muchos artistas que no hab an querido plegarse a sus extorsiones. Cuando unos d as despu's se encuentra un segundo cad ver asesinado con el mismo m todo, Conde deber descubrir si las dos muertes est n relacionadas y qu hay detr's de estos asesinatos.
A esa trama, se suma una historia que escribe el protagonista, situada un siglo antes, cuando La Habana era la Niza del Caribe y se viv a pensando en el cambio inminente que producir a el cometa Halley. Un caso de asesinato de dos mujeres en La Habana Vieja destapa la lucha abierta entre un hombre poderoso, Alberto Yarini, refinado y de buena familia, capo de los negocios de juego y de prostituci n, y su rival Lotot, franc's, que le disputa la preeminencia. El desarrollo de esos hechos hist ricos tendr conexi n con la historia del presente de un modo que ni el propio Mario Conde sospecha.
ENGLISH DESCRIPTION
La Habana, Cuba, 2016. Barack Obama's visit, which people are calling the "Cuban thaw", is the first official visit of a US president since 1928 and, along with a Rolling Stones concert and a Chanel fashion show, has turned the island's rhythm upside down. That is why, when an ex Cuban government leader is found assassinated in his apartment, the police call upon detective Mario Conde to help out with the investigation. Conde will discover that the victim had a lot of enemies because he was a cruel despot who censored artists for not sticking to the Revolution's slogans and ruined many careers. Days later a second body is found under similar circumstances and Conde will have to find out if the two murders are linked. This plot will also intertwine with a story, written by the protagonist, that takes place in the past: back when Habana was the Nice of the Caribbean and the Halley comet promised change. A case of two murdered women in Old Havana uncovers the open fight between a powerful man, Alberto Yarini, a wealthy and refined business lord dealing in gambling and prostitution, and his rival Lotot, a Frenchman who disputes his preeminence.