The Compact Nelson Japanese-English Character Dictionary (Abridged / Paperback)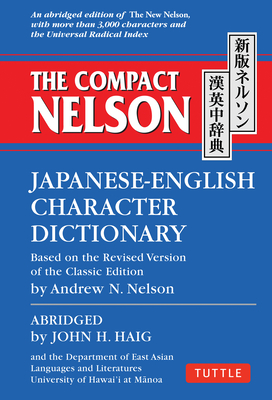 $19.95

Usually Ships in 1-5 Days
Description
---
"This new compilation offers many advantages...As an example of a book design, little more could be asked of this volume."--
Harvard Journal of Asiatic Studies
The Compact Nelson
is an abridged edition of the revised
New Nelson Dictionary
, Dr. Andrew N. Nelson's award-winning classic work. An invaluable guide for learning Japanese, this kanji dictionary has the following features:
3,068 main character entries and more than 30,000 character compounds--all the Japanese characters and compounds needed for everyday use.
The Universal Radical Index (URI) which permits the user to look up a character based not only on the main radical but any radical found in the character. This is the most thorough and reliable index for novice users.
Cross-referencing with the Japan Industrial Standard (JIS) code and Morohashi's Dai Kanwa Jiten
Definitions have been modernized to reflect current usage and translation.
This revised editions is updated with additional characters, contemporary definitions, and an innovative radical index system. It sets new standards of excellence, easy-of-use, and reliability for Japanese language reference tools. This edition keeps pace with the evolution of the Japanese language and remains an indispensable tool for students and scholars of Japanese.
About the Author
---
John H. Haig is a professor of Japanese in the Department of East Asian Languages and Literatures at the University of Hawaii at Manoa.