20 Recipes Kids Should Know (Hardcover)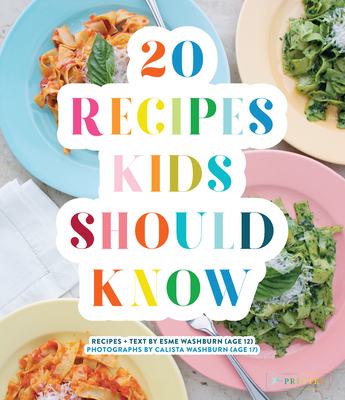 for information about purchasing this book, please contact orders@bookpassage.com
Description
---
The perfect book for children, this fun and engaging cookbook is written and photographed by a pair of young sisters for budding chefs.

Whether they're helping stir cake batter or producing their own YouTube cooking channel, kids of all ages are getting increasingly busy in the kitchen. This cookbook features twenty classic recipes that are fun, healthy, adaptable, and easy to prepare. From banana bread and the perfect grilled cheese to breaded chicken and apple pie, each recipe is written in a clear, accessible style that young cooks of every level will be able to follow. The author is a young chef whose love of cooking developed from her own family's food traditions like baking popovers with her grandmother and Sunday-night pizza making. By teaching kids basic recipes that can be adapted in endless ways, this book is the perfect launching pad to finding their way around the kitchen--or launching their own cooking careers.
About the Author
---
ESME and CALISTA WASHBURN are sisters living in New York City. Esme, who is in middle school, is an amateur chef and cooking enthusiast. She has learned everything she knows from her grandmother. Calista, a recent high school graduate and budding photographer, loves helping out in the kitchen and eating the delicious food that Esme cooks.
Praise For…
---
"From the mouths of preteens? This cookbook for the younger set was written by a 12-year-old, who certainly knows her way around the kitchen and is armed with intelligent vocabulary (a grilled cheese is "quintessential"). The bright photos are the work of her older sister, 17… Some of the text has nice personal touches about cooking with Grandma and the like." —Florence Fabricant, The New York Times

"New York City–based sisters Esme, an aspiring chef in middle school, and Calista, a high school graduate and photographer, team up for a collection of accessible recipes that include breakfast pancakes, apple pie, and hummus. Calista's bright photographs accompany the recipes, each of which is warmly described by Esme, who also provides personal reflections and tips...Washburn advocates for additions or substitutions (her recipe for roasted vegetables suggests broccoli, asparagus, carrots, or brussels sprouts), enabling readers to develop a sense for the joy of kitchen improvisation." –Publisher's Weekly

"For a little inspiration, show [your children] the recently-published 20 Recipes Kids Should Know — an easy, how-to cookbook written by a 12-year old (the photos were taken by her high-school-age sister).  If a 12-year-old can write a fantastic cookbook, your 10-year old can follow it." –Harvard Business Review

The first thing to say about this gorgeous book is that it is written by a 12-year-old and the photographs were taken by a 17-year-old. It aims to really teach young people how to cook, rather than just being a collection of recipes... The 20 recipes included are a thoughtful edit of useful and delicious staples. We must admit to finding the Dijon dressing completely sublime and making it on our own without any children there at all! —Martha Alexander, The Independent

"20 Recipes Kids Should Know by 12-year-old Esme Washburn and 17-year-old Calista Washburn is an inspired way to encourage my kids to get in the kitchen and get cooking — even without me...The Washburn sisters offer 20 simple recipes that build confidence and teach practical dishes perfect for the day-to-day." –The Daily Herald

"…an excellent starter cookbook for budding young chefs, highly recommended for gift-giving as well as school and public library children's collections." –Midwest Book Review

"The Washburn sisters, Esme and Calista, have put together a fantastic and engaging book that will inform and inspire. Esme has included an awesome variety of accessible recipes, from dinner staples to desserts and more, and she presents them in a way that isn't daunting or overwhelming. Her detailed instructions and tips make each recipe easy to follow and will give kids the cooking confidence they need. Calista's bright, clear photos perfectly capture each recipe. Aesthetically, with its fun, bright colors, and pretty layout, 20 Recipes Kids Should Know is also a feast for the eyes!" –Word Spelunking

"A wonderful starter cookbook for kids is 20 Recipes Kids Should Know." –That Organic Mom

"Esme Washburn's 20 Recipes Kids Should Know may be my new go-to gift for inexperienced home cooks. Personally, I'd change the title of this book to 20 recipes everyone should know, but that's just me." –Beth Fish Reads

"This is a lovely book, surely one you can give to your child or niece or nephew. It will give them a head start on their culinary careers. Or maybe just let them cook for you one night!" –Cooking by the Book