Dynamic Systems for Everyone: Understanding How Our World Works (Hardcover)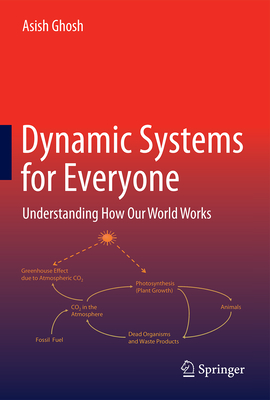 $64.99
Email or call for price
Description
---
Systems are everywhere and we are surrounded by them. We are a complex amalgam of systems that enable us to interact with an endless array of external systems in our daily lives. They are electrical, mechanical, social, biological, and many other types that control our environment and our well-being. By appreciating how these systems function, will broaden our understanding of how our world works.
Readers from a variety of disciplines will benefit from the knowledge of system behavior they will gain from this book and will be able to apply those principles in various contexts. The treatment of the subject is non-mathematical, and the book considers some of the latest concepts in the systems discipline, such as agent based systems, optimization, and discrete events and procedures. The diverse range of examples provided in this book, will allow readers to:
Apply system knowledge at work and in daily life without deep mathematical knowledge;
Build models and simulate system behaviors on a personal computer;
Optimize systems in many different ways;
Reduce or eliminate unintended consequences;
Develop a holistic world view .
This book will enable readers to not only better interact with the systems in their professional and daily lives, but also allow them to develop and evaluate them for their effectiveness in achieving their designed purpose.
Comments from Reviewers:
"This is a marvelously well written introduction to Systems Thinking and System Dynamics - I like it because it introduces Systems Thinking with meaningful examples, which everyone should be able to readily connect" - Gene Bellinger, Organizational theorist, systems thinker, and consultant, Director Systems Thinking World
"Excellent book ...very well written. Mr. Ghosh's world view of system thinking is truly unique" - Peter A. Rizzi, Professor Emeritus, University of Massachusetts Dartmouth
"A thorough reading of the book provides an interesting way to view many problems in our society" -Bradford T. Stokes, Poppleton Chair and Professor Emeritus, The Ohio State University College of Medicine
"This is a very good and very readable book that is a must read for any person involved in systems theory in any way - which may actually include just about everyone" - Peter G. Martin, Vice President Business Value Consulting, Schneider Electric
About the Author
---
Asish Ghosh is a Control Systems Engineer with over 40 years of professional experience. He has held various research, engineering, and consulting positions while working for ICI in England, The Foxboro Company, and ARC Advisory Group in Massachusetts, USA. He has presented and published numerous papers, and is the joint author of the first book on batch process control. He has lectured extensively and has taught courses in the USA and in Europe. He was a member of the ISA/SP88 and IEC (International Electrotechnical Commission) where he was actively involved in the generation of control system standards. He studied Physics in Delhi University, India and Control Engineering in Cambridge University, England. He is a Chartered Engineer registered in UK. He now resides in the historic town of Plymouth in Massachusetts with his dog Oskar.