The Nightmare Dinner Guest Cookbook: Feasts from around the world that eliminate all 13 deadly allergens (Series 1 #1) (Hardcover)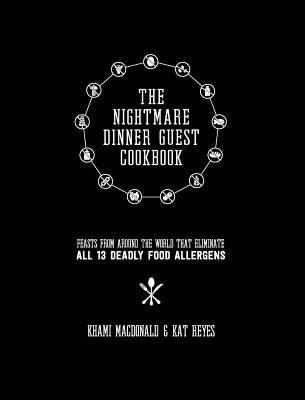 $50.00

Usually Ships in 1-5 Days
Description
---
To the people close to us, we have always been referred to as "the nightmare dinner guests".
With our joint collection of food intolerences and allergies, we don't take offence when our loved ones break out in a cold sweat at the thought of cooking for us. After all, no one wants to end up in the hospital over an honest dinner party mistake And because we love a challenge, we took it upon ourselves to write this cookbook to prove there is no such thing as a "nightmare dinner guest ".
Over 100 recipes from around the world in full colour glory and every single one excludes the 13 deadly allergens. Half of which are vegan.
This 300 page cookbook includes 10 world feasts from these cuisines; Andorran, Vietnamese, Carribean, Thai, Mexican, Middle Eastern, Indian, Polish, Filipino and British. Each feast, as well as each individual recipe, has a full page colour photograph. Gone are the days of guessing what your finished recipe was meant to look like. The Nightmare Dinner Guest really is a stylish cookbook addition, to any person's house.