Omad: Easy & Quick Leads Recipes to Attain Weight Loss (An Essential Guide to One Meal a Day Intermittent Fasting With Simpl (Paperback)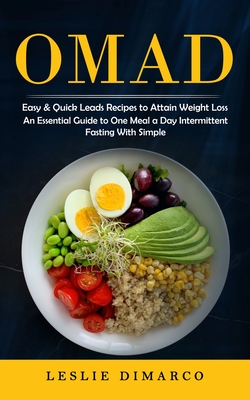 $19.95

Usually Ships in 1-5 Days
Description
---
Make every meal count with this quick-start guide to the one meal a day diet secret, featuring delightful meals intended to fulfill daily nutritional demands and with alternative plant-based, and gluten-free diets.
The one meal a day strategy of fasting is an excellent approach to burning fat and reducing weight. But eating just one meal a day, when done poorly, might deprive your body of the nutrition and energy it needs to flourish. The omad diet will teach you how to follow this approach most healthily and thoughtfully as possible.
You will discover:
The only way to turn your body into a fat-burning machine, while still enjoying the foods you love.
The ultimate path to a complete health transformation.
Freedom from the diet mentality - there are no "forbidden" foods
The key to escaping the maddening cycle of yo-yo dieting.
A liberating way of eating that lets you enjoy a large & satisfying daily meal with almost no restrictions.
A simple approach to freeing yourself from diet guilt - without even trying
Secret tips and tricks to help you get started asap.
This book is to find out what the omad diet is all about and whether it can really help you reach your weight-loss and health goals.
If you follow weight-loss trends, then you've probably heard about intermittent fasting, which has dieters forgoing food for up to 16 hours, then consuming their meals during the remaining eight hours of the day. It's restrictive but not crazy grueling.