something new to say: words of spirit, faith and celebration for Advent and Christmas (Paperback)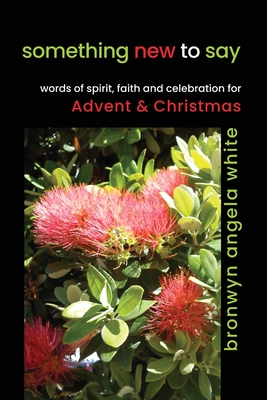 $11.99

Usually Ships in 1-5 Days
Description
---
Something new to say is a collection of liturgy resources for the season of Advent and Christmas.
Author Bronwyn White lives in Aotearoa New Zealand, where Christmas comes at summertime.
This collection celebrates a festive season where pohutukawa and rata are in bloom, friends gather around barbecues or picnic at the beach on Christmas Day, and many people travel to catch up with family or enjoy school holidays.
The prayers, affirmations, reflections, and blessings are in inclusive language, with an emphasis on "faith not belief" and social justice.
This book is ideal for progressive and liberal faith communities and churches. Lay and ordained worship leaders will find them especially helpful, and there's plenty for individual contemplation and enjoyment too.
About the words
Everything in this book-including the poetry-was written to be read, presented or performed aloud.
Several pieces were written as litanies, with 'the leader' beginning each section and 'the people' responding with the lines in italics.
On the page, some of the liturgical works will seem repetitive. In you who delight me, I grouped items with similar themes or formats to show how simply a basic outline or idea can be varied for different situations.
In this book, I've grouped writing by type-prayers, reflections, blessings etc-and especially with the prayers you might like to pick and mix paragraphs to create a different form or format for your occasion.
When the ideas are fresh, you can use a familiar form to introduce inclusive, liberal and theologically progressive concepts to a more conservative audience.
I hope these resources will be enjoyed and shared by anyone who sees the sacred in the everyday.