Mystery Short Stories for Kids: Time Travel, Spy Adventures, Mysterious Inventions, Space Exploration and more (Paperback)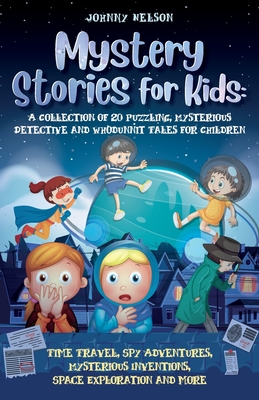 $14.95

Usually Ships in 1-5 Days
Description
---
The sharp-eyed little detective - an excellent collection of short stories for early readers to spark their imagination and keep them entertained for days
Is your little guy or girl adventurous and always looking to solve mysteries?
Are you running out of thrilling bedtime stories and can't wait for a new addition to your collection?
Would you like to kick boredom away by reading exciting stories to your kids while traveling or waiting in a queue?
You're in luck - thanks to the launch of this highly entertaining children's book packed with mystery, time travel, space explorations, moral lessons, and more.
Say goodbye to the soundtrack of "Are we there yet?" when traveling or going for long drives - the mystery in this collection will keep them engaged for hours.
If you want to break the monotony of children using electronic devices 24/7, the thrill on every page of this book is sure to spark their interest.
Nothing beats quality bonding time than sharing a book that both the parent and child enjoy reading.
Besides, anytime is a perfect time for a great story
In Mystery Short Stories for Kids: A Collection of 20 Puzzling, Mysterious Detective, and Whodunnit Tales for Children, you'll discover:
20 high-quality stories that will spike curiosity and reading confidence for children aged 14 and below
Exciting narrations for kids - both the reluctant readers and those who are delighted to get to the next story
A compilation of great short stories to reduce your child's dependency on devices and spark their imagination
A collection of tales filled with moral lessons to teach your little one life-long lessons
Fun-filled pages to help you bond with your little one and improve their social and communication skills
An easy way to entertain your child during family trips, when you are at the dentist, or waiting in a queue
Well-curated storylines to promote your child's concentration, focus, emotions, and brain development
A trip into the mystery world for kids who love solving puzzles and unmasking hidden gems in the universe of words
And much more...
Who doesn't like a good mystery?
From the 'Heart of a Giant' to 'The Antique' and 'Magic Inventors, ' the 20 thrilling stories in this collection will leave a lasting impression on your child.
If you want to stimulate your child's imagination and enjoy quality bonding time, then scroll up and click the "Add to Cart" button right now.