Acquired Community (Paperback)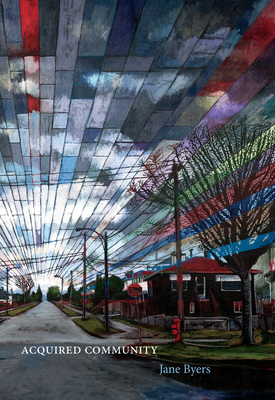 $18.00
Email or call for price
Description
---
Jane Byers' Acquired Community is both a collection of narrative poems about seminal moments in North American lesbian and gay history, mostly post-World War II, and a series of first person poems that act as a touchstone to compare the narrator's coming out experience within the larger context of the gay liberation movement. The "parade" poems such as "Celebration Was a Side Effect, 1992" explores the important role parades have played in the queer movement and how they have transformed from activism to celebration. "St Patrick's Day Parade, 2014" takes the Boston St. Patrick's Day committee's homophobia to task, reminding us that this is not ancient history, but an ever-transforming experience. In her long poem, "Keen," Byers imagines a dialogue between a young queer university student and Michael Lynch, an AIDS activist, poet and scholar who helped found many gay community institutions. In this compelling poem we are reminded that the AIDS epidemic had a rippling effect, touching the lives of everyone within the gay community and well beyond.
In this second book by Byers her poems go beyond the historical perspective of LGBT rights and are living examples of progress. Acquired Community examines and celebrates community resilience.
About the Author
---
Jane Byers lives with her wife and two children in Nelson, British Columbia. She writes about human resilience in the context of raising children, lesbian and gay issues, sexism, local geography and health and safety in the workplace. She spent many years working for the City of Toronto in corporate health and safety and now works at WorkSafeBC where she continues to facilitate resilience in injured workers. She has had poems, essays and short fiction published in a variety of books and literary magazines in Canada, the US, and the UK, including GRAIN, RATTLE, DESCANT, THE ANTIGONISH REVIEW, THE CANADIAN JOURNAL OF HOCKEY LITERATURE and OUR TIMES. She is a three-time winner of the Nelson and District Poetry Competition.
Praise For…
---
"Byers' poems are an important reflection on the devastation of the AIDS crisis, the 'veiled love and lament' of the early gay rights movement, and the memories held by queer elders." — Leah Horlick, author of For Your Own Good and winner of the 2016 Dayne Ogilvie Prize

"Jane Byers' Acquired Community fills an often overlooked niche in Canadian queer history. Written in strong, careful poetics, both personal and political, Byers gives readers a glimpse into what was possible then, what is possible now. If you care about queer lives, this is an important book to read, to enjoy!" — Arleen Paré, author of Lake of Two Mountains (Winner of the 2014 Governor General's Award for Poetry), and He Leaves His Face in the Funeral Car