Written in History: Letters That Changed the World (Paperback)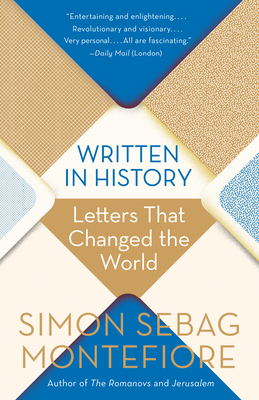 for information about purchasing this book, please contact orders@bookpassage.com
Description
---
From the New York Times bestselling author of The Romanovs—and one of our pre-eminent historians and a prizewinning writer—an outstanding selection of great letters from ancient times to the 21st century, touching on power, love, art, sex, faith, and war.

Written in History: Letters that Changed the World celebrates the great letters of world history, and cultural and personal life. Bestselling, prizewinning historian Simon Sebag Montefiore selects letters that have changed the course of global events or touched a timeless emotion—whether passion, rage, humor—from ancient times to the twenty-first century. Some are noble and inspiring, some despicable and unsettling, some are exquisite works of literature, others brutal, coarse, and frankly outrageous, many are erotic, others heartbreaking. It is a surprising and eclectic selection, from the four corners of the world, filled with extraordinary women and men, from ancient times to now.

Truly a choice of letters for our own times encompassing love letters to calls for liberation to declarations of war to reflections on life and death. The writers vary from Elizabeth I and Catherine the Great to Mandela, Stalin and Picasso, Fanny Burney and Emily Pankhurst to Ada Lovelace and Rosa Parks, Oscar Wilde, Chekhov and Pushkin to Balzac, Mozart and Michelangelo, Hitler, Rameses the Great and Alexander Hamilton to Augustus and Churchill, Lincoln, Donald Trump and Suleiman the Magnificent.

In a book that is a perfect gift, here is a window on astonishing characters, seminal events, and unforgettable words. In the colorful, accessible style of a master storyteller, Montefiore shows why these letters are essential reading and how they can unveil and enlighten the past—and enrich the way we live now.
About the Author
---
SIMON SEBAG MONTEFIORE is a historian of Russia and the Middle East. His most recent books include Titans of History: The Giants Who Made Our World and The Romanovs: 1613-1918. Catherine the Great and Potemkin was short-listed for the Samuel Johnson Prize. Stalin: The Court of the Red Tsar won the History Book of the Year Prize at the British Book Awards. Young Stalin won the Los Angeles Times Book Prize for Biography, the Costa Biography Award, and le Grande Prix de la biographie politique. Jerusalem: The Biography was a worldwide best seller. He lives in London.
Praise For…
---
"Spicy, horrifying, passionate, shocking . . . and very moving. Fascinating! If you loved Ernst Gombrich's A Little History of the World and are in the mood for another global history from a different angle, this collection of historically significant letters through the ages compiled by Simon Sebag Montefiore might well hit the spot. . . . He has distilled a few millennia of world history into 240 extremely un-boring pages." —Ysenda Maxtone Graham, The Times (London)

"Entertaining and enlightening . . . . Some [letters] are truly revolutionary and visionary. . . . Others are very personal . . . but all are fascinating, as are the compiler's comments on each letter, little gems . . . in their own right." —Tony Rennell, Daily Mail (London) History Books of the Year

"Written in History is a search through the millennia, the result an astonishing array: all human life is here encapsulated, in just a few paragraphs or even just a sentence; all are surprising, and mostly unfamiliar. . . . Everything here is a revelatory marvel, whether a hideous rant from the Marquis de Sade (1783), or the impassioned logic of religious tolerance from Babur to his son Hamayun (1529). Truly the spectrum of human belief and behaviour is revealed in this selection."  —Marina Vaizey, The Arts Desk

"What sets this book apart from others about great historical correspondence is the author. The esteemed historian's selections, written in settings as far-flung as Ancient Egypt, Renaissance Italy and Stalin's Russia, go some way to illustrate how adaptable the medium of letter writing can be, and his commentary reveals just why they are still important today." —History Revealed