Gold Diggers: A Novel (Hardcover)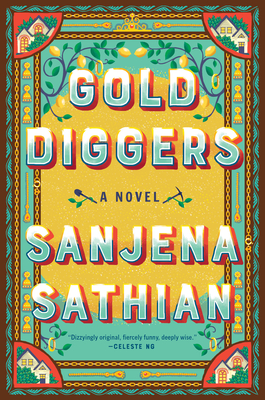 $27.00
Email or call for price
Staff Reviews
---
Gold Diggers is a clever and original immigrant tale where the modern-day pressure of expectations collides with the danger of daring to do anything to succeed, resulting in an explosive combination. In Sanjena Sathian's coming-of-age story, Neil is an Indian-American teenage slacker—until he stumbles on the old-school secret of success being performed by his neighbor and crush, Anita. But all magic has a price, as this odd couple soon discovers. Years later, their paths cross again and this time the stakes are even higher. With elements from the 19th century Gold Rush to the modern Silicon Valley excess, Indian mythology to the American dream, individualism to community, Sathian has crafted an impressive debut.
— From
Elaine & Luisa's Picks: Spring 2021
April 2021 Indie Next List
---
"Gold as a drug. Gold as a metaphor for the glittering hopes and burdens new immigrants put on their children's shoulders. Gold as the thread weaving history, memory, and imagination, a meditation on how the past blends into the present. Gold as the object of an improbable heist. There is so much in this book, but it is first and foremost an extraordinarily good yarn, the story of two generations of American-Indian immigrants trying to become Americanized while clinging to a fetishized, culturally commodified India. There is love, drugs, alchemy, and stories about the gold rush, both the forty-niners and the new gold diggers of the tech bubble. It's fun and fast-paced, except when you stop short for a sentence so evocative you want to dwell on it. A seriously good book by a seriously talented writer."
— Françoise Brodsky, Shakespeare & Co., New York, NY
Description
---
One of The Washington Post's 10 Best Books of 2021 * One of NPR's Best Books of 2021 * New York Times Book Review Editors' Choice * Long-listed for the Center for Fiction First Novel Prize

"Dizzyingly original, fiercely funny, deeply wise." —Celeste Ng, #1 bestselling author of Little Fires Everywhere

"Sanjena Sathian's Gold Diggers is a work of 24-karat genius." —Ron Charles, The Washington Post  

How far would you go for a piece of the American dream?

A magical realist coming-of-age story, Gold Diggers skewers the model minority myth to tell a hilarious and moving story about immigrant identity, community, and the underside of ambition.

A floundering second-generation teenager growing up in the Bush-era Atlanta suburbs, Neil Narayan is funny and smart but struggles to bear the weight of expectations of his family and their Asian American enclave. He tries to want their version of success, but mostly, Neil just wants his neighbor across the cul-de-sac, Anita Dayal.

When he discovers that Anita is the beneficiary of an ancient, alchemical potion made from stolen gold—a "lemonade" that harnesses the ambition of the gold's original owner—Neil sees his chance to get ahead. But events spiral into a tragedy that rips their community apart. Years later in the Bay Area, Neil still bristles against his community's expectations—and finds he might need one more hit of that lemonade, no matter the cost.

Sanjena Sathian's astonishing debut offers a fine-grained, profoundly intelligent, and bitingly funny investigation into what's required to make it in America. 

Soon to be a series produced by Mindy Kaling!
About the Author
---
A Paul and Daisy Soros fellow, Sanjena Sathian is a 2019 graduate of the Iowa Writers' Workshop. She has worked as a reporter in Mumbai and San Francisco, with nonfiction bylines for The New Yorker, The New York Times, Food & Wine, The Washington Post, Vox, TIME, and more. Her award-winning short fiction has been published in The Atlantic, Conjunctions, Boulevard, Joyland, Salt Hill, and The Master's Review.
Praise For…
---
"Sathian's satire is pitch perfect . . . savagely funny. The comedic grotesque register gives way, at times, to an authentic and heartrending melancholia . . . [M]agnificent—canny and moving and just plain fun . . . Sathian's movement toward fantasy in the story's second half is a wise, satisfying turn. Her prose lifts off: there's a delight she takes in writing humorously about magic that shows off the scope of her immense talent . . . [a] firm critique of secondhand striving and cutthroat ambition." —Anita Felicelli, The Los Angeles Review of Books

"This novel deftly weaves together magic and history to produce a compelling coming-of-age story." —The New Yorker

"Gold Diggers is a delightful concoction of the best of South Asia's literary offerings, reminiscent of Hanif Kureishi's irreverent humour in The Buddha of Suburbia and, more recently, the magic realism of Mohsin Hamid's Exit West and Salman Rushdie's work. . . . Sathian brings a golden touch to the 21st-century Indian American novel—stretching it through a reimagining of history and mythology, yet holding it close to her chest." —Sana Goyal, The Guardian

"Sanjena Sathian's Gold Diggers is a work of 24-karat genius . . . remarkable . . . Sathian's effervescent social satire breaks the bonds of ordinary reality and rises to another level . . . Like Aimee Bender, Karen Russell and Colson Whitehead, she's working in a liminal realm where the laws of science aren't suspended so much as stretched . . . dazzling . . . Looking up from the pages of this sparkling debut, I experienced something like the thrill the luckiest 49ers must have felt: Gold! Gold! Gold!" —Ron Charles, The Washington Post   

"[A]chingly real reminders of what it was like to be an adolescent in post-9/11 America, feeling the weight of your parents' dreams on your shoulders . . . The tension Sathian builds is one of teenage insecurity swelling into adulthood, until disillusion overthrows the tyranny of American perfectionism . . . exquisite prose humming with contagious anxiety." —Lauren Christensen, The New York Times Book Review

"This terrific debut novel uses heists and alchemy to deconstruct immigrant ambition, striving, and sin . . . The project of Gold Diggers is to deconstruct that dream [of America]. But what makes the novel so compelling is the playfulness with which Sathian deconstructs it. You feel for the characters and the ways they have been warped by their pursuit of greatness and the ways they are haunted by their sins—but also, there are heists and alchemy. It's a blast." —Constance Grady, Vox

"Full of voice . . . rollicking, at times painful, and ultimately intensely satisfying . . . One of the wonderful things about Sathian's writing is how imperfect she allows Neil to be: he can be shallow, vain, awkward, and selfish. Yet it's so easy to root for him, because he's just so terribly alive, his adult narration inhabiting his teenage self honestly, without sugarcoating." —Ilana Masad, NPR

"Sanjena is way too young to have published such an amazing novel about a group of South Asian teenagers and the quest for their identity in the U.S., yet she pulls it off effortlessly, complete with references to TCBY and other 1990s favorites." —Zibby Owens, Good Morning America
 
"Highly anticipated . . . Funny and exciting, it's an entertaining new twist on the immigrant experience." —Lesley Kennedy, CNN

"Crackles with sarcasm and wit . . . a dazzling tale. Local readers will delight in Sathian's artful depiction of metro Atlanta circa 2006, as well as her take on the struggles of being a member of a minority community during the post-9/11 Bush era." —Anjali Enjeti, Atlanta Journal Constitution

"Read Gold Diggers, a fantastical and darkly funny commentary on the American Dream." —Book Riot

"A dazzling and delightful work of fiction by an exciting new literary talent . . . Sathian has produced a beguiling elixir with Gold Diggers, skillfully stirring myth into a playful yet powerful modern-day examination of the American dream and the second-generation citizens who pursue it. A fabulist amalgam of The Great Gatsby and The Catcher in the Rye, it's an engrossing cautionary tale as well as a shrewd appraisal of what we consider success—and the moral sacrifices we make to achieve it. Imaginative and intoxicating, Gold Diggers richly rewards its readers." —Stephanie Harrison, BookPage

"Dazzling . . . the sharp characterizations bring humor and contemplation in equal measure, touching on the pressures Neil and Anita face to produce a legacy that honors their parents' sacrifices. Sathian's bildungsroman isn't one to miss." —Publishers Weekly

"Out of [a] nugget of magical realism, Sathian spins pure magic . . . Filled with pathos, humor, slices of American history, and an adrenaline-pumping heist, Sathian's spectacular debut also highlights the steep costs of the all-American dream . . . Pure gold . . . YAs will find much to embrace in Neeraj's dynamite and touching quest to find himself." —Booklist (starred review)
 
"A refreshing tweak of the assimilation novel . . . Sathian artfully and convincingly conjures [this] world . . . Sathian has a knack for page-turner prose, but the story has plenty of heft. A winningly revamped King Midas tale." —Kirkus
 
"In a perfect alchemical blend of familiar and un-, Gold Diggers takes a wincingly hilarious coming-of-age story, laces it with magical realism and a trace of satire, and creates a world that's both achingly familiar and marvelously inventive. Written with such assurance it's hard to believe it's Sanjena Sathian's debut, this is a dizzyingly original, fiercely funny, deeply wise novel about the seductive powers—and dangers—of borrowed ambition." —Celeste Ng, author of Little Fires Everywhere

"Gold Diggers is so many things—truly funny, insightful, smart, and filled with wonderful characters. I loved reading this novel, and loved watching Neil Narayan grow up and grapple with the America his immigrant parents believed in. Neil's journey to figuring out what he believes, which includes a multi-layered exploration into the properties of gold, and his strange and wonderful friendship with his next door neighbor, Anita, make this story unmissable." —Ann Napolitano, bestselling author of Dear Edward

"Is the American dream about hard work and sacrifice or is it about the lure of the Gold Rush, of quick riches there for the taking? Greed, regret and love are all at work here in Sathian's completely original, utterly absorbing, complex and confident debut novel. A bravura performance from an exciting new voice." —Karen Joy Fowler, New York Times bestselling author of The Jane Austen Book Club

"What a dynamic and exciting debut! Sathian builds such an inviting world of layers and times, all knit together by voice, vibrant imagery and palpable groundedness. A total delight." —Aimee Bender, author of The Butterfly Lampshade

"Sanjena Sathian's Gold Diggers is a sparkling treasure, hilarious and full of insight." —Rajesh Parameswaran, author of I Am an Executioner

"I'm not sure if I should praise Sanjena Sathian for spinning such a lively and nervy narrative or thank her for her generosity as field guide, bringing me deep into Indian-American family life and the underbelly of Silicon Valley optimization culture. A tenderly imaginative tale of ambition and the burden of tradition, Gold Diggers is the American novel we need right now. Bracingly original, riveting to the last drop." —Lauren Mechling, author of How Could She

"Sanjena Sathian's Gold Diggers made me feel utterly inadequate as a writer. Her writing is engaging and the lush world she creates within the novel was a great joy to explore. We'll be hearing from her for years to come." —Sopan Deb, author of Missed Translations

"From Bombay to the Bay Area, Sanjena Sathian's expansive debut novel upends our ideas of what it takes to make it in America. Smart, funny, and completely engrossing, Gold Diggers is everything a novel should be." —Andrew Ridker, author of The Altruists

"Searching, intelligent, with a premise as flawless as the gold at its center, Gold Diggers follows a generation whose ambitions are shaping the America we live in today. As imaginative as it is idea-driven, as compassionate as it is angry, part heist novel, part coming of age story, part ghost story, romance, and tragedy, it renders all its opposites in a fast-paced, perfectly crafted crucible of a plot. This is a perfect first novel: brilliant, funny, and secretly, privately, quietly romantic. A Great American Novel for the 21st century." —Amy Parker, author of Beasts and Children and winner of the Calvino Prize

"Vivid, delightful, and wonderfully weird, Gold Diggers glitters with a unique and stirring brilliance. Sanjena Sathian is an incredibly exciting new writer!" —Dan Chaon, author of Ill Will and National Book Award Finalist

"Gold Diggers is a knock-out—a hilarious send-up of the immigrant pressure to succeed and the challenges of growing up with a hyphenated identity in the American South. It's also a devastating meditation on history, love, grief, wealth, and familial bonds. Whether you want to laugh or cry, meet ghosts, plan a heist, or live forever, you can find what you're looking for in these sparkling pages." —Maria Kuznetsova, author of Oksana, Behave!

"Gold Diggers is an auspicious—auriferous?—debut. Part coming-of-age story about the immigrant experience, part Gogolian heist comedy about soul-sapping gold, it's also a timely satire of greed, status anxiety, Ivy striving, and the long nightmare of the American dream. The novel is particularly brilliant and funny on the different forms that ambition takes, and the different ways it can deform you. It's an enviably smart and ambitious critique of envy, smarts, and ambition, which inspires some of the same jealousy it diagnoses. Like Sathian's characters, you almost want to drink whatever jewelry she was wearing while writing it." —Bennett Sims, author of White Dialogues