House Story: Insider Secrets to the Perfect Home Renovation (Hardcover)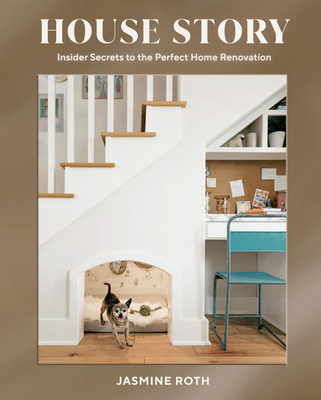 $35.00

Usually Ships in 1-5 Days
Description
---
The star of HGTV's Hidden Potential and HELP! I Wrecked My House offers a rare glimpse behind the TV show curtain, inviting readers into her world with super-simple advice that takes all the guesswork and stress out of any home project.
 
"Renovating a home can be mega intimidating, but not if you surrender to the wisdom of your new guru, Jasmine Roth. She knows all."—Jonathan Adler

Finding your style is the first step to creating your dream home, whether you're buying a new place, designing ground-up construction, or simply sprucing up the décor on a rental. Through her clear descriptions of four common design types and their many style subsets, along with thought-provoking questions and worksheets, Jasmine helps you create a cohesive feel with your home décor. She also includes helpful information on curb appeal and outdoor lighting (the most forgotten detail of your home), the science of knocking down walls, creative solutions to the five most common layout needs, floor finishes and wall treatments, everything kitchen and bathroom, and fun ways to personalize your space with DIY projects and unique bookshelf styling.
 
With hundreds of stunning photographs of Roth-designed interiors, House Story is a lush exploration of what is possible for you and your home, whatever the size and budget.
About the Author
---
Jasmine Roth is a designer, builder, and star of HGTV's Hidden Potential and HELP! I Wrecked My House. She also won Season 1 of HGTV's Rock the Block. Building custom homes is her bread and butter and she loves finding ways to make homes as personal, functional, and as beautiful as possible. In 2012, Jasmine launched her residential development company, Built Custom Homes. As owner and founder, Jasmine runs her projects with a hands-on approach and customizes each home for her unique clients. When she isn't on the job, Jasmine loves spending time with her husband, Brett, and their daughter, Hazel. She lives in Huntington Beach, California, and loves to travel, snowboard, and cook for her family and friends.
Praise For…
---
"Roth really helps DIY designers break down the four basic styles [of interior design]—contemporary, cottage, traditional, rustic—and shows how, given one style, you can create your personal story with add-ons from other styles. She helps you identify what will work based on how you and your family live, and she's excellent at the kind of advice a beginner desperately needs. . . . Perhaps House Story is so useful because Roth did not start off as a professional designer—she still remembers what it's like to be clueless."—The New York Times

"Dudes—renovating a home can be mega intimidating, but not if you surrender to the wisdom of your new guru, Jasmine Roth. She knows all. This book is your one stop guide to making it affordable, creative, and most importantly chic af! Buy it."—Jonathan Adler
 
"Is it just us, or does Jasmine do it all? (It's almost like she has a twin!) This book is the perfect companion to her beloved HGTV shows: an inside look at her process and inspirations. Jasmine's amazing ideas and constant encouragement will give anyone the confidence needed to tackle their dream home renovation."—Drew and Jonathan Scott
 
"I'm not sure what is more challenging—renovating or writing a book about it (trust me). Jasmine really breaks down the renovation basics, making it less intimidating and stressful and possibly even fun. Imagine that! House Story is a great informative book that lives in both the 'pleasure' and 'reference' department of my growing design book library."—Emily Henderson

"Jasmine knows what she's talking about. I only wish I'd had this book to reference years ago!"—Leanne Ford

"If you are looking for a simple, breakdown of all the things you need before hammering out your own DIY, HGTV's Jasmine Roth's book House Story is the perfect companion. Offering a rare glimpse behind the TV curtain with a nearly 300-page guide bursting with vibrant, gorgeous photos, Roth—best known for Hidden Potential and Help! I Wrecked My House—offers readers and home enthusiasts a beautifully organized collection eliminating the guesswork and stress of any home project."—PopCulture