How to Shit in the Woods, 4th Edition: An Environmentally Sound Approach to a Lost Art (Paperback)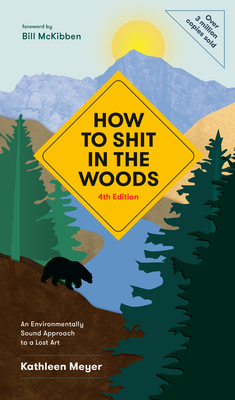 $12.99

Usually Ships in 1-5 Days
Description
---
The definitive guide to eco-friendly outdoor defecation--fully revised with a new introduction by renowned author and environmental activist Bill McKibben.

More than thirty years since its first publication, Kathleen Meyer delivers an update to the beloved guide to relieving yourself responsibly. Meyer's delightfully shameless discussion of a once-secretive activity examines the environmental impact of too much crap (organic and otherwise) on our ever-shrinking wild outdoors.

With the rising popularity of hiking and off-the-grid backpacking as well as the current climate crisis, How to Shit in the Woods provides timely techniques for keeping trails, bushes, and wild waters clean and protected when indoor plumbing is not an option. Meyer shares proper procedures in a way that is approachable and comprehensible for all audiences, from beginner to expert.

The fourth edition features updates to outdoor laws and regulations, health statistics, and recommendations for equipment such as special trowels, funnels, and portable toilets. With more than three million copies sold, How to Shit in the Woods is the backcountry backpacker's bible, crucial for anyone looking to be wiser with their waste.
About the Author
---
Kathleen Meyer is a longtime environmental activist. She was the founding editor of Headwaters, published by Friends of the River; her travel essays have appeared in the Travelers' Tales anthologies; and she's the author of the memoir Barefoot-Hearted: A Wild Life Among Wildlife. A sailor, sea-kayaker, and white-water rafting guide, Meyer has also traversed three Rocky Mountain states in a restored horse-drawn covered wagon. She lives in a former dairy barn in Montana's Bitterroot Valley.
Praise For…
---
"Kathleen Meyer has contributed to environmental awareness while lending a grand old English word the respectability that it hasn't had since Chaucer's day."—Frank Graham Jr., Audubon magazine

"As a philosophy of life, built on the profound interconnection between self and nature, How to Shit in the Woods is clearly the definitive text on the subject."—Gail D. Storey, author of the award-winning I Promise Not to Suffer: A Fool for Love Hikes the Pacific Crest Trail

"Meyer's little book should be essential reading for everyone who goes into the outdoors. It should be given to everyone who takes part in any outdoors adventure course and it should be on the curriculum of every school where outdoor education is taught."—Cameron McNeish, British mountaineer, lecturer, broadcaster, and author

I was convulsed! Everyone loves shit, really."—Malachy McCourt, actor, raconteur extraordinaire, and author of the New York Times bestseller A Monk Swimming

"This is the most important environmental book of the decade."—W. David Laird, Books of the Southwest [1989]

"Hey, this is the real shit."—the late, great Galen Rowell, outdoor photographer and writer

"Bully for Kathleen Meyer. [Her] writing is earthy and her humor dry. How to Shit in the Woods often takes poetic flight in the oddest of places. In Meyer's hands, so to speak, shit can be sublime."—Andy Smetanka, Missoula Independent

"The ultimate title in the genre."—Penthouse magazine

"This is a great book! I wholeheartedly agree with Ms. Meyer's environmental concerns . . . "—Linda Svendsen, Director of Boojum Expeditions

"This book should be on the reference shelf or camping kit of every canoe and safari operator, angler, rock climber, and wanderer in the wilderness . . . [it] may help insure that our wild places remain uncontaminated for the benefit of generations to come."—Geof Calvert and Verity Mundy from Famona, Bulawayo, Zimbabwe, The Farmer

"Doesn't take the reader long to get used to THAT word, or to concede that the well-prepared book is a critical woodcraft manual."—Lee Straight, BC Outdoors

"Luckily, people such as Meyer are ready to tell us how to deal with this problem and, even luckier, the solution is not complicated."—Ben Ling, Salt Lake City Tribune

"There is no easy way to say this: You have to learn how to properly defecate in the woods . . . . Fortunately, former river guide Kathleen Meyer is less squeamish than the rest of us, and has written an authoritative and entertaining book."—USA Today

"Victorian sensibilities and euphemisms be damned, Kathleen Meyer, river runner and longtime outdoorswoman, has something important to say about a tittering subject."—Grace Brown, Women's Outdoor Journal

"Going where no one has gone before is more than just the Star Trek motto . . . . Meyer leaves no stones unturned explaining the dos and don'ts of proper excretory techniques."—Roger Vargo, Ecological 4-Wheeling