Troop 6000: The Girl Scout Troop That Began in a Shelter and Inspired the World (Hardcover)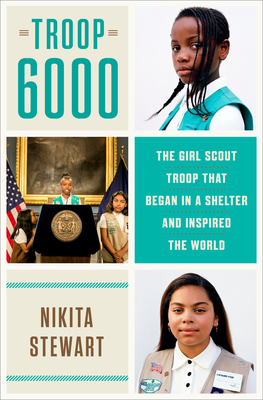 $27.00
Email or call for price
Description
---
The inspiring true story of the first Girl Scout troop founded for and by girls living in a shelter in Queens, New York, and the amazing, nationwide response that it sparked

"A powerful book full of powerful women."—Chelsea Clinton

Giselle Burgess was a young mother of five trying to provide for her family. Though she had a full-time job, the demands of ever-increasing rent and mounting bills forced her to fall behind, and eviction soon followed. Giselle and her kids were thrown into New York City's overburdened shelter system, which housed nearly 60,000 people each day. They soon found themselves living at a Sleep Inn in Queens, provided by the city as temporary shelter; for nearly a year, all six lived in a single room with two beds and one bathroom. With curfews and lack of amenities, it felt more like a prison than a home, and Giselle, at the mercy of a broken system, grew fearful about her family's future. She knew that her daughters and the other girls living at the shelter needed to be a part of something where they didn't feel the shame or stigma of being homeless, and could develop skills and a community they could be proud of. Giselle had worked for the Girl Scouts and had the idea to establish a troop in the shelter, and with the support of a group of dedicated parents, advocates, and remarkable girls, Troop 6000 was born.

New York Times journalist Nikita Stewart settled in with Troop 6000 for more than a year, at the peak of New York City's homelessness crisis in 2017, getting to know the girls and their families and witnessing both their triumphs and challenges. In Troop 6000, readers will feel the highs and lows as some families make it out of the shelter while others falter, and girls grow up with the stress and insecurity of not knowing what each day will bring and not having a place to call home, living for the times when they can put on their Girl Scout uniforms and come together. The result is a powerful, inspiring story about overcoming the odds in the most unlikely of places.

Stewart shows how shared experiences of poverty and hardship sparked the political will needed to create the troop that would expand from one shelter to fifteen in New York City, and ultimately inspired the creation of similar troops across the country. Woven throughout the book is the history of the Girl Scouts, an organization that has always adapted to fit the times, supporting girls from all walks of life.

Troop 6000 is both the intimate story of one group of girls who find pride and community with one another, and the larger story of how, when we come together, we can find support and commonality and experience joy and success, no matter how challenging life may be.
About the Author
---
Nikita Stewart is a reporter covering social services for The New York Times. The Newswomen's Club of New York recognized Stewart in 2018 for her coverage of homelessness, mental health, and poverty. She has been a finalist for the Livingston Award and the Investigative Reporters and Editors Award. She joined The New York Times in 2014 after working at The Washington Post.
Praise For…
---
"This is a remarkable book. Nikita Stewart has managed to craft an inspirational tale that starts in a makeshift homeless shelter in a budget hotel and sparked a national movement. This isn't just a story about a Girl Scout troop for girls living in a shelter, although Troop 6000 compellingly details the ups and downs of trying to start something from nothing with sheer grit. It is also a story about how difficult it is to break out of the cycle of poverty, and how many people living in shelters are the working poor, juggling full-time jobs with the full-time job of meeting government requirements for living in government shelters. I read this book in two days because I couldn't put it down and I didn't want to say goodbye."—Kim Barker, New York Times bestselling author of The Taliban Shuffle

"Few journalists write about those forced to the margins with the grace, compassion, and humility of Nikita Stewart. In Troop 6000, Stewart does not create perfect heroes, but tells the not-always-triumphant story of flawed, everyday people doing the best they can to create something beautiful out of the most difficult circumstances. By rendering  the full and complicated humanity of the girls, women, and men of the nation's first Girl Scout troop that begin in a homeless shelter, Stewart's narrative manages to reveal how miraculous these troop members really are while simultaneously indicting the rest of us for continuing to allow the conditions that make this troop necessary."—Nikole Hannah-Jones, award-winning investigative reporter, The New York Times Magazine

"In an accessible narrative that encompasses a range of social justice concerns, [Stewart] chronicles Giselle's initial encounter with the Girl Scouts and the idea to begin a troop when she realized that the girls around her would benefit from its encouraging community. Giselle's life on the page unfolds in a readable fashion calibrated for emotional, uplifting crescendos. . . . Featuring a sensitive treatment of a still-existing homelessness epidemic, this is an impassioned look at how Troop 6000 inspired others to form in its wake. A tale of how grassroots spirit and gritty determination can bloom into hope."—Kirkus Reviews

"Stewart doesn't shy away from the harsh and often invisible realities of homelessness. . . . Readers will be moved by the resilience of Giselle, Hailey, Katrina, and all of the girls and women who come alive on the page."—Booklist

"Effective as a feel-good account of family and community working against adversity and the benefits of Scouting for girls and their parents, the book is equally valuable for its intimate views of homelessness and its day-to-day effects."—Library Journal