The Lock-Eater (Paperback)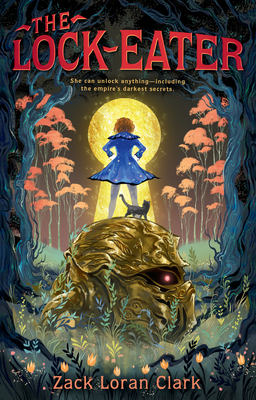 January/February 2022 Kids Indie Next List
---
"An orphan who can open any lock at will, is swept away on an adventure that will test her understanding of the political world around her. A great story, filled with unexpected turns, balanced characters, and an undeniable charm."
— Rosie Lee-Parks, Readers' Books, Sonoma, CA
Description
---
* "One of those special books that only comes around every so often... An absolute revelation." —SLJ (starred review)

For fans of Nevermoor and Howl's Moving Castle comes an epic fantasy about a girl with the ability to unlock anything—including the empire's darkest secrets.

"Will have readers tumbling through the pages... Deeply immersive, full of both heft and humor." —Soman Chainani, New York Times bestselling author of The School for Good and Evil series

Melanie Gate is a foundling with a peculiar talent for opening the unopenable—any lock releases at the touch of her hand. One night, her orphanage is visited by Traveler, a gearling automaton there on behalf of his magical mistress, who needs an apprentice pronto. When Melanie is selected because of her gift, her life changes in a flash, and in more ways than she knows—because Traveler is not at all what he seems. But then, neither is Melanie Gate.

So begins an epic adventure sparkling with magic, wit, secret identities, stinky cats, fierce orphan girls, impostor boys, and a foundling and gearling hotly pursued by the most powerful and dangerous wizard in the land.
About the Author
---
Zack Loran Clark is a writer and editor of children's books, and the co-author of The Adventurers Guild trilogy. A lifelong fantasy nerd, avid Dungeons & Dragons player, and aspiring sorcerer, he lives with his husbandand their dog in Brooklyn, New York.
Praise For…
---
* An Indie Next List Pick *

★ "As intricate and sparkling as the magical spells [it] describes, [managing] to combine high fantasy with a heart-wrenching passageway through adolescence, queer awakening, and existential mysteries with ease. . . . Clark has crafted one of those special books that only comes around every so often, a delicately balanced fantasy and coming-of-age novel that will resonate with adults and children alike. A must-purchase . . . this philosophical fantasy is an absolute revelation for an adolescent child yearning for adventure and knowing oneself. —School Library Journal (starred review)
 
"Incredibly memorable. Hand this work of fantasy over to the child that's beginning to get bored with the Harry Potter knock-offs of the world. It'll give them something to think about. . . . A marvelous example of how you may render old ideas new, if only you've the ability to combine smart, timely writing with the current zeitgeist. Our kids are lucky they get to tap into books like this." —Betsy Bird for A Fuse #8 Production/SLJ

"Expansive adventure, intricate worldbuilding, and a memorable cast, [this] cozy fantasy set amid the beginnings of a wizard war [features] close friendships and a sweet queer crush. [A] flowing, vivid prose style [will] immerse readers." —Publishers Weekly

★ "Features Melanie's first romantic crush, a motley crew of magical beings, a fair amount of deception, and a startlingly deep contemplation on what being alive means. In fact, this novel offers remarkable morsels of philosophical perspectives while maintaining its swift pace, as the characters live through events that challenge their assumptions about violence, morality, and mortality. Long after Melanie and Traveler, both worthy protagonists, have faded from memory, those ethical questions may still percolate with young readers." —BCCB (starred review)

"Will delight middle-grade fantasy fans . . . An entertaining page-turner." —GeekMom

"An orphan who can open any lock at will, is swept away on an adventure that will test her understanding of the political world around her. A great story, filled with unexpected turns, balanced characters, and an undeniable charm." —Rosie Lee-Parks, bookseller at Readers' Books, Sonoma, CA

"Strong themes of belonging and identity inform the narrative . . . Inventive and lighthearted, the novel nonetheless plumbs areas of darkness and loss, with those serving as a bracing counterweight to the fantasy." —The Horn Book

"Fully immerses readers in a magical world unlike any other. [Zack Loran Clark] provides details big and small, and yet leaves room for readers' imaginations to fill in the blanks. . . . An imaginative read that should appeal to a broad cross-section of readers. —Cracking the Cover

An epic tapestry threaded with rich lore, vibrant characters, and a twisting plot that will have readers tumbling through the pages. Marrying the zany inventiveness of Alice in Wonderland with the thorough magical world-building of Howl's Moving Castle, Clark creates a deeply immersive fantasy, full of both heft and humor, that's sure to stay with young readers long after its final page is turned." —Soman Chainani, New York Times bestselling author of The School for Good and Evil series

"Zack Loran Clark has spun a new classic. Perfect next read for fans of timeless favorites by Ursula LeGuin and Diana Wynne Jones." —Eliot Schrefer, two-time National Book Award finalist and author of The Lost Rainforest series