Haunted by the Past (Ishmael Jones #2) (Hardcover)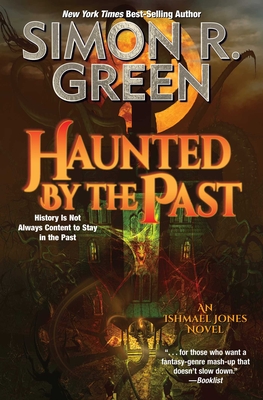 $25.00

Usually Ships in 1-5 Days
Other Books in Series
This is book number 2 in the Ishmael Jones series.
Description
---
NEW ISHMAEL JONES NOVEL FROM NEW YORK TIMES BEST-SELLING URBAN FANTASY NOVELIST SIMON R. GREEN. SUPERNATURAL DETECTIVE ISHMAEL JONES IS BACK IN THIS LATEST INSTALLMENT OF GREEN'S POPULAR SERIES.

Ishmael Jones knows all there is to know about solving mysteries. Together with his love and partner in crimes, Penny Belcourt, he specializes in cases of the weird and uncanny.

Lucas Carr went to Glenbury Hall, an old country manor house turned hotel. He signed in at reception, took his key, and went upstairs to his room. But he never got there. Somehow he vanished along the way, with not a single clue to suggest what might have happened to him.

Lucas belonged to the same mysterious organization that employs Ishmael and Penny, so they are sent in to solve the mystery. But when they arrive at grim and isolated Glenbury Hall, they discover it has a reputation as one of the most haunted old houses in England. None of the usual headless monks or walled-up nuns—just stories of lost souls that dance with the statues in the grounds; doors that won't stay shut, and rooms that aren't always there; and something that prowls the house in the early hours, endlessly searching. They say . . . it crawls.

Does Lucas' disappearance have something to do with the organization or the Hall's haunted past? Ishmael and Penny have to work their way through a series of mysterious clues and misleading suspects, uncovering secret after secret, before they finally arrive at a truth that no one suspected.

The problem with history is that it's not always content to stay in the past.

Praise for Haunted by the Past:

"The 11th book in Green's fantastical mystery series pokes fun at the genre, with fun and plenty of cathartic resolution for readers who like rueful chuckles with their chills. Recommended for those who like antiheroes with more than a bit of snark."—Library Journal

Praise for the Ishmael Jones series:

"[A] brisk, breezy mystery series . . . With convincing supernatural twists [and] witty chapter titles . . . readers will be anxious for sequels." —Publishers Weekly

"A new book from Green is always a treat for SF and urban fantasy fans, because they know that in his fictional worlds things are never quite what they seem until it's too late. His first foray into more traditional crime fiction (albeit with an otherworldy flavor) will delight mystery readers, especially those who relish a bit of genre blending." —Library Journal

"Without a doubt, this is one of the best books the author has ever penned down." —The Gatehouse

"I really enjoyed the book. If anything it was over too soon. The author captures the English Country Manor Murder Mystery feel very well, as he sets up pretty much everybody as a suspect . . . I look forward to finding out more in future volumes." —British Fantasy Society

"Ishmael is a wonderful character, an extraterrestrial living among humans, and the series (this is the third installment) is a clever mixture of thriller and SF-horror genres. Green is best known for the Deathstalker space operas, but give this one a few more installments to develop, and it could well become Green's masterwork." —Booklist, starred review

"Lovers of high-quality fantasy and science fiction should make it a point to seek this guy out, if they haven't already." —Booklist

"This relatively new series is a wonderful balance of murder mystery and urban fantasy with a sci-fi twist . . . If you enjoyed Green's previous books or if you are looking for a classic mystery with a modern twist, this is the series for you!" —That's What I'm Talking About

"Ishmael Jones is one of the most underrated series' ever and I haven't found one book in the series yet to disappoint . . . I can't recommend this book and this whole series enough!" —Tiny Book Reviews

Praise for Jekyll & Hyde Inc.:

"This book is hard to put down. It is exciting from start to finish, with thrills and monsters waiting behind every dark corner." —San Francisco Book Review

"Green transforms Robert Lewis Stevenson's classic horror novel into the launch pad for an exciting adventure. He takes readers through a romp involving multiple horror classics, updated to the twenty-first century in an amusing and entertaining read." —Ricochet

"There's something about Green's dark humor that sucks me into many of his books. And, as violent and gory as this book is, it's really about a good man striving to stay good in the worst circumstances." —Lesa's Book Critiques

"It has all the grim and all the dark of many of the author's previous series." —Reading Reality

Praise for the Deathstalkers series:

"Green moves his plot at top speed, and his characters are alive and his background solid." —Asimov's SF Magazine

"An over-the-top masterpiece that veers between brutal comedy and touching riffs on love, loyalty and betrayal . . . bloody funny and extremely bloody." —The Guardian

"Space opera at its action best. The novel is populated with heroic figures reminiscent of Lancelot and Arthur and villains that make Darth Vader seem like a nice person . . . Once again, Simon R. Green has written a work that will appeal to Star War fans." —Midwest Book Review

"A guaranteed blood-and-thunder romp, shot-through with broad swathes of fashion parody, a sustained piss-take on 'lives of the Rich and Famous' and the occasional lance of satire. This last is refreshing stuff. It's mostly aimed at Dictatorship, Fascism, Established Religion, the Toadying Media and so-forth—and it's nice to find an author who knows that laughter is the most destructive weapon to aim at a repressive establishment. In short, very violent, very funny, very good." —Infinity Plus

About Simon R. Green:

"Simon R. Green is a great favorite of mine. It's almost impossible to find a writer with a more fertile imagination than Simon. He's a writer who seems endlessly inventive." —Charlaine Harris

"A macabre and thoroughly entertaining world." —Jim Butcher, on the Nightside series

"Nobody delivers sharp, crackling dialogue better than Green, and no one whisks readers away to more terrifying adventures or more bewildering locales." —Black Gate Magazine

"As quintessentially British as fish and chips!" —SF Site

"Simon R Green is one hell of a consistent writer—if you like your Fantasy/SF served with lashings of pulp mayhem, dollops of snarky characters and big piles of extreme gore, violence and horror. Mmm tasty." —Fantasy Book Review UK

"Simon R. Green is one of my all-time favorite writers and I haven't read a book of his that I haven't devoured. I hope he has many more years of writing left in him and suggest that if you need a fix, pick up his Ishmael Jones books." —Crooked Reviews

"A splendid riddle wrapped in a mystery inside an enigma, conveyed with trademark wisecracking humor, and carried out with maximum bloodshed and mayhem. In a word, irresistible." —Kirkus, starred review on Night Fall

"[F]or those who want a fantasy-genre mash-up that doesn't slow down." —Booklist on From a Drood to a Kill
About the Author
---
Simon R. Green is the New York Times best-selling author of more than sixty science fiction, fantasy, and mystery novels. Green sold his first book in 1988 and the very next year was commissioned to write the best-selling novelization of the Kevin Costner film Robin Hood: Prince of Thieves. From there he went on to write many more series of books, including Deathstalker, Nightside, Secret History, Forest Kingdom, and the Ishmael Jones mysteries. His books have sold more than 3.8 million copies worldwide and have been translated into more than a dozen different languages.