We Are Not Like Them: A Novel (Hardcover)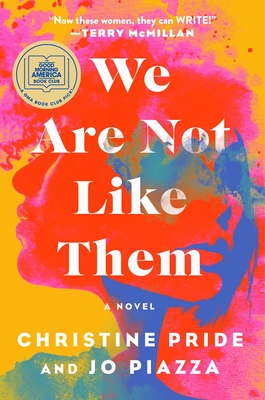 $27.00

Usually Ships in 1-5 Days
October 2021 Indie Next List
---
"Lifelong friends, one Black and one white, have their relationship tested after the tragic shooting of an unarmed Black teen. A thought-provoking and timely read."
— Mary Kay Burnett, Buttonwood Books and Toys, Cohasset, MA
Description
---
A GOOD MORNING AMERICA BOOK CLUB PICK

Named a Best Book Pick of 2021 by Harper's Bazaar and Real Simple

Named a Most Anticipated Book of Fall by People, Essence, New York Post, PopSugar, New York Newsday, Entertainment Weekly, Town & Country, Bustle, Fortune, and Book Riot

Told from alternating perspectives, an evocative and riveting novel about the lifelong bond between two women, one Black and one white, whose friendship is indelibly altered by a tragic event—a powerful and poignant exploration of race in America today and its devastating impact on ordinary lives.

Jen and Riley have been best friends since kindergarten. As adults, they remain as close as sisters, though their lives have taken different directions. Jen married young, and after years of trying, is finally pregnant. Riley pursued her childhood dream of becoming a television journalist and is poised to become one of the first Black female anchors of the top news channel in their hometown of Philadelphia.

But the deep bond they share is severely tested when Jen's husband, a city police officer, is involved in the shooting of an unarmed Black teenager. Six months pregnant, Jen is in freefall as her future, her husband's freedom, and her friendship with Riley are thrown into uncertainty. Covering this career-making story, Riley wrestles with the implications of this tragic incident for her Black community, her ambitions, and her relationship with her lifelong friend.

Like Tayari Jones's An American Marriage and Jodi Picoult's Small Great Things, We Are Not Like Them explores complex questions of race and how they pervade and shape our most intimate spaces in a deeply divided world. But at its heart, it's a story of enduring friendship—a love that defies the odds even as it faces its most difficult challenges.
About the Author
---
Christine Pride is a writer, editor, and longtime publishing veteran. She's held editorial posts at many different trade imprints, including Doubleday, Broadway, Crown, Hyperion, and Simon & Schuster. As an editor, Christine has published a range of books, with a special emphasis on inspirational stories and memoirs, including numerous New York Times bestsellers. As a freelance editorial consultant, she does select editing and proposal/content development, as well as teaching and coaching, and pens a regular column—"Race Matters"—for Cup of Jo. She lives in New York City.

Jo Piazza is a bestselling author, podcast creator, and award-winning journalist. She is the national and international bestselling author of many critically acclaimed novels and nonfiction books including We Are Not Like Them, Charlotte Walsh Likes to Win, The Knockoff, and How to Be Married. Her work has been published in ten languages in twelve countries and four of her books have been optioned for film and television. A former editor, columnist, and travel writer with Yahoo, Current TV, and the Daily News (New York), her work has also appeared in The Wall Street Journal, The New York Times, New York magazine, Glamour, Elle, Time, Marie Claire, The Daily Beast, and Slate. She holds an undergraduate degree from the University of Pennsylvania in economics and communication, a master's in journalism from Columbia University, and a master's in religious studies from New York University.
Praise For…
---
"[A] propulsive, deeply felt tale of race and friendship."
—People

"One of the fall's most anticipated titles, a buzzy novel that's been making waves in book circles for months."
—Entertainment Weekly

"[An] emotional literary rollercoaster."
—The Washington Post

"We Are Not Like Them is a tender and unexpected way into our national debate about policing, by centering an authentically drawn friendship between a black woman and a white woman who find themselves, through no fault of their own, on opposite sides of the emotional fallout of a police shooting. Through the story of this complicated female friendship, the sickness at the center of our current state of policing is laid bare. Beautifully heartfelt, Christine Pride and Jo Piazza's book finds hope in the friends' love for one another, that with understanding there may be a way forward."
—ATTICA LOCKE, New York Times bestselling author of Heaven, My Home

"We are Not Like Them, Christine Pride and Jo Piazza's gripping novel, is a powerful story about friendship, race, love, forgiveness, and justice—and the stunning ways they intersect. You will find yourself reading late into the night, needing to know what happens to best friends Riley and Jen, and simultaneously not wanting their story to end. Empathetic, riveting, and authentic, We are Not Like Them will stay with you long after you turn the last page."
—LAURA DAVE, New York Times bestselling author of The Last Thing He Told Me

"Now these women, they can WRITE!"
—TERRY MCMILLAN, New York Times bestselling author of It's Not All Downhill from Here

"We Are Not Like Them is the best kind of book, one that manages to educate readers as it entertains them. Riveting, timely and honest, this powerful page-turner explores the complexity of friendship and race — and will stay with you long after its stunning conclusion."
—GREER HENDRICKS, New York Times bestselling coauthor of The Wife Between Us

"Smart, heartfelt and compulsively readable, We Are Not Like Them is an exquisite portrait of female friendship and a provocative exploration about race. Pride and Piazza take us to uncomfortable places—in the best possible way—while capturing so much of what we are all thinking and feeling about race. A sharp, timely, and soul-satisfying novel that is sure to spark lively book club conversations worldwide."
—EMILY GIFFIN, New York Times bestselling author of The Lies That Bind

"A timely, evocative read about what tests us as friends, as partners, and ultimately, as humans, and will have you rethinking your own perspectives and experiences. A perfect read for 2021."
—ALLISON WINN SCOTCH, bestselling author of Cleo McDougal Regrets Nothing

"A searing, timely exploration of race in America along the fault lines of a friendship. We Are Not Like Them holds a mirror up to all of us in this soul-stirring tale of honesty, love, and redemption."
—NANCY JOHNSON, author of The Kindest Lie

"From its heartbreaking first page to its very last one, I was completely immersed in and changed by this important novel. Uniquely told by two writers, one black and one white, who themselves know the painful complexities of race and friendship, We Are Not Like Them is a moving page-turner that is not easily forgotten. I read this in one sitting and I'm still thinking about this book."
—LAURA ZIGMAN, author of Separation Anxiety

"With We Are Not Like Them, Christine Pride and Jo Piazza have written a captivating, urgent, yet tender novel about how the world so often has its way with our family and friendships. Read this book with a friend."
—DE'SHAWN CHARLES WINSLOW, author of In West Mills

"Coauthors Pride and Piazza explore how the sanctity of childhood friendship can be questioned and corrupted well into adulthood, and how violent racial injustice is ubiquitous in American life. We Are Not Like Them is spellbinding from cover to cover."
—Booklist (starred)

"Blistering and incisive. . . This character-driven novel ought to spark much discussion."
—Publishers Weekly

"With its timely premise, clear-cut messages, and appealing female characters, this novel is bound for book-club glory."
—Kirkus Reviews

"We Are Not Like Them is ultimately about the inherently hopeful act of having grace when the people we love make mistakes—even terrible ones. This is an excellent book club selection or a starting point for interracial friend groups or families to talk candidly about race."
—BookPage (starred)

"A powerful, timely tale."
—People