The People We Keep (Hardcover)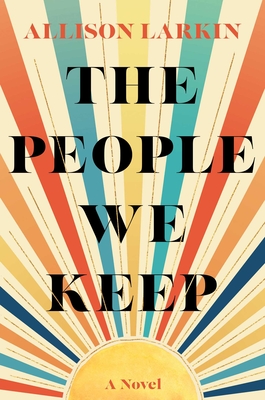 Staff Reviews
---
A moving story of the importance of the family we create when our biological one falls desperately short. It's 1994 and 16-year-old April has been raising herself for years, but it's one final argument with her dad that finally propels her strike out into the world on her own with only a stolen car and her beloved guitar to her name. Trust does not come easy to April, who is both naïve and older than her years, endearing her to people even as she pushes them away. At turns heartbreaking and hopeful, Allison Larkin's diverse cast of characters reminds us of how love comes in many forms and true family turns up for us when least expected—all we have to do is let them in.
— From
Elaine & Luisa's Picks: Summer 2021
Description
---
BOOK RIOT'S BEST BOOKS OF 2021

"This is a novel of great empathy, about connections and coming-of-age, built families and self-acceptance. It contains heartbreak and redemption, and a plucky, irresistible protagonist…[A] propulsive, empathetic novel." —Shelf Awareness

Little River, New York, 1994: April Sawicki is living in a motorless motorhome that her father won in a poker game. Failing out of school, picking up shifts at a local diner, she's left fending for herself in a town where she's never quite felt at home. When she "borrows" her neighbor's car to perform at an open mic night, she realizes her life could be much bigger than where she came from. After a fight with her dad, April packs her stuff and leaves for good, setting off on a journey to find a life that's all hers.

Driving without a chosen destination, she stops to rest in Ithaca. Her only plan is to survive, but as she looks for work, she finds a kindred sense of belonging at Cafe Decadence, the local coffee shop. Still, somehow, it doesn't make sense to her that life could be this easy. The more she falls in love with her friends in Ithaca, the more she can't shake the feeling that she'll hurt them the way she's been hurt. As April moves through the world, meeting people who feel like home, she chronicles her life in the songs she writes and discovers that where she came from doesn't dictate who she has to be.

This lyrical, luminous tale "is both a profound love letter to creative resilience and a reminder that sometimes even tragedy can be a kind of blessing" (Caroline Leavitt, New York Times bestselling author).
About the Author
---
Allison Larkin is the internationally bestselling author of the novels Stay, Why Can't I Be You, and Swimming for Sunlight. Her short fiction has been published in the Summerset Review and Slice, and nonfiction in the anthologies, I'm Not the Biggest Bitch in This Relationship and Author in Progress. She lives in the San Francisco Bay Area, with her husband, Jeremy, and their fearful, faithful German Shepherd, Stella.
Praise For…
---
"I loved everything about The People We Keep, beginning with the narrator, April Sawicki, who is both wise beyond her years and unbelievably naive, to the fact it's 1994 and no one has a cell phone. Allison Larkin has given us a heroine who is raw and real, a young person capable of breaking your heart one moment and lifting it up the next." —Chris Bohjalian, New York Times bestselling author of The Flight Attendant and Hour of the Witch

"This book is for everyone who has known or has been the tough and troubled outsider in search of their place and their people. It's a story so true and tender-hearted that I want to wrap it in a hug and buy it some soup. Read it! You'll be so glad you did." —Therese Fowler, New York Times bestselling author of Z: A Novel of Zelda Fitzgerald and A Well-Behaved Woman

"Raw, surprising and ultimately uplifting, Allison Larkin's The People We Keep will break your heart a million different ways before putting it back together again." —Julia Claiborne Johnson, author of Be Frank with Me and Better Luck Next Time

"What does it mean to feel at home in the world? To find our true family? In Larkin's luminous new novel, a young songwriter steals a car, hits the road, and struggles against all odds to try to find the answer. About the people we choose—and even more importantly the people who choose us—The People We Keep is both a profound love letter to creative resilience and a reminder that sometimes even tragedy can be a kind of blessing." —Caroline Leavitt, New York Times bestselling author of Pictures of You, Cruel Beautiful World, and With or Without You

"An emotionally gripping journey with one of the most compelling and determined protagonists I've met in a long time. April had me on the first page and hasn't let me go yet. Her quest to heal deep childhood wounds and find her true place in the world is one that will resonate with every reader. Allison Larkin has created the perfect tribute to the healing power of music, the road, and the souls we meet along the way, those who truly belong to us." —Brunonia Barry, New York Times bestselling author of The Lace Reader and The Fifth Petal

"In sparkling and unflinching prose, Larkin spins a propulsive story about friendship and intimacy, love and loss, and the healing power of art. A big-hearted and deeply moving novel." —Bruce Holsinger, author of The Gifted School

"Raw, emotional, and deeply consuming, The People We Keep is the kind of novel that sticks in your soul. Allison Larkin brings insight and emotion to this tale of a young woman's odyssey, creating characters so believable you'll almost start Googling them to find out if they're real." —Ann Mah, bestselling author of The Lost Vintage

"Tender, tragic, and triumphant. Allison Larkin has created a cast of characters in The People We Keep that thrums with realism—stripped bare, naked humanity—and a story that sings of what it means to build the family you need when life doesn't give that to you from birth. This is a story you will never forget. I loved it with all my heart." —Therese Walsh, author of The Moon Sisters

"The People We Keep is the stirring, intimate account of a young woman who, against all odds, forges her own path in the world of American folk music. As a child, April is denied everything—love, safety, support—yet she herself is undeniable. I was riveted. I could not put it down! It's a timeless and deeply compassionate story, told from the bone." —Caroline Angell, author of All the Time in the World

"Larkin writes with brave honesty and April's story will immediately connect to your heart. I worried about April endlessly, cringed at several of her choices, and ultimately found myself cheering her on. She is a heroine you will think about long after the novel ends." —Renee Swindle, author of Shake Down the Stars

"The People We Keep is a daring, emotionally rich joy of a novel that will get in your head and grab hold of your heart. You don't just root for Allison Larkin's main character. You want to protect her. You want to reach into the pages and do whatever you can to help. Simply put, this is a great book." —Matthew Norman, author of Last Couple Standing and All Together Now

"Enthralling story... Larkin writes from the heart about yearning, giving readers characters to fall in love with, while grabbing them with her honest, believable prose." —Diablo Magazine

"Music and the generosity of strangers provide healing in Larkin's emotionally expansive latest… the supporting characters feel authentic, as does the sometimes harrowing depiction of April's life as a young woman traveling and performing solo night after night. This hopeful story will move readers." —Publishers Weekly

"Larkin has created a memorable character in April, whose journey toward belonging and self-acceptance will resonate with readers. The depiction of the mid-1990s is pitch-perfect and will invoke feelings of nostalgia, especially in Gen Xers who came of age during this era. Fans of Caitlin Moran's How to Build a Girl will enjoy traveling alongside April." —Booklist (starred review)

"The People We Keep is intimate, urgent and direct; April's first-person voice is magnetic, compelling… This is a novel of great empathy, about connections and coming of age, built families and self-acceptance. It contains heartbreak and redemption, and a plucky, irresistible protagonist… [A] propulsive, empathetic novel." —Shelf Awareness

"Both hopeful and heartbreaking, The People We Keep follows a young songwriter in the '90s healing through music and searching for connection in the world." —Parade

"Allison has a knack for distilling tender scenes down to their essence, and you'll fall in love again and again alongside April—and shout at her when she leaves, even as you know, you know, why she does what she does. The People We Keep is a story for all of us who have yearned for the home we know we deserve and are afraid to fight for. It's a story of hope and belonging and the power of songs to carry us toward healing. But mainly, it's a story about the families we make and the people we build them with." —Country Living, August Book Club Pick

"Written by international bestselling author Allison Larkin, The People We Keep is a lyrical coming-of-age novel that will have you humming." —Good Morning America, "15 Books to Add to Your Summer Reading List!"

"The People We Keep is not a book to pick up lightly—it will make you fall in love with the characters, it will break your heart, it will make you laugh and cry and feel all the emotions the characters feel through author Allison Larkin's tremendous talent for bringing characters to life." —Associated Press

"You'll root for this often lonely, ceaselessly interesting underdog and her family of friends every step of the way." —People Magazine, Book of the Week

"The People We Keep is a wonderfully written novel about what it means to be alone, to belong, and to find family of your own in a hard world... The reader's heart will break and mend and delight and cry as April moves through the world trying to make her life. Slow-burning yet satisfying, this coming-of-age tale will be a gem for anyone who enjoys a character-driven story. Larkin made it near impossible not to be emotionally invested with this young protagonist trying to find her way and her people." —Lisa Jones, Delta Magazine