Where the Truth Lies: A Novel (Hardcover)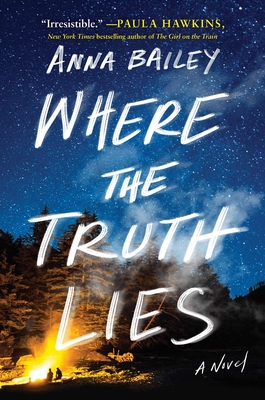 $27.00

Usually Ships in 1-5 Days
Staff Reviews
---
In Anna Bailey's propulsive debut, a rich cast of characters—including a missing girl, an abusive husband, a hate-filled preacher, and a bereaved best friend—are tangled up in a dark web of lies. Emma is wracked with guilt for not insisting her friend Abigail not go into the woods the night she went missing. Frustrated that nobody else seems concerned about what happened, Emma takes it upon herself to find answers. But as she digs deeper, ugly truths about her friends and neighbors are unearthed. Which one put Abigail's life in danger? Bailey's brilliant and haunting depiction of small-town American life is a chilling reminder of the poisonous nature of secrets and the dangerous consequences of keeping them.
— From
Elaine & Luisa's Picks: Summer 2021
August 2021 Indie Next List
---
"You'll find yourself invested in and rooting for each of the young people in this book as they navigate secrets and prejudices to unravel the mystery of what happened to their sister and friend — and why."
— Alana Haley, Schuler Books (Grand Rapids), Grand Rapids, MI
Description
---
When a teenaged girl disappears from an insular small town, all of the community's most devastating secrets come to light in this stunningly atmospheric and slow-burning suspense novel—perfect for fans of Megan Miranda and Celeste Ng.

The town of Whistling Ridge guards its secrets.

When seventeen-year-old Abigail goes missing, her best friend Emma, compelled by the guilt of leaving her alone at a party in the woods, sets out to discover the truth about what happened. The police initially believe Abi ran away, but Emma doesn't believe that her friend would leave without her, and when officers find disturbing evidence in the nearby woods, the festering secrets and longstanding resentment of both Abigail's family and the people of Whistling Ridge, Colorado begin to surface with devastating consequences.

Among those secrets: Abi'​s older brother Noah's passionate, dangerous love for the handsome Rat, a recently arrived Romanian immigrant who has recently made his home in the trailer park in town; her younger brother Jude's feeling that he knows information he should tell the police, if only he could put it into words; Abi'​s father's mercurial, unpredictable rages and her mother's silence. Then there is the rest of Whistling Ridge, where a charismatic preacher advocates for God's love in language that mirrors violence, under the sway of the powerful businessman who rules the town, insular and wary of outsiders.

But Abi had secrets, too, and the closer Emma grows to unraveling the past, the farther she feels from her friend. And in a tinder box of small-town rage, and all it will take is just one spark—the truth of what really happened that night—to change their community forever.
About the Author
---
Anna Bailey was born in 1995 and grew up in Gloucestershire, before going on to study creative writing at Bath Spa University. She moved to the US hoping to become a journalist, but ended up working as a Starbucks barista in the Rocky Mountains. In 2018, she returned to the UK and enrolled on a writing course with Curtis Brown Creative, where she completed her first novel, inspired by her experience of small-town America. She lives in France.
Praise For…
---
"Anna Bailey's debut is irresistible, a compelling and nuanced psychological thriller suffused with small town prejudice and dark family secrets."
— Paula Hawkins, New York Times bestselling author of The Girl on The Train

"With Where the Truth Lies, Anna Bailey bursts onto the scene with a wonderfully haunting debut. Small-town intrigue, exquisitely drawn."
—Jane Harper, author of The Dry and The Lost Man

"claustrophobic....vividly realized." —Val McDermid, The Express

"An intricate and compelling thriller, beautifully nuanced and wonderfully claustrophobic. Brilliant." — SJ Watson, New York Times bestselling author of Final Cut

"Where the Truth Lies is as atmospheric as it gets - a stunning debut that delivers on every level. Reminded me of Jane Harper's The Dry."
—Renee Knight, author of Disclaimer

"An elegant, mesmerizing debut—Anna Bailey explores festering secrets and family trauma with a sharp, yet tender gaze. This book reads like a whisper in the dark."
—Danya Kukafka, author of Girl in Snow

"Chilling and compulsive. Where the Truth Lies is a dazzling debut."
—Kate Hamer, author of The Girl in the Red Coat

"A terrific debut about guilt, secrets and complex family dynamics - the writing is vivid & assured: Anna Bailey is definitely one to watch." — Lucy Atkins, author of Magpie Lane

"Brilliant! Could not put it down. It's utterly gripping and beautifully written." — Katie Fforde, author of A Rose Petal Summer

"Gripping and so beautifully written Where the Truth Lies is spellbinding; dark and menacing, but also so full of love and hope. I loved it. I cried."
—Cressida McLaughlin, author of The Cornish Cream Tea Summer

"Where the Truth Lies brilliantly conjures up the oppressive claustrophobia of the small town and I felt so strongly about some of the characters that I had to check the ending to make sure they were ok! Extremely well written... fantastic." — Harriet Tyce, bestselling author of The Lies You Told

"Anna Bailey writes like a dream about teenage love and lust, the terror of knowledge and the claustrophobia of families and of small towns.Tall Bones is as brutal, as bittersweet, as tender and as tense as first love itself." — Emma Flint, author of Little Deaths

"Simmering resentments and long-held prejudices boil over in this beautifully realised evocation of small-town America. In Anna Bailey's deft hands, brutal events are drawn so tenderly that your heart will break. I loved it."
— Kate Riordan, author of The Heatwave

"[A] stunning suspense novel—perfect for fans of Megan Miranda and Celeste Ng." — Library Journal

"Beautifully written and very moving, this is an assured debut." —The Guardian

"This is a striking first novel, a chilling insight into an oppressive world, where bad thoughts and bad deeds ripple just below the surface."
—The Observer

"[A] suspenseful whodunit told in vivid, sensory prose… … the simmering tension keeps the pages turning in this slow burn of a story." —Publishers Weekly

"In Anna Bailey's Where the Truth Lies, we start by investigating how a teenaged girl disappeared during a drunken party on the edge of the woods. By the end, we've uncovered the darkest secrets of a nightmare family and of this slice of small-town America, post Nam, post Trump. It's rightly billed as a thriller, but this debut by a 26-year-old Englishwoman heralds the arrival of a major novelist." —A.N. Wilson, author of The Victorians