Sentient: How Animals Illuminate the Wonder of Our Human Senses (Hardcover)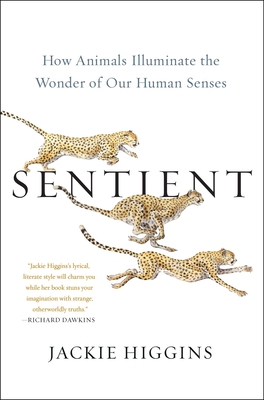 $28.00

Coming Soon - Available for Pre-Order Now
Description
---
Perfect for fans of The Soul of an Octopus and The Genius of Birds, this remarkable book explores how we process the world around us by analyzing the incredible sensory capabilities of thirteen animals and reveals that we are not limited to merely five senses.

There is a scientific revolution stirring in the field of human perception. Research has shown that the extraordinary sensory powers of our animal friends can help us better understand the same powers that lie dormant within us.

From the harlequin mantis shrimp with its ability to see a vast range of colors, to the bloodhound and its hundreds of millions of scent receptors; from the orb-weaving spider whose eyes recognize not only space but time, to the cheetah whose ears are responsible for its perfect agility, these astonishing animals hold the key to better understanding how we make sense of the world around us. Eye-opening and captivating, Sentient will change the way you think about what it is to be human.
About the Author
---
Jackie Higgins is a graduate of Oxford University with an MA in zoology and has worked for Oxford Scientific Films for over a decade, along with National Geographic, PBS Nova, and the Discovery Channel. She has also written, directed, and produced films at the BBC Science Department. Sentient is her first book. She lives in London.
Praise For…
---
"Sentient is a revelatory book. Exploring animals' beyond-human senses opens to us whole new realms of experience. Thank you, Jackie Higgins, for enlarging our understanding of what the world looks, feels, tastes, and smells like." —Sy Montgomery, New York Times bestselling author of The Soul of an Octopus

"Jackie puts a mirror up to the natural world so we can sense ourselves through our animal relatives. I love this book because it reminds me of our wildness, it reminds me how powerful our senses are, and it celebrates animals and humans in a way that binds us together. The stories are so interesting and well researched, and the language speaks of an author with a deep sense of biological wisdom and wonder." —Craig Foster, filmmaker and Academy Award winner for My Octopus Teacher

"How would the First Encounter with an extraterrestrial alien change our view of ourselves? Great science fiction explores the question. But we don't need science fiction. The aliens are all around us – the octopus with its mysterious body-image, the electric scanner of the platypus's bill, the magnetic compass of a migrating bird, the moth antenna that can detect the scent of a female in quadrillion-fold dilution. Jackie Higgins's lyrical, literate style will charm you while her book stuns your imagination with strange, other-worldly truths." —Richard Dawkins, New York Times bestselling author of The Greatest Show on Earth

"In Sentient, Jackie Higgins deftly explores the sensory world of animals — the exquisite touch-sense of a mole's bizarre nose, the magnetic sense of migratory birds, the electric sense of the platypus — as a window onto our human senses, which echo and some cases even exceed their wild counterparts. Extraordinarily rich in detail, there is a miracle on every page." —Scott Weidensaul, New York Times bestselling author of A World on the Wing

"Jackie Higgins digs deep to show us star-nosed moles that see what they touch, discovers how great grey owls fly silently in search of their prey, and how sightless humans can see with their faces. You will never see in the same way again. With potentially endless reverberations for our creative and perceptive states, Higgins delivers a series of delicious lessons in what it is to be sensate, and shows how our own brains can emulate the miraculous feat of the animals with whom we share this fragile planet." –Philip Hoare, Samuel Johnson Prize-winning author of Leviathan and Albert and the Whale

"I loved Sentient, it's filled with the wonder of knowing and the infinite surprises of nature." —Stephen Rutt, author of The Seafarers and Wintering

"For all that it's stuffed with entertaining oddities, Sentient is not a book about oddities, and Higgins's argument, although colorful, is rigorous and focused. She leads us to adopt an entirely unfamiliar way of thinking about the senses." —The Times (London)

"In an authoritative and captivating tone, Higgins provides numerous entertaining lessons regarding how information gained from animals can be applied to humans…. An appealingly written, enlightening, and sometimes eerie journey into the extraordinary possibilities for the human senses." –Kirkus (starred review)

"Elucidated with scientific fluency and narrative verve. . . Higgins' in-depth tour of the senses recalibrates our sense of ourselves, other species, and the singular miracle of life." —Booklist (Starred Review)

"[An] eminently entertaining look at the natural world…a moving and perspective-shifting examination of 'the everyday miracle of being sentient.'" —Publishers Weekly (Starred Review)