The Startup Wife: A Novel (Hardcover)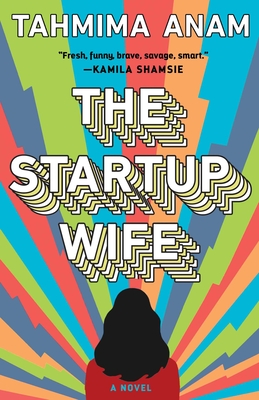 $26.00

Usually Ships in 1-5 Days
Staff Reviews
---
Tahmima Anam tackles both the startup universe and the world around us in this fresh take on the traditional rom-com. Asha Rey loves two things in her life: computer programing and her husband Cyrus. She is inspired by how his mind works as he creates personalized rituals using literature, pop-culture, and history. Persuading Cyrus to allow her to develop an app to bring his gifts to a wider audience at first seems like a great idea, but when nothing goes as planned Asha is forced to confront her own complicity and needs in the aftermath. Propulsive and insightful, The Startup Wife examines the folly of attempting to recreate the best parts of our real world in the digital realm without addressing the problems that infect both.
— From
Elaine & Luisa's Picks: Summer 2021
July 2021 Indie Next List
---
"The concept of an app that offers custom-made rituals got me to pick up this new novel, but the fact that the protagonist is a woman of color leading a tech start up alongside her very charismatic husband got me to read it. A great summer read."
— Amber Taylor, One More Page Books, Arlington, VA
Description
---
Named a Best Book of the Year by NPR​

In this "wise and wickedly funny novel about love, creativity, and the limitations of the tech-verse" (Vogue) newlyweds Asha and Cyrus find themselves running one of the most popular social media platforms in the world.

Meet Asha Ray. Brilliant coder and possessor of a Pi tattoo, Asha is poised to make a scientific breakthrough when she is reunited with her high school crush, Cyrus Jones.

Before she knows it, Asha has abandoned her lab, exchanged vows with Cyrus, and gone to work at an exclusive tech incubator called Utopia to develop an app called WAI—"We are Infinite."

WAI creates a sensation, with millions of users logging on every day. Will Cyrus and Asha's marriage survive the pressures of sudden fame, or will she become overshadowed by the man everyone is calling the new messiah?

This "scathing—and hilarious—take on startup culture, marriage and workaholism" (Politico) explores whether or not technology—with all its limits and possibilities—can disrupt modern love.
About the Author
---
Tahmima Anam is the recipient of a Commonwealth Writers Prize, an O. Henry Prize, and has been named one of Granta's Best Young British Novelists. She is a contributing opinion writer for The New York Times and was recently elected as a Fellow of the Royal Society of Literature. Born in Dhaka, Bangladesh, she was educated at Mount Holyoke College and Harvard University and now lives in London where she is on the board of ROLI, a music tech company founded by her husband.
Praise For…
---
**Longlisted for the Aspen Words Literary Prize**

"Scathing yet hilarious... A compulsively readable novel — and a piercing satire on startup culture and gender politics."
—The Skimm

"Anam writes with a delightful wryness about young people today, startup culture and the onset of the end of the world. The Startup Wife is a fun, intelligent contemporary novel about timely ethical questions." —Charleston Post & Courier

"The Startup Wife is an incisive satire about faith, technology and intimacy in the modern world. When three close friends (two of whom are a couple) form a startup to create customized spiritual experiences that help the masses connect, it has the ironic effect of blowing their relationships apart. What's especially thorny is that while the algorithm and research that make the tech work belong to South Asian American Asha, her charismatic white husband is the star the media and investors want to see. Tahmima Anam's novel is a thought-provoking skewering of startup culture specifically – but because Americans revere tech and its leaders, we all share in those sins." —Carole V. Bell, NPR

"A whip-smart, funny, and searing look at the wild world of startups." —Good Morning America Book Club Buzz Pick

"The buzziest novel of the summer. . . . there's delicious humor in the subtly savage takedowns of the Silicon Valley system. . . . Anam deftly explores the gender politics of the book's central partnership." —Entertainment Weekly

"A feminist comic novel about the tech world. . . . the bliss Asha felt when she gave up her PhD studies and reconnected with Cyrus, her high school crush, may not outlast his ambitions." —Bethanne Patrick, The Washington Post

"A wise and wickedly funny novel about love, creativity, and the limitations of the tech-verse." —Vogue

"Faith, feminism, and our automated future make for a delicious mash-up in this satirical novel. . . . Anam's penetrating look at the tech world's discrimination pairs beautifully with her meditation on marriage and faith." —Esquire

"A scathing—and hilarious—take on startup culture, marriage and workaholism." —Politico

"Takes the age-old cliché of a woman being undermined by men at work and places it in the center of a modern, satirical story." —CNN.com

"Anam has a wicked sense of humor, taking aim at startup culture and doomsday preppers while pointing out the lack of feminism and women of color in the tech industry." —Connie Ogle, Minneapolis Star Tribune

"In this sharp and savage story, Anam deftly explores startup culture and the inherent sexism within the tech industry." —E! News

"[A] charged and cheeky examination of startup culture, human connection and modern relationships." —Ms. Magazine

"With elements of feminism, race, religion, sci-fi, and satire, The Startup Wife is incredibly thought-provoking." —Hello Giggles

"A satirical and critical look at startup culture, cults, and modern relationships." —Book Riot

"Success comes at a price, as Anam shows in this witty novel that explores ambition and love in the very-modern world." —Nora Krug, The Washington Post

"Anam turns her keen eye toward skewering startup culture and exploring what the future of religion might look like in the digital age in her terrific new novel." —PopSugar

"A zippy novel that deepens into a reckoning with self-delusion." —Scientific American

"An insightful sendup of startup culture and the modern marriage. . . . her evolving epiphanies are served up in an engagingly ironic voice with sharply observed details." —Jenny Bhatt, Minneapolis Star Tribune

"Deliciously devilish and oh-so-meta. . . . This story of tech as its own god obeying its own masters of the universe is profound." —Techonomy

"Anam's own experiences underpin the book's sharp and knowing satire, but at its core The Startup Wife is about much more than skewering our modern silicon messiahs." —The Millions

"Faith, fame, love and tech meet up for this feminist take on startup culture." —CNN

"Entertaining and very relevant for our times. Anam's novel offers us a welcome balance between serious questions and an enjoyable, witty read." —International Examiner

"Explores an essential question for couples: Can you be both romantic partners and business partners? Newlyweds Asha and Cyrus are about to find out." —Marie Claire

"Scathing yet hilarious. . . . a compulsively readable novel—and a piercing satire on startup culture and gender politics." —The Skimm

"Spot on and zings." —SheReads

"A brilliantly incisive social novel. . . . Because The Startup Wife is sexy and funny and puts relationships at the forefront, it might be easy to overlook its depth and sophistication. But The Startup Wife's insights about modern relationships, gender politics, race, technology, and culture are as excellent and vital as its storytelling." —BookPage, starred review

"Spectacular. . . . a powerful statement on the consequences of public achievement on private happiness." —Publishers Weekly, starred review

"Offers readers a glimpse of the challenges of creating and running a startup and brings the issue of gender equality in work and relationships to the forefront... Anam's modern tale has plenty of talking points that will make it a good selection for book groups." —Library Journal

"Anam's not-quite-love-story shrewdly exposes gender inequity, racism, homophobia, and male white privilege, achieving sharply exposing, skillfully engaging results." —Booklist

"A clever, funny anti-romance novel set in the world of platforms, launches, engagements, and turmeric lattes." —Kirkus Reviews

"Endowed with witty prose and an intriguing premise, The Startup Wife by Tahmima Anam is a sparkling send-up of modern-day entrepreneurial culture." —Shelf Awareness

"Tahmima Anam deftly uses humor to explore both start up culture and the institution of marriage in an utterly charming but also genuinely thoughtful way. With generosity and sharp intelligence, Anam offers real insight into the collision between romance and ambition, and the tangled relationship between faith and technology." —Rumaan Alam, author of Leave the World Behind

"The Startup Wife is a nuanced and honest portrayal of gender dynamics, misguided intentions and taking responsibility for our own, sometimes monstrous, creations. I've never read such an accurate account of how it feels to start a tech company as a woman. We need more stories like this one." —Susie Yang, author of White Ivy

"This scathing and brutally funny novel skewers startup culture and workaholism with the perfect story for our precarious moment. Tahmima Anam has written an absolute page-turner full of heart, wit, and insight about obsession, how we treat others, and when we stand up for ourselves. A revealing depiction of ways people gain power through work—and lose it." —V.V. Ganeshananthan, author of Love Marriage

"Compulsive reading. A deliciously timely, whip-smart buoyant dissection of men and women on the rise and the dynamics at play." —Irenosen Okojie, author of Butterfly Fish

"Beneath its high-octane, hi-tech surface, The Startup Wife is a funny, poignant, and supersmart story of ambition, independence, and love—a brilliant portrait of the times we live in." —Tash Aw, author of Five Star Billionaire

"Brilliant . . . A modern novel about love, startups, technology, ambition, and the future, all wrapped up in one. It's very clever, but also subtle and very funny too." —Emma Gannon, author of Olive

"Fresh, funny, brave, savage, smart. Tahmima Anam hits every note perfectly in this novel about our new reality and the age-old problems of men and women that no app can fix." —Kamila Shamsie, author of Home Fires

"Impossibly timely and bewilderlingly smart." —Elif Shafak, author of The Forty Rules of Love

"A brilliant and trenchant portrait." —The Observer

"The Startup Wife is an extremely enjoyable, feminist rom com-- gloriously readable, irresistibly funny and smarter than you realize... I loved this novel." —Gillian Anderson

Praise for Tahmima Anam

"Anam deftly weaves the personal and the political." —The New Yorker

"Compelling... Anam is cracking open secrets to let the healing begin." —O, The Oprah Magazine

"Anam's easy poetry and soulful writing is illuminating." —Elle