The Keto High Fiber Diet: More than 60 High-fiber Recipes for the Essential Low-carb, High-fat Diet: A Cookbook (Paperback)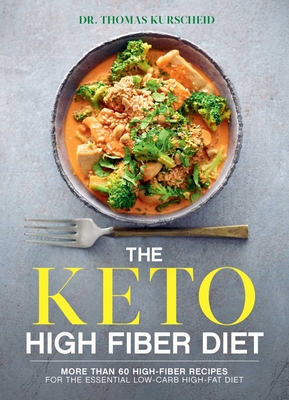 Description
---
More than 70 high-fiber, easy and delicious recipes for the high-fat, low-carb diet perfect for everyone looking to lose weight and stay healthy.

By now, we've all heard—and even tried—the keto diet. But when cutting out carbs such as fruits and grains, it is easy to worry about digestive health—and too few (or too many) trips to the bathroom. Dr. Thomas Kurscheid offers the perfect solution. Demonstrating how simple it can be to make delicious keto-friendly, high-fiber meals without sugary fruits and starchy carbohydrates, The Keto High Fiber Diet offers flavorful and healthy meals that you can make in no time.

The Keto High Fiber Diet is split into two phases: a strict low-carb phase kick-starting the ketosis, and a gentler one that stabilizes it. Both phases offer a large selection of recipes including drinks, salads, bowls, and mains. Focusing on high-fiber, low-carb veggies like avocado, cauliflower, broccoli, and cabbage, these more than 70 appetizing, balanced recipes will train your body to burn fat instead of sugar for effective weight loss and steady energy, all while maintaining healthy levels of fiber. From a delicious breakfast bowl to a creamy chicken curry, Dr. Kurscheid's keto diet could not get any healthier or easier. Let this book be your guide to the body you've always dreamed of without sacrificing all your favorite foods!
About the Author
---
Dr. Thomas Kurscheid is a specialist in both nutritional and sports medicine, focusing on prevention of obesity and cardiovascular disease through diet, exercise and lifestyle changes. He studied medicine in London and Cologne, where he set up his own research institute in 2012. He believes the low-carb high-fiber evolution of the keto diet to be the healthiest option for optimal weight loss.