Crosshairs: A Novel (Hardcover)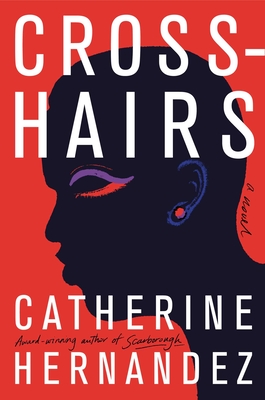 for information about purchasing this book, please contact orders@bookpassage.com
Description
---
USA TODAY's 5 Books Not to Miss
Vanity Fair's Books To Get You Through the Winter
Marie Claire's 2020 Books to Add To Your Reading List
PopSugar's 20 Books Everyone Will Be Talking About
Cosmopolitan's 20 Books to Read this Winter

The author of the acclaimed novel Scarborough weaves an unforgettable and timely dystopian tale about a near-future, where a queer Black performer and his allies join forces to rise up when an oppressive regime gathers those deemed "Other" into concentration camps.

Set in a terrifyingly familiar near-future, with massive floods leading to rampant homelessness and devastation, a government-sanctioned regime called The Boots seizes on the opportunity to round up communities of color, the disabled, and the LGBTQ+ into labor camps.

In the shadows, a new hero emerges. After he loses his livelihood as a drag queen and the love of his life, Kay joins the resistance alongside Bahadur, a transmasculine refugee, and Firuzeh, a headstrong social worker. Guiding them in the use of weapons and close-quarters combat is Beck, a rogue army officer, who helps them plan an uprising at a major televised international event.

With her signature "raw yet beautiful, disturbing yet hopeful" (Booklist) prose, Catherine Hernandez creates a vision of the future that is all the more frightening because it is very possible. A cautionary tale filled with fierce and vibrant characters, Crosshairs explores the universal desire to thrive, love, and be loved for being your true self.
About the Author
---
Catherine Hernandez is a proud queer woman of color, radical mother, theater practitioner, award-winning author, and the artistic director of b current Performing Arts and the Sulong Theatre. She is of Filipino, Spanish, Chinese, and Indian heritage, and she is married into the Navajo Nation. She is the author of the plays Singkil and Kilt Pins, the children's book M Is for Mustache: A Pride ABC Book, and the novels Scarborough and Crosshairs.
Praise For…
---
"Crosshairs is both unnervingly prescient and undeniably profound. A harrowing work that's as much a battle cry as a ballad for the erased, and we should all be listening."
— V.E. Schwab, New York Times bestselling author of The Invisible Life of Addie LaRue

"A beautiful, unapologetic, and unwatered-down burst of fury against cis white supremacy and tyrannical power systems, centered around a main cast that must be fiercely protected. Hernandez writes the best kind of dystopian story, one that holds a sobering mirror up to our own world. Let this book haunt you."
— Marie Lu, New York Times bestselling author of the Legend Series

"Every character has a moment to tell their story. Hernandez delivers beautiful and heartbreaking scenes in a story that is hard especially because of how close it feels to our present."
— Booklist

"Hernandez takes a scathing look at discrimination and capitalism in her disturbingly familiar look at Western culture."
— Publishers Weekly

"Compelling and unnerving, Crosshairs is a phenomenal literary achievement."
— Ms. Magazine

"Hernandez is a talent undeniable. She's an evocative, vibrant writer whose voice and point of view are an exciting addition to the literary landscape . . . Crosshairs tells a story of battling against the insidious nature of fascism and white supremacy by being unabashedly yourself."
— USA Today

"A mindful cautionary tale written with an intentionality that allows for a fully fleshed-out, multifaceted story to emerge."
— The Mary Sue

"This cautionary tale is truly riveting."
— HelloGiggles

"Crosshairs is at once a cautionary tale and nuanced dystopian novel about the dangers of otherizing people."
— POPSUGAR

"Gorgeously poetic."
— BookPage

"Crosshairs made me shiver. It troubled my dreams. Still, I could not put down this dystopia. It was utterly compelling. Catherine Hernandez prophesies Canadian genocide against Queer, Black, Brown, and Indigenous folks. At the same time, she inspires the reader with her depiction of a resistance full of characters who—even in the face of hatred and complacency—show love, pride, endurance, courage, and insist on living to the very last breath."
— Lawrence Hill, bestselling author of The Illegal and The Book of Negroes

"Catherine Hernandez is groundbreaking. Her talent is remarkable. I dare you not to cry or scream or marvel or, like me, do all at once while reading this book. This story is a masterpiece of voice and metaphor, image and embodiment. But it is also a perfectly crafted portrait of us now, of us then, of the us we hope to be. I love this book, this big, bright missive that not only breaks the ground, but that gifts us with the steps to take in order to get to the other side, together."
— Cherie Dimaline, bestselling author of The Marrow Thieves and Empire of Wild

"Crosshairs is a blistering page-turner. One can describe it as dystopic fiction, but Catherine Hernandez is presenting us with something much more prescient to consider. The novel acts as a provocation and a challenge for readers to locate themselves. Crosshairs offers a glance into a world that is possible if we continue on a trajectory that is frightfully present. Most importantly, Crosshairs asks us what we will do to resist and build a better future when faced with such momentous and dangerous times."
— Carrianne Leung, award-winning author of That Time I Loved You

"In Crosshairs, Catherine Hernandez shapes a world at once fantastical and familiar, remarkable and relatable . . . The result is a sparkling but devastating novel about corporate and state cruelty, individual as well as community sacrifice, and Queer Black and Brown kinship that must be protected at all costs. Timely, unapologetic, complicated."
— Jenny Heijun Wills, award-winning author of Older Sister, Not Necessarily Related

"In Crosshairs . . . the distinction between dystopia and reality becomes increasingly imperceptible . . . underscor[ing] that what's dystopian fiction for some is already a reality for others . . . Crosshairs leaves readers with two promises. The first is that change is possible. If people with privilege can be motivated to take action against systemic oppression, souls can be saved and lives can be spared. The second promise is that without change, we are hurtling toward disaster. Consider this book a call to action. A demand for change, before it is too late."
— Quill and Quire