Decoding Greatness: How the Best in the World Reverse Engineer Success (Hardcover)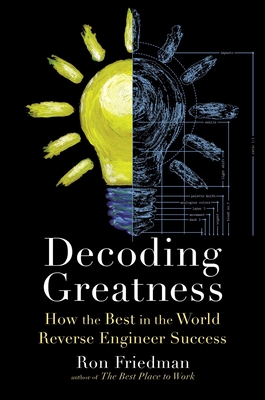 $28.00

Usually Ships in 1-5 Days
Description
---
NATIONAL BESTSELLER

For readers of Atomic Habits, Deep Work, and Peak comes a game-changing approach to mastering new skills and succeeding faster.

For generations, we've been taught there are two ways to succeed—either from talent or practice. In Decoding Greatness, award-winning social psychologist Ron Friedman illuminates a powerful third path—one that has quietly launched icons in a wide range of fields, from artists, writers, and chefs, to athletes, inventors, and entrepreneurs: reverse engineering.

To reverse engineer is to look beyond what is evident on the surface and find a hidden structure. It's the ability to taste an intoxicating dish and deduce its recipe, to listen to a beautiful song and discern its chord progression, to watch a horror film and grasp its narrative arc.

Using eye-opening examples of top performers—from Agatha Christie to Andy Warhol, Barack Obama to Serena Williams—and groundbreaking research on pattern recognition, skill acquisition, and creative genius, Friedman reveals the staggering power of reverse engineering and teaches you how to harness this vital skill for yourself.

You'll learn how to take apart models you admire, pinpoint precisely what makes them work, and apply that knowledge to develop novel ideas, methods, and products that are uniquely your own. Along the way, you'll meet the culinary detective who exposes top-secret recipes, the burglar who can visit a bank and recreate its blueprints, and the celebrated artist who reverse engineered his way to the top of his profession without any formal education.

You don't have to be a genius to achieve greatness, but you do need a method for getting there. Bursting with unforgettable stories and actionable strategies, Decoding Greatness is an indispensable guide to learning from the best, improving your skills, and sparking breakthrough ideas.
About the Author
---
Ron Friedman, PhD, is an award-winning psychologist and the founder of ignite80, a learning and development company that teaches leaders science-based strategies for building high-performing teams. His research has appeared on NPR, in The New York Times, The Washington Post, The Boston Globe, The Globe and Mail (Toronto), The Guardian, Harvard Business Review, Fast Company, and Psychology Today. He is the author of The Best Place to Work, an Inc. Magazine Best Business Book of the Year, and Decoding Greatness. He lives in Pittsford, New York.
Praise For…
---
"This book is your secret decoder ring for understanding how athletes, artists, entrepreneurs, and even criminal masterminds create breakthroughs. Clear, concise, and backed by science, it's a powerful combination of analysis and storytelling that will transform the way you approach your next project."
—Daniel H. Pink, author of When, Drive, and To Sell is Human

"If this book was full of insights about the patterns that drive excellence across fields, it would be well worth your time. Ron Friedman has gone a step further: he actually teaches you how to detect new patterns yourself. With alluring stories and illuminating studies, he shows how we can all learn more from great achievers and innovators."
—Adam Grant, New York Times bestselling author of Think Again and Originals, and host of the TED podcast WorkLife

"A much-needed handbook for learning how success really happens. Read this book if you want to upgrade from working hard to actually producing results that matter."
—Cal Newport, the New York Times bestselling author of Digital Minimalism and Deep Work

"Great innovators have one thing in common. They all cracked the code. In his riveting new book, Ron Friedman shows how history's most creative minds unlocked the potential of reverse engineering, and more importantly, how to apply that process strategically in today's most competitive fields. Filled with compelling, unforgettable stories, Friedman shows how disruptive innovations in technology, sports, art, and business have shaped our world where future innovations can be found."
—Marshall Goldsmith, New York Times #1 bestselling author of Triggers, Mojo, and What Got You Here Won't Get You There

"Decoding Greatness is a playbook for success, applicable to any field you can imagine. By reverse engineering what works for others, we can all find unique ways to drive innovation. Ron Friedman is a master of how people think and work, and shows us how we can apply these insights in our own lives."
—Jonah Berger, internationally bestselling author of Contagious, Invisible Influence, and The Catalyst

"Psychologist Ron Friedman melds storytelling and science with a page-turning effect. I finished Decoding Greatness with a list of things I want to try in my own work, and I bet you will too."
—David Epstein, New York Times bestselling author of Range

"Ron Friedman brilliantly illuminates how experts in every field use reverse engineering to jumpstart their thinking and spark innovation. Decoding Greatness is an eye-opening, fast-paced read that uses the unexpected success stories of athletes, artists, innovators, entrepreneurs, and even criminal masterminds. Clear, concise, and backed by the latest science, it's a rare combination of entertainment and enlightenment that will transform the way you approach your next project."
—Shawn Achor, New York Times bestselling author of The Happiness Advantage and Big Potential

"We'd all like to get results and succeed faster. In this addictively readable new book, Ron Friedman shows you a smart, proven framework that actually works. Bursting with unforgettable stories, eye-opening insights, and practical strategies, it offers a genuinely new and profoundly useful perspective on how greatness is truly achieved. If you want to master your craft, this book is a must-read."
—Dorie Clark, author of Entrepreneurial You and executive education faculty, Duke University Fuqua School of Business

"In Decoding Greatness, Ron Friedman unlocks the secrets to disruptive innovation, providing a research-backed toolbox full of practical techniques that cross all fields—from business, innovation and art, to computers, music and even crime. The examples Friedman uses are as entertaining as they are unforgettable."
—Scott Barry Kaufman, Ph.D., author of Transcend: The New Science of Self-Actualization

"So many professionals struggle to be original but fail to take the time to learn from the creative work of those around them. Ron Friedman has decoded the path to brilliant and innovative work and shows you how you can do the same. An essential read for anyone looking for their next big idea."
—Todd Henry, author of The Accidental Creative and The Motivation Code

"Drawing on examples from Jeff Bezos to Judd Apatow, Malcolm Gladwell, and Vincent Van Gogh....the author examines how these creative minds think and counsels readers to ask interesting questions, solicit and interpret feedback...develop meaningful metrics, and set goals...[An] engaging prescription for getting ahead in business and life."
—Kirkus Reviews

"Friedman's formula for greatness is deceptively simple: find something great, then take it apart. But deconstruction is just the first step, and he uses examples of entrepreneurs, writers, musicians, chefs, athletes, and more to illustrate the rest of the process....There are plenty of stories mixed in to illustrate each point clearly, and readers will leave the book inspired to start something great themselves."
—Booklist

"[An] empowering guide....Friedman discusses how artists, chefs, athletes, and other professionals can use the process of reverse engineering to acquire new skills and spark creativity. ...Friedman's tips...inspire readers to learn from what they admire. Those in need of a refresh of their problem-solving skills should give this a look."
—Publishers Weekly

"[Friedman] effectively balances theory with his rich collection of real-life examples, thus avoiding clichés and vague aspirations....A practical and sophisticated handbook, useful for readers who wish to learn from the successful experiences of others and effectively apply the lessons to their own work and careers."
—Library Journal, starred review

"A fascinating and intriguing journey into an aspect of creativity that is often completely overlooked—or severely marginalized—but is nonetheless absolutely fundamental to human progress on a number of levels. Drawing from extensive studies on pattern recognition, skill acquisition and the creativity process in general, the conclusions and arguments are elegantly articulated and difficult to refute...By the end of this book, you're going to have a critical new skill. One that empowers you to take apart examples you admire, pinpoint precisely what makes them work, and apply that knowledge to develop inventive, winning formulas that are uniquely your own. I am here to testify that is exactly what happens when you read this exquisite little—but deceptively complex—primer. Highly recommended."
—Bowling Green Daily News

"An entertaining and example-heavy treatise on the pursuit of excellence. And since his subject is really individual rather than team or corporate improvement (he tackled that in his first book, 'The Best Place to Work'), the book is just as viable, perhaps even more so, for the artist or creative professional as it is for the businessperson....I might just read the book again."
—Newcity

"Using eye-opening examples of top performers and groundbreaking research on pattern recognition, skill acquisition, and creative genius, Friedman reveals the staggering power of reverse engineering."
—Soundview Magazine