The Impossible First: From Fire to Ice—Crossing Antarctica Alone (Hardcover)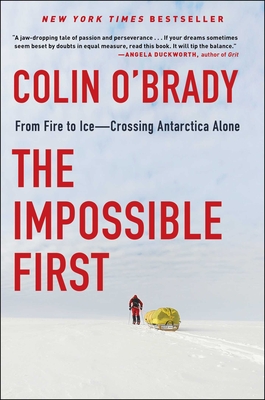 $28.00
Email or call for price
Description
---
A NEW YORK TIMES BESTSELLER

Colin O'Brady's awe-inspiring memoir spans his triumphant recovery from a tragic accident to his gripping 932-mile solo crossing of Antarctica.

Prior to December 2018, no individual had ever crossed the landmass of Antarctica alone, without support and completely human powered. Yet, Colin O'Brady was determined to do just that, even if, ten years earlier, there was doubt that he'd ever walk again normally. From the depths of a tragic accident, he fought his way back. In a quest to unlock his potential and discover what was possible, he went on to set three mountaineering world records before turning to this historic Antarctic challenge.

O'Brady's pursuit of a goal that had eluded many others was made even more intense by a head-to-head battle that emerged with British polar explorer Captain Louis Rudd—also striving to be "the first." Enduring Antarctica's sub-zero temperatures and pulling a sled that initially weighed 375 pounds—in complete isolation and through a succession of whiteouts, storms, and a series of near disasters—O'Brady persevered.

Alone with his thoughts for nearly two months in the vastness of the frozen continent—gripped by fear and doubt—he reflected on his past, seeking courage and inspiration in the relationships and experiences that had shaped his life.

Honest, deeply moving, filled with moments of vulnerability—and set against the backdrop of some of the most extreme environments on earth, from Mt. Everest to Antarctica—The Impossible First reveals how anyone can reject limits, overcome immense obstacles, and discover what matters most.
About the Author
---
Colin O'Brady is a ten-time world record breaking explorer, New York Times bestselling author of The Impossible First, speaker, entrepreneur, and expert on mindset. His mission: sharing his hard-earned wisdom to empower others to conquer their minds and unlock their best lives. Colin's highly publicized expeditions have been followed by millions and his work has been featured in the The New York Times and Forbes and on The Tonight Show, the BBC, The Joe Rogan Experience, and NBC's Today. His feats include the world's first solo, unsupported, and fully human-powered crossing of Antarctica, speed records for the Explorers Grand Slam and the Seven Summits, and the first human-powered ocean row across Drake Passage. He regularly speaks on mindset and high performance at Fortune 100 companies such as Nike, Google, and Amazon and at top universities including Harvard, Yale, and UPenn. His TEDx talk has nearly 3 million views. He's also the cofounder of 29029 Everesting. Native to the Pacific Northwest, he now lives in Jackson Hole, Wyoming, with his wife, Jenna Besaw, and their dog, Jack. Engage with Colin and his work @ColinOBrady or at ColinOBrady.com. Visit 12HourWalk.com and Instagram @12HourWalk, and download the 12HourWalk app to join the movement!
Praise For…
---
New York Times Bestseller

"An incredibly engaging and well-written account of one man's quest to cross the world's harshest and most barren continent unassisted . . . you care as much about the man as the mission."
—The Wall Street Journal

"O'Brady is a confident, crafty storyteller…This inner saga works hand in hand with the physical challenges to make for a full tapestry of remarkable experience. A brutally sublime tale of derring-do that transports as well as teaches."
—Kirkus Reviews

"Harrowing… An unforgettable memoir of perseverance, survival, daring to dream big, and showing the world how to make the impossible possible."
—Booklist (Starred Review)

"A jaw-dropping tale of passion and perseverance…If your dreams sometimes seem beset by doubts in equal measure, read this book. It will tip the balance."
—Angela Duckworth, author of Grit

"Colin O'Brady's amazing adventure is well-written and a fast read. But hang on to it after you finish. On down days go back to the book. It will pick up your spirits dramatically."
—Phil Knight, founder of Nike, Inc., and author of Shoe Dog

"Suspenseful, soul-searching, and at times metaphysical as O'Brady endures an endless sheet of white and ice…The book is a testament to the human soul and the amazing feats we can accomplish with training, willpower, and the singular resilience of the mind. You will learn from and be inspired by it."
—Buzz Bissinger, author of Friday Night Lights

"A page-turning story of adventure that goes so much deeper. Colin's relationship with his wife, Jenna, is explored through a powerfully vulnerable and honest lens. Anyone looking for a story of both grit and love will find it here."
—Rachel Hollis, author of Girl, Wash Your Face

"Impossible to put down. Fans of adventure narratives will love this astounding, triumphant journey. O'Brady's story deserves a place in the annals of human endurance and survival."
—Doug Stanton, author of In Harm's Way and Horse Soldiers

"O'Brady delivers a master class in overcoming the unthinkable, demonstrating the critical role that presence, gratitude, and relationships play in making any dream a reality."
—Rich Roll, author of Finding Ultra

"An irresistible read, The Impossible First asks one urgent question: With the right mindset, what is each of us capable of?"
—Wim Hof, creator of the Wim Hof Method

"Thrilling. Moving. Astonishing. The Impossible First takes you past the limits of what's possible, revealing the inner potential in all of us. Colin shows us that greatness isn't about the achievements of life, it's about how you get there and with who. This isn't simply an adventure story, it's a story about the human experience."
—Lewis Howes, author of The School of Greatness

"The body-breaking physical trials Colin endured and his mind-expanding, spiritual experiences are described here in an epic tale of adventure and discovery."
—Paul Simon, Grammy Award-winning songwriter

"Colin O'Brady's world-first accomplishment in solo crossing Antarctica is a triumph of lasting importance, and The Impossible First, his narrative of how it all unfolded, is an adventure classic…Colin's voice and vulnerability are bound to spark a connection in anyone who picks up this phenomenal book."
—Aron Ralston, author of Between a Rock and a Hard Place