What Kind of Quiz Book Are You?: Pick Your Favorite Foods, Characters, and Celebrities to Reveal Secrets About Yourself (Paperback)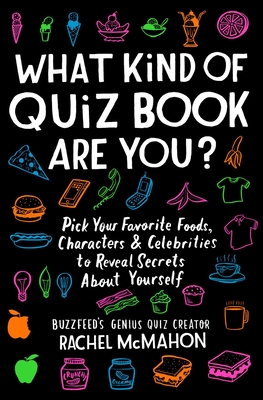 $16.00

Usually Ships in 1-5 Days
Description
---
From BuzzFeed's quiz-making genius—a witty and irresistible collection of whip-smart and pop culture savvy quizzes that reveals secrets and quirks you never knew about yourself.

Who hasn't clicked on an online quiz that suggests your choice of Pop Tart flavor (or favorite Jonas brother) will reveal your relationship status or hidden personality traits? (Hint: hundreds of millions of people have done this, and counting!) Perfect for all ages and backgrounds, this fun, light-hearted, and thought-provoking collection features both brand new and popular quizzes directly from BuzzFeed's viral sensation Rachel McMahon. Featuring additional irreverent commentary and breakdowns of quiz outcomes not previously published on such topics as who is your celebrity boyfriend based on what frozen yogurt you like to finding out whether you are more Phineas or Ferb based on your favorite sandwich toppings, What Kind of Quiz Book Are You? is an entertaining and laugh-out-loud collection like no other, destined to become as addictive as coloring books.
About the Author
---
Rachel McMahon is a college student at Grand Valley State University in Michigan. She began writing quizzes for BuzzFeed in April 2017, and quickly became one of their highest traffic-driving members worldwide. She lives in a small town just outside Grand Rapids.