The Women of the Copper Country: A Novel (Hardcover)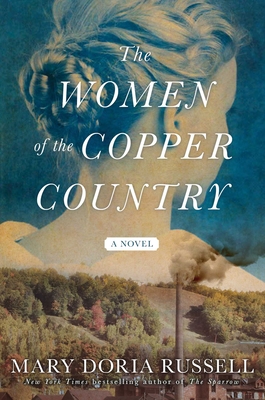 $27.00
Email or call for price
Staff Reviews
---
This book is fiction, but Annie Clement and many characters are based on real people. In 1913 the copper mines in Michigan's Upper Peninsula bring huge profits to the absentee mine owners. The miners' wives wonder if their husbands and sons, who are underground mining for paltry wages, will return home maimed or dead. After an especially horrifying instance of cruelty on the part of the mine manager, Annie Clements organizes the women and gets them to convince the men to strike. The national press covers the actions of the thugs who were hired by the mine manager to start riots, beat up and even kill the miners. Mother Jones arrives with money and advice. Only one merchant, a Jew who has escaped the cruelty of Czarist Russia, supports the strikers. He gives them credit and provides food, hiding places and a means of escape. That quiet hero is based on my Great Grandfather. —Elaine
— From
Elaine and Luisa's Picks: July - August 2019
Description
---
From the bestselling and award-winning author of The Sparrow comes an inspiring historical novel about "America's Joan of Arc" Annie Clements—the courageous woman who started a rebellion by leading a strike against the largest copper mining company in the world.

In July 1913, twenty-five-year-old Annie Clements had seen enough of the world to know that it was unfair. She's spent her whole life in the copper-mining town of Calumet, Michigan where men risk their lives for meager salaries—and had barely enough to put food on the table and clothes on their backs. The women labor in the houses of the elite, and send their husbands and sons deep underground each day, dreading the fateful call of the company man telling them their loved ones aren't coming home. When Annie decides to stand up for herself, and the entire town of Calumet, nearly everyone believes she may have taken on more than she is prepared to handle.

In Annie's hands lie the miners' fortunes and their health, her husband's wrath over her growing independence, and her own reputation as she faces the threat of prison and discovers a forbidden love. On her fierce quest for justice, Annie will discover just how much she is willing to sacrifice for her own independence and the families of Calumet.

From one of the most versatile writers in contemporary fiction, this novel is an authentic and moving historical portrait of the lives of the men and women of the early 20th century labor movement, and of a turbulent, violent political landscape that may feel startlingly relevant to today.
About the Author
---
Widely praised for her meticulous research, fine prose, and compelling narrative drive, Mary Doria Russell is the New York Times bestselling and award-winning author of The Sparrow, Children of God, A Thread of Grace, Dreamers of the Day, Doc, and Epitaph. Dr. Russell holds a PhD in biological anthropology. She lives in Lyndhurst, Ohio.
Praise For…
---
"Historical fiction that feels uncomfortably relevant today."
— Kirkus Reviews

"Fictionalized history with an important message that will resonate with contemporary readers."
— Booklist

"Carefully researched . . . . a worthwhile counterpoint to historical writing centered on 'great men.'"
— Publishers Weekly