The Spymasters: How the CIA Directors Shape History and the Future (Hardcover)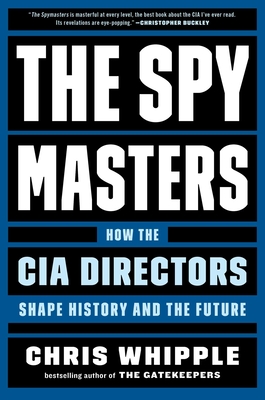 $30.00
Email or call for price
Description
---
From the New York Times bestselling author of The Gatekeepers, a remarkable, behind-the-scenes look at what it's like to run the world's most powerful intelligence agency, and how the CIA is often a crucial counterforce against presidents threatening to overstep the powers of their office.

Only eleven men and one woman are alive today who have made the life-and-death decisions that come with running the world's most powerful and influential intelligence service. With unprecedented, deep access to nearly all these individuals plus several of their predecessors, Chris Whipple tells the story of an agency that answers to the United States president alone, but whose activities—spying, espionage, and covert action—take place on every continent. At pivotal moments, the CIA acts as a brake on rogue presidents, starting in the mid-seventies with DCI Richard Helms's refusal to conceal Richard Nixon's criminality and continuing to the present as the actions of a CIA whistleblower have ignited impeachment proceedings against Donald Trump.

Since its inception in 1947, the Central Intelligence Agency has been a powerful player on the world stage, operating largely in the shadows to protect American interests. For The Spymasters, Whipple conducted extensive, exclusive interviews with nearly every living CIA director, pulling back the curtain on the world's elite spy agencies and showing how the CIA partners—or clashes—with counterparts in Britain, France, Germany, Israel, Jordan, Saudi Arabia, and Russia. Topics covered in the book include attempts by presidents to use the agency for their own ends; simmering problems in the Middle East and Asia; rogue nuclear threats; and cyberwarfare.

A revelatory, behind-the-scenes look, The Spymasters recounts seven decades of CIA activity and elicits predictions about the issues--and threats—that will engage the attention of future operatives and analysts. Including eye-opening interviews with George Tenet, John Brennan, Leon Panetta, and David Petraeus, as well as those who've just recently departed the agency, this is a timely, essential, and important contribution to current events.
About the Author
---
Chris Whipple is an author, political analyst, and Emmy Award–winning documentary filmmaker. He is a frequent guest on MSNBC, CNN, and NPR, and has contributed essays to The New York Times, The Washington Post, Los Angeles Times, and Vanity Fair. His first book, The Gatekeepers, an analysis of the position of White House Chief of Staff, was a New York Times bestseller. His follow-up, The Spymasters, was based on interviews with nearly every living CIA Director and was critically acclaimed. Whipple lives in New York City with his wife Cary.
Praise For…
---
New York Times Book Review Editors' Choice

"The best book about the CIA I've ever read. Its revelations are eye-popping, alternately exhilarating and depressing…How Whipple managed to pull so much history together, how he extracted such a wealth of detail from his principal sources—the CIA leaders themselves—is quite simply mind-boggling. This is an important book. And one hell of a story."
—Christopher Buckley, New York Times bestselling author of The White House Mess and Thank You for Smoking

"A genial, engaging portrait of the men and one woman who have run the C.I.A. over the past six decades….[Contains] a richly textured account of the operation targeting the Hezbollah leader Imad Mughniyah….In weighing success and failure, Whipple offers measured, sympathetic, on-the-one-hand-on-the-other-hand tallies of the merits and demerits for each of his spymasters."
—The New York Times

"A study of how the C.I.A. has at different times over the decades been both a target of presidential animus and a clandestine presidential plaything….All of this can make for some great reading….Whipple's interviews give plenty of rope for some of the former spy chiefs to hang themselves."
—Mark Mazzetti, Washington investigative correspondent for The New York Times and author of The Way of the Knife, writing in the digital weekly Air Mail

"A page-turner. Chris Whipple gives the reader tales of intrigue and masterfully tells the history of the nation's spymasters and their relationships to presidents, and how those interactions shaped history…..An engaging read of politics, off-the-books plots, and struggles for CIA identity and access…Rating: 3.5 out of 4 trench coats."
—The Cipher Brief

"If you're an American, The Spymasters is required reading."
—Chicago Review of Books

"Whipple's access and interviews are impressive [and his] exploration of the different dynamics of the directors themselves, the presidents they served, and the challenges each faced is fascinating….[The] writing is breezy, accessible, and compelling."
—The Diplomatic Courier

"Compelling…Chris Whipple does for the CIA and Washington DC what Plutarch did for those whose job it was to expand and defend the glory of Rome—paint an indelible portrait of how the servants of government seek to know and control the world….One theme emerges from the career of each director—how difficult it is to tell presidents anything they don't want to hear."
—Thomas Powers, Pulitzer Prize-winning author of The Man Who Kept the Secrets: Richard Helms and the CIA

"An expert chronicle of the CIA through the actions of its directors….This lively, opinionated history makes it clear that presidents and CIA directors sometimes deserve each other."
—Kirkus Reviews

"Riveting…a timely reminder of the outsized influence of our nation's intelligence bureaucracy—and the men and women who live in this wilderness of mirrors. 'They were all asked to do things they shouldn't do,' says Cynthia Helms, wife of the legendary CIA Director Richard Helms. Whipple explores these ethical quandaries with nuance and fairness."
—Kai Bird, Pulitzer Prize-winning author of The Good Spy: The Life and Death of Robert Ames

"Fascinating…Whipple parts the curtains on the dark art to show the triumphs and failures, the personalities and rivalries of those who work in the shadows of espionage."
—Tom Brokaw, Special Correspondent for NBC News and bestselling author of The Greatest Generation

"Chris Whipple is an accomplished historian, hard-nosed journalist, and master storyteller…A must-read for anyone interested in America's intelligence gathering and national security."
—James A. Baker, III, 61st U.S. Secretary of State

"Whipple makes excellent use of insider accounts and provides enough color to keep readers turning the pages. This well-written and accessible survey illuminates a neglected role in American history."
—Publishers Weekly

"Provides astute profiles of the men, and one woman, in charge of the modern Central Intelligence Agency, and the presidents for whom they have worked…Accurate, fair and informative."
—John W. Dean, Nixon Administration White House Counsel and bestselling author of Conservatives Without Conscience

"Better than anyone, Chris Whipple knows how to root out the secrets buried deeply in the federal bureaucracy…When he gives the most secret of our agencies a good shaking the headline stories and secrets come tumbling out…This is the CIA with the bark off, and Washington reporting at its best."
—Bob Schieffer, CBS News

"Engrossing…Whipple is at once clear-eyed and fair-minded while giving us a riveting read."
—Evan Thomas, New York Times bestselling author of The Very Best Men: The Daring Early Years of the CIA

"A highly readable, fair, and well researched history of the CIA over the past fifty years. Whipple comes neither to pillory the CIA nor to praise it but, rather, to understand it—and he fully succeeds."
—Max Boot, New York Times bestselling author The Road Not Taken: Edward Lansdale and the American Tragedy in Vietnam