Becoming a Man: The Story of a Transition (Paperback)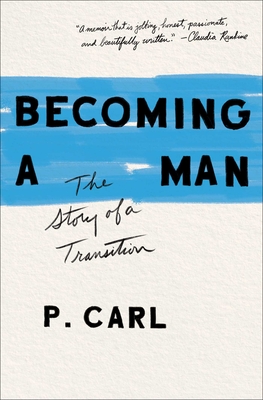 $17.00

Usually Ships in 1-5 Days
Description
---
A "scrupulously honest" (O, The Oprah Magazine) debut memoir that explores one man's gender transition amid a pivotal political moment in America.

Becoming a Man is a "moving narrative [that] illuminates the joy, courage, necessity, and risk-taking of gender transition" (Kirkus Reviews). For fifty years P. Carl lived as a girl and then as a queer woman, building a career, a life, and a loving marriage, yet still waiting to realize himself in full. As Carl embarks on his gender transition, he takes us inside the complex shifts and questions that arise throughout—the alternating moments of arrival and estrangement. He writes intimately about how transitioning reconfigures both his own inner experience and his closest bonds—his twenty-year relationship with his wife, Lynette; his already tumultuous relationships with his parents; and seemingly solid friendships that are subtly altered, often painfully and wordlessly.

Carl "has written a poignant and candid self-appraisal of life as a 'work-of-progress'" (Booklist) and blends the remarkable story of his own personal journey with incisive cultural commentary, writing beautifully about gender, power, and inequality in America. His transition occurs amid the rise of the Trump administration and the #MeToo movement—a transition point in America's own story, when transphobia and toxic masculinity are under fire even as they thrive in the highest halls of power. Carl's quest to become himself and to reckon with his masculinity mirrors, in many ways, the challenge before the country as a whole, to imagine a society where every member can have a vibrant, livable life. Here, through this brave and deeply personal work, Carl brings an unparalleled new voice to this conversation.
About the Author
---
P. Carl is a Distinguished Artist-in-Residence at Emerson College in Boston and was awarded a 2017 Art of Change Fellowship from the Ford Foundation, the Berlin Prize fellowship from the American Academy for the Fall of 2018, the Andrew W. Mellon Creative Research Residency at the University of Washington, and the Anschutz Fellowship at Princeton for spring of 2020. He made theater for twenty years and now writes, teaches, travels, mountain climbs, and swims. He resides in Boston and lives with his wife of twenty-two years, the writer Lynette D'Amico and their dogs Lenny and Sonny. Becoming a Man is his first book.