The End of Everything: (Astrophysically Speaking) (Hardcover)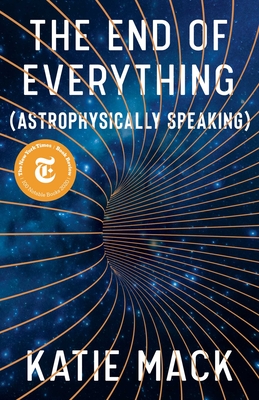 Description
---
A NEW YORK TIMES NOTABLE BOOK OF 2020
NAMED A BEST BOOK OF THE YEAR BY * THE WASHINGTON POST * THE ECONOMIST * NEW SCIENTIST * PUBLISHERS WEEKLY * THE GUARDIAN

"A thrilling tour of potential cosmic doomsdays....Mack's infectious enthusiasm for communicating the finer points of cosmological doom elevates The End of Everything over any other book on the topic." —The Wall Street Journal

"I found it helpful—not reassuring, certainly, but mind-expanding—to be reminded of our place in a vast cosmos." —James Gleick, The New York Times Book Review

From one of the most dynamic rising stars in astrophysics, an accessible and eye-opening look at five ways the universe could end, and the mind-blowing lessons each scenario reveals about the most important concepts in cosmology.

We know the universe had a beginning. With the Big Bang, it expanded from a state of unimaginable density to an all-encompassing cosmic fireball to a simmering fluid of matter and energy, laying down the seeds for everything from black holes to one rocky planet orbiting a star near the edge of a spiral galaxy that happened to develop life as we know it. But what happens to the universe at the end of the story? And what does it mean for us now?

Dr. Katie Mack has been contemplating these questions since she was a young student, when her astronomy professor informed her the universe could end at any moment, in an instant. This revelation set her on the path toward theoretical astrophysics. Now, with lively wit and humor, she takes us on a mind-bending tour through five of the cosmos's possible finales: the Big Crunch, Heat Death, the Big Rip, Vacuum Decay (the one that could happen at any moment!), and the Bounce. Guiding us through cutting-edge science and major concepts in quantum mechanics, cosmology, string theory, and much more, The End of Everything is a wildly fun, surprisingly upbeat ride to the farthest reaches of all that we know.
About the Author
---
Dr. Katie Mack is a theoretical astrophysicist, exploring a range of questions in cosmology, the study of the universe from beginning to end. She is currently an assistant professor of physics at North Carolina State University, where she is also a member of the Leadership in Public Science Cluster. She has been published in a number of popular publications, such as Scientific American, Slate, Sky & Telescope, Time, and Cosmos magazine, where she is a columnist. She can be found on Twitter as @AstroKatie.
Praise For…
---
"Excellent, far-reaching...The book is the perfect antidote to the malaise of mundane worries." —Science

"Despite her solemn theme, her humour and eclectic references (from Shakespeare to "Battlestar Galactica") carry the book along. Even through discussions of cutting-edge science, the general reader is never bewildered." —The Economist, Best Science Books of 2020

"Weird science, explained beautifully." —John Scalzi

"In which everything ends, or doesn't, with bangs and whimpers. Like many good serious books, it's also funny." —Sarah Bakewell, author of At the Existentialist Café

"Katie Mack is a great scientist, a passionate inquirer of nature, a great companion in this exploration, full of wit and lightness. I have learned from her plenty of things I did not know. And I have found myself staring out of the window, meditating about the end of it all." —Carlo Rovelli

"Engrossing, elegant...[Mack] sprinkles in delightful esoterica along the way, while providing a guide to some of the most plausible scenarios about the end of the universe." —The New York Times

"An accessible, enthusiastic survey of scientific forces. Lively and original, this is science writing done right." —Publishers Weekly, Best Nonfiction of 2020

"A whirlwind tour of our possible demises and what investigating the options can reveal about physics. Through informal but rigorous prose, Mack describes the weird wrinkles and implications of these potential endings." —Scientific American

"If you need a moment to be distracted from everyday life and journey to the deep cosmic future, I highly recommend The End of Everything." —New Scientist

"Far from being depressing, Mack's account mixes a sense of reverence for the wonders of physics with an irreverent sense of humor and a disarming dose of candor." —ScienceNews

"Reading about the ultimate death of the universe…will immerse you in the astonishing weirdness of our wider surroundings, and remind you of the ingenuity of scientists who have spent centuries trying to read the cosmic tea leaves." —Vice.com

"In Mack's hands, this speculation [about the end of the universe] makes for a fascinating story.… She is a talented communicator of complex physics, and the passion and curiosity about astronomy that have made her a popular speaker and Twitter presence are evident here." —Nature

"[Mack] creates an accessible, easy-to-digest guide to how the universe might end, speaking in a casual way that feels like sitting down for coffee with a good friend — one who can break down the physics of destruction into bite-sized delights." —Discover

"An 'Interstellar'-level of mind-bending and eye-opening theories as to what the end of our universe could hold." —USA Today

"Mack takes an otherworldly subject—the death of the universe—and brings it down to earth....The End of Everything will delight both casual science readers and those looking for more in-depth analysis of theoretical astrophysics." —BookPage

"Thinking through the science of end times is actually a thrill....Mack's pleasing writing style makes speculating about the death of the universe unexpectedly entertaining." —Kirkus Reviews

"Anyone wondering what to read after Brian Greene's Until the End of Time will relish this blend of wit and deep thought." —Library Journal

"An enthusiastic celebration of the fact that we exist at all, here, right now, and are able to wonder about such stuff." —Sydney Morning Herald

"Mack's endlessly entertaining survey is infused with a palpable love of her subject, and will transmit to readers the same joy she finds in exploring the wide and fascinating universe." —Publishers Weekly, STARRED review

"The End of Everything combines deep thinking about physics and big-picture awe in the style of Carl Sagan." —Randall Munroe, author of xkcd and What If?

"This book teaches you that the universe could end at any moment, but is so good that you will be rooting for it not to —at least, not until you finish the book. Katie Mack's witty, lucid prose is endlessly delightful." —Alexandra Petri, Washington Post columnist

"Everything dies, even the universe. But will it be a peaceful fading away, or a dramatic cataclysm? Scientists don't know for sure, but Katie Mack provides an expert and entertaining guide to the possibilities. Who knew a book about the end of the universe could communicate so much passion for science?" —Sean Carroll, author of Something Deeply Hidden: Quantum Worlds and the Emergence of Spacetime

"Joyous, beautiful and strange. . . filled with brilliant moments where you just have to stop and stare out of the window for a while." —Robin Ince, author of How to Build a Universe