Macbeth in Harlem: Black Theater in America from the Beginning to Raisin in the Sun (Hardcover)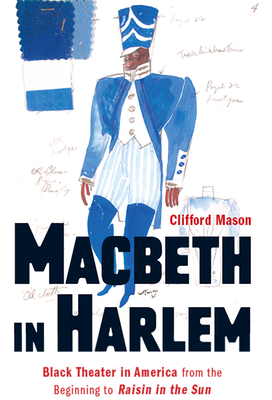 $32.95

Usually Ships in 1-5 Days
Description
---
2020 George Freedley Memorial Award Special Jury Prize from the Theatre Library Association​
2021 PROSE Awards Finalist, Music & the Performing Arts

In 1936 Orson Welles directed a celebrated all-black production of Macbeth that was hailed as a breakthrough for African Americans in the theater. For over a century, black performers had fought for the right to perform on the American stage, going all the way back to an 1820s Shakespearean troupe that performed Richard III, Othello, and Macbeth, without relying on white patronage.

"Macbeth" in Harlem tells the story of these actors and their fellow black theatrical artists, from the early nineteenth century to the dawn of the civil rights era. For the first time we see how African American performers fought to carve out a space for authentic black voices onstage, at a time when blockbuster plays like Uncle Tom's Cabin and The Octoroon trafficked in cheap stereotypes. Though the Harlem Renaissance brought an influx of talented black writers and directors to the forefront of the American stage, they still struggled to gain recognition from an indifferent critical press.

Above all, "Macbeth" in Harlem is a testament to black artistry thriving in the face of adversity. It chronicles how even as the endemic racism in American society and its theatrical establishment forced black performers to abase themselves for white audiences' amusement, African Americans overcame those obstacles to enrich the nation's theater in countless ways.
About the Author
---
CLIFFORD MASON is a celebrated playwright, actor, director, and critic who has been involved in the theater for four decades and has written thirty-four plays. He is also the author of The African-American Bookshelf: 50 Must-Reads, a history of black literature from colonial times to the present. He resides in New York City.
Praise For…
---
"Clifford Mason's '
Macbeth' in Harlem
is a fascinating, comprehensive, and personalized account of the history of African American theater. The book guides us through the early musicals, plays, and performers who, despite enormous obstacles, created theatrical successes. Mason offers a richly detailed and broadly conceived study of this exciting period before the landmark
A Raisin in the Sun
."
— David Krasner
"In '
Macbeth' in Harlem
, Clifford Mason compellingly recounts the triumphs, struggles, and perseverance of early black theater practitioners. Performing Shakespeare as well as other dramatists became a vehicle for these daring, resilient, and, as Mason notes, heroic black artists to resist racism and share their genius. Moving from Ira Aldridge to Paul Robeson, from the early 1800s all the way up and through the 1950s, Mason's lively chronicle is both revealing in its historic detail and relevant to the position of black theater arts today."  
— Harry J. Elam, Jr.
"Engaging, analytical, and a refreshing historical account of the development of black theater in the United States from slavery and Reconstruction to the 1950s, Clifford Mason's important book brilliantly analyzes challenges, setbacks, and persistent creative modes of black expression that gave rise to black careers on and off stage. Walking readers through different historical episodes and moments in chronological order, from early to mid-twentieth century U.S. history, including the creation of the African Grove Theatre, Ira Aldridge's fame as a Shakespearean legend, and the successful undertakings of playwright Eugene O'Neil and actors Charles Gilpin and Paul Robeson all the way up to 
A Raisin in the Sun
, Mason unapologetically documents social forces, inspiring events, and circumstances that were driven by the artistic inspirations, achievements, and show business successes of major black entertainment professionals."
— Ronald J. Stephens
"Clifford Mason's
Macbeth in Harlem
astutely combines cultural studies, memoir, and personal recollection into a must-read narrative history of African American theatre from its beginnings to
A Raisin in the Sun
. Using a rather informal yet compelling mode of storytelling, Mason illuminates the underlying complexity, fraught tensions, and tribulations that define this history. More than thirty years in the making, this study is a rewarding act of textual recovery, one that profitably retraces and reinterprets our extant knowledge of Black theatre."  
— John Edgar Tidwell
"New Books Network - New Books in Intellectual History" interview with Clifford Mason
https://newbooksnetwork.com/clifford-mason-macbeth-in-harlem-black-theater-in-america-from-the-beginning-to-raisin-in-the-sun-rutgers-up-2020/
— New Books Network - New Books in Intellectual History
"A timely book...His commentary is important; some observations spot-on."
— New York Theater
"Sharply written in a conversational tone that balances friendly sarcasm with burning poignancy, 
Macbeth in Harlem
 inspects the absence of Black heroes that reflect "realistic portrayals of Black life" in mainstream US theatre and drama....[M]ost noteworthy and useful to readers is the project's painstaking archival use of newspaper reviews to analyze the cultural reception of the artistic works by Black artists....[An] excellent use of newspaper archives."
— TDR
Macbeth in Harlem interview with Clifford Mason on the Root and Roots Show
— The Root and Roots Show
"Mason's voice shines bright and clear throughout, especially as he discusses the indignities that Black actors endured just to perform live theater… Mason also offers the provocative assertion that 'the true romance of America was the romance of the fugitive slave.' He contrasts the slave narrative with other sentimental US tales, including the displacement of Indigenous people, the 'New England character' of Emerson and Hawthorne, or the 'Virginia plantocracy' of Thackeray."
— The Gotham Center for the History of New York
"Mason's book is one part history, one part memoir, and one part cultural history study. As a gifted playwright, Mason writes in a narrative style that is engaging and stirring. Highly recommended."
— Choice