Blood Pressure: Blood Pressure Solution: 54 Delicious Heart Healthy Recipes That Will Naturally Lower High Blood Pressure and Reduce H (Paperback)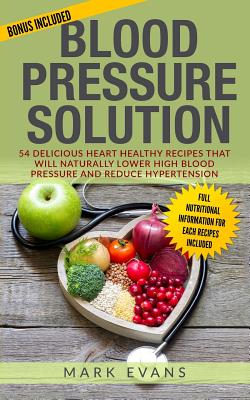 for information about purchasing this book, please contact orders@bookpassage.com
Description
---
Blood Pressure Series Book #2
Are you tired of hearing your doctor talk to you about your rising blood pressure levels? Do you moan inside when health professionals hand you pamphlets regarding information about hypertension? Does it seem like no matter what you eat or do on a regular basis you cannot seem to curb those levels to a reasonable number? If some or all of these apply to you, you have reached out to the right place
The Blood Pressure Solution was written to bring to light one of the main medical ailments that plague many individuals and why they can be detrimental to your health. It is all about eating the right combinations of food that allow us to intake fewer amounts of sodium, which in the long run, will decrease both your hypertension and blood pressure levels.
The contents of this book include:
The dangers that rising blood pressure levels can have on your body
A range of delicious recipes that are safe to consume if you are trying to lower hypertension and blood pressure
And more
Each of the recipes is designed not only to be healthier for you but easy to make all the while not sacrificing your taste buds and ultimate satisfaction Why should you have to waste the rest of your life eating cardboard and things that make you hungrier? Life should be lived to the fullest and anyone, even people with health issues should not have to skimp out on delicious and nutritious foods
Isn't it about time you put down that expensive, nasty health food and conquered your enemy of blood pressure and hypertension at the source? It is time that you owe it to yourself to live smarter, not harder. This book has a variety of recipes that can be made at any hours of the day and during any day of the week Find the ones that fit into your lifestyle, satisfy your taste buds and lower your levels back down to create a healthier version of you You owe it to yourself to save money, decrease sodium and be happier with your way of life. It is time to purchase and crack open the delightfulness that this recipe book has to offer you
Good luck as you embark on the journey to becoming a healthier you You will see and feel the difference. And your doctor will too.