A Voice out of Poverty: The Power to Achieve through Adversity (Paperback)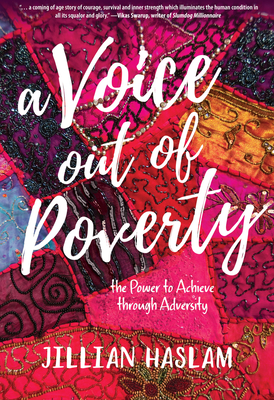 Description
---
WINNER OF THE MOTHER THERESA INTERNATIONAL MEMORIAL AWARD

". . . a coming of age story of courage, survival and inner strength which illuminates the human condition in all its squalor and glory."—Vikas Swarup, writer of Slumdog Millionnaire

From Devastating Poverty and Childhood Trauma to International Standing

Rising from the slums of Calcutta, where Jillian Haslam and her family were forced to live after British colonization ended, A Voice out of Poverty traces the remarkable journey of this determined, and compassionate woman as she uses her story and her voice to speak for the poor and powerless.

Haslam first embodied her fierce will to never give up as a young girl, when she stood for hours at a tea shop, begging for a ladle of milk to keep her newborn sister from dying of starvation.

A Voice out of Poverty leaves the reader asking how someone so young had the tenacity to overcome so much—and then go back to face it all again in a passionate effort to spare others from the suffering that she endured and witnessed all around her growing up.

"It is no Cinderella story, but rather emphasizes hard work and sheer courage. Poverty, gender, and race are at the forefront of our problems—and indeed, problems worldwide." —Shachi Amdekar President, Cambridge University International Development Society, UK
About the Author
---
Jillian Haslam is an international motivational speaker, business coach, educator, author, philanthropist, and survivor.

Born to parents of British ancestry who stayed in India after its independence, she relied on the charitable kindness of others and the life lessons she learned on the streets to survive disease, malnutrition, continual abuse, and the deaths of multiple siblings at a young age.

Against all odds, she secured her first big job as a personal assistant to the CEO at the Bank of America in India. Her passion to help others from similar situations as her own led her to the charitable department within Bank of America. She then went on to launch six nonprofit organizations across India, personally overseeing the creation of school programs and training programs to help empower students.

Haslam now resides near London and travels the world utilizing her wisdom and vision to help others, inspiring everyone she meets along the way.
Praise For…
---
"Haslam unflinchingly shares stories about the struggles she and her siblings faced, the troubles that her parents fought through and the unwavering resiliency to remain kind and faithful through it all." —Emma Mayer, Newsweek

"A remarkable account that captures the horror of hardship and the power of charity." —Kirkus Starred Review

"A moving and uplifting memoir about one woman and her family's battle against soul-crushing poverty.…testimony to the indomitable human spirit." —Booklife

"Jillian is remarkable not only for overcoming her own history but for using it as an upbuilding example with which to help others. She does not feel sorry for herself or ask for sympathy, rather she seems to wish us to connect with the millions who, like her, had very tough childhoods of extreme poverty." —Rani Singh, BBC Broadcaster and author of Sonia Gandhi: An Extraordinary Life, An Indian Destiny

"A startling account of an English/Indian family which stayed in India after Indian independence and suffered through excruciating times … while living in conditions on the margin of slums and homelessness. Amazing to learn from such real-life experiences, it shows how the past does not have to determine one's future." —Tom Groenfeldt, Freelance journalist & Writer, Forbes Magazine, NYC, USA

"A more heartbreaking story is hard to come by and yet her success is truly amazing." —The Times

"... Knowing starvation, she and her sister would dig in drains for schoolmates' leftovers. She knows the value of giving food to a poor kid and wants nothing more but to help people better their lives." —The Pioneer

"A shocking read. Jillian suffered an excruciating childhood but her determination of a better life helped her rise above the horrific circumstances and made her a successful businesswoman. A truly inspirational story." —Channel 5 News UK

"UK-based motivational speaker, author, trainer, and philanthropist Jillian Haslam may now have a lovely house, cars, and companies in her name. But carving out this life for herself required unfathomable courage and persistence in the face of crippling poverty." —The Week

"Dozens of letters flowed into the newspaper. Heartbreaking statements like: Jillian's inspirational story should be included in textbooks as a lesson for children. I cried in pain and then cried in relief. I have never seen, heard or imagined such poverty and misery. I salute you, Jillian. Jillian is an institution. Her life is full of lessons. She is an icon, Jillian has made India proud, a worthy example." —The Telegraph

"Jillian Haslam's unforgettable memoir, makes Slumdog Millionaire look like the fantasy it is!" —Manuel Freedman, Filmmaker, and Author, MFM, Los Angeles, CA, USA

"Her own life has been exemplary in many ways; her capacity to deal with adversity seems immeasurable. I was very much affected by the book, in a positive way. I am certain every reader will find inspiration and lessons from this hard-hitting autobiography and will learn even more when listening to her telling her story of how she goes from a life of nothing to achieving unbelievable success." —Ambi Venkateswaran, Consultant, Aozora Bank Ltd., Tokyo (Formerly, CEO, Bank of America Corporation) .

"We have much to learn from this story of resilience and from a will that is unwilling to relent." —Sundara Rajan, Barclays, UK.

"Poverty, gender and race are at the forefront of our problems and indeed, worldwide. Jillian's experiences fascinated the student members of CUiD, not merely because of the instinctive appeal of her rags-to-riches tale. It is no Cinderella story, but rather emphasizes hard work and sheer courage. The depth of her story was not lost upon us, with the inclusion of social factors that contribute to poverty." — Shachi Amdekar, President, Cambridge University International Development Society (CUiD), Centre of Development Studies (POLIS)

"Haslam's compelling memoir recounts the penury of her Calcutta childhood and her subsequent determination to become a force for social change. [It is] is a vivid, harrowing, and inspiring account of survival, triumph, and a career in charitable outreach." —Foreword Reviews

"A Voice out of Poverty, is a coming of age story of courage, survival and inner strength which illuminates the human condition in all its squalor and glory." —Vikas Swarup, writer of Slumdog Millionnaire

"A Voice out of Poverty is riveting and essential reading. It authentically lifts the silence that hangs over the lives of the poor and the severe challenges and stigmas faced by British families who stayed in India after India's independence. I've seen those conditions myself, and Jillian Haslam's harrowing account is full of deep insight about the crushing ways in which gender discrimination, class, corruption, and injustice shape possibility. And yet, we are lifted by Haslam's triumph when she forges the opportunity to succeed––only to bring others with her." —Joanna Lumley, actress, TV producer, activist

"As someone who grew up in Canada, I had almost zero knowledge about the Anglo-Indian community, its history, and the prejudices it faces. In this raw and honest memoir, Jillian Haslam shares her family's struggles, but also the power of story to help survive and overcome the worst traumas. An inspiring page-turner." ––Farzana Doctor, award-winning author of Six Metres of Pavement and All Inclusive

"Jillian Haslam's story is one of the most harrowing and triumphant I have ever read. Just when you think things couldn't get any more tragic, it does. One hardship after another, this woman had the fortitude to not just persevere, but to create a new standard of what it means to give back. Her stirring spirit is a beacon of much needed light in today's world." –– Sheetal Sheth, actress, producer, author, activist

"… a powerful and transformative read. Taking inspiration from her hero, Mother Teresa, Jillian 'does ordinary things with extraordinary love' and has helped thousands of children to escape poverty through the work of Remedia Trust, the charity she founded. The greatest gift this book offers, however, is the living proof that poverty and discrimination does not have to define our lives and that forgiveness, gratitude and generosity can reshape our future." ––Dr Elizabeth Jordan, Distinguished Toastmaster (DTM)

"Jillian and I worked closely together for three years, and it was clear from day one that she was truly extraordinary. Even so, I had no idea of the many obstacles she had to overcome until reading this book. Her incredible success is in no way surprising, and her life story is as inspirational as it is shocking. A must read!" ––Dave Wexler, Managing Director, West Monroe Partners, New York (Formerly SVP, ABN AMRO Bank, London)

"Jillian Haslam's improbable journey growing up in Calcutta is enormously compelling—a story almost too dramatic and improbable to believe, like something out of Dickens, yet true. It's a story that has the power to move, with an epic sweep, yet it is intensely personal. It has something to say about the human condition that can cross borders, both physical and emotional, as Jillian has done. Her inspirational tale of determination to not just survive but to flourish against all odds is tailor-made for the cinema, and I cannot think of a more worthy project to make happen." —Jack Sholder, Hollywood Film Director, Nightmare on Elm Street

"A Voice out of Poverty is a vivid, harrowing, and inspiring account of survival, triumph, and a career in charitable outreach." —Foreword Reviews

"… more than a singular memoir of achievement, but a broader inspection of how personal experience can drive social and political change… A Voice out of Poverty's powerful message needs to be heard. This memoir should not be limited to library autobiography sections alone, but should be made part of book and social issues discussion groups, studies on contemporary Indian society, and examinations of the changing roles of women in leadership positions." —Diane Donovan, Sr. Reviewer at Midwest Book Review

"A beautiful story of resiliency that never shies away from the horrors and hardships that made Haslam the woman she is today. Recommended for fans of Brené Brown and those who enjoy self-empowerment books." —Library Journal