One Day in the Valley of the Kings (Paperback)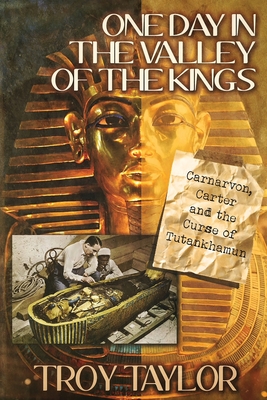 $17.00

Usually Ships in 1-5 Days
Description
---
ONE DAY IN THE VALLEY OF THE KINGS
CARNARVON, CARTER AND THE CURSE OF TUTANKHAMUN
BY TROY TAYLOR
"Can you see anything?"
"Yes, wonderful things "
Howard Carter and his benefactor, the Earl of Carnarvon, could never have imagined the wonders that awaited them on that afternoon in November 1922 when they peered through a small hole in the doorway of a tomb in the Valley of the Kings. And neither could they the string of mysterious deaths that would soon follow
Since 1922, the world has been fascinated with not only the story of Tutankhamun's tomb but also the alleged curse that has claimed dozens of lives since it was opened. In this thrilling book, author Troy Taylor tackles the true story of the so-called "Curse of Tutankhamun" in a way that has never been done before - leaving out the half-truths and sensationalized stories to present a tale that is so strange and so unnerving that it's more terrifying than any fiction.
Can we ignore the strange deaths, murders, fires, and tragedies that were linked to Tutankhamun's tomb? Or should we dismiss them all as coincidences? Are they stories simply stories made up by reporters - or was there something far more sinister at work? Discover these mysteries and more for yourself in this exciting and often hair-raising book