Men Unlike Others: Volume 1, A-L (Hardcover)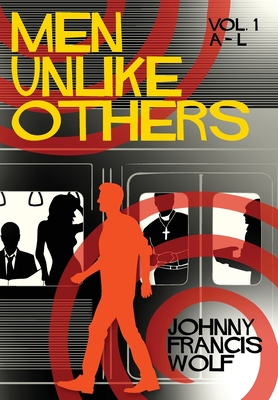 $29.99

Usually Ships in 1-5 Days
Description
---
There are NYC subway passengers sitting, almost swirling across from you.
No rhyme or reason as to who is next to whom. Worthy subjects, apart or together, for Norman Rockwell's brush, Saul Bass's graphic hand, or Johnny Francis Wolf's quill.
A battered, old homeless man is given wide berth. Young gay couple share a giggle, scantily clad and on their way to a Pride event. Little boy in Mother's lap staring, charmed by a face. Blind man pets the dog asleep between familiar legs.
Businessman, NY Times spread wide, is distracted by the shirtless lads laughing to his right. Ladyboy prostitute in daring dress and heels hangs dearly on a subway handgrip. Priest standing, facing door, eyes averted toward our hooker, wondering if the cleavage real, ignores the beggar reaching out a hand for help.
Way over to our left, a bearded man in red. Santa hat adorns his head.
No one is on their device.
----------
Insightful, often painfully truthful writing about the vagaries of life as a far from 'one size fits all' person. Go, Johnny
- David Wagoner, author of THE FLUTE MAKER'S APPRENTICE and QUEEN OF THE NIGHT
Wolf has the most primal poetry around; you feel like you're deep in the wilderness of the human heart. There's a joy there, an enthusiasm, an excitement. He knows where the words are. It's a powerful thing to experience such tender yet intensely beautiful art.
- Phoenix, author of ROGUE
Lyrical genius, his verse unmatched by any writer in any century. Life sparkles through the veins of his stanzas; sadness, love, gratitude, friendship, loneliness, ethereal joy, and everything they contain inside their skins. Johnny's work is music to the hearts of those who truly love poetry.
- Tanya Rakh, author of HYDROGEN SOFI and WILDFLOWER HELL
His words are lenses that both reflect and probe deeper. His poems are the raw human condition while also being something more, just as we are.
- Jessica Mandella, author of HEAVEN'S BRIDES, original recording artist
Johnny's poetry is artistically masterful. Each piece is a beautifully rhythmic adventure into unique worlds of penetrating imagery, nostalgic sensibility, and biting modernity.
- John Drudge, author of THE SEASONS OF US, NEW DAYS, and FRAGMENTS
Lyrical, graphic, brutal, tender, quirky, intimate, and awesome - the work of Johnny W redefines the LGBTQIA rainbow through the multifaceted lenses of a life lived well, embellished for farce, filled with hope, healing, and laughter.
- Carolyn Brissett of Translators Caf and World Cat Identities
Treading lightly is for normies, and honestly one of their worse ideas.
- William Jackson, Philosopher & Poet