The Winter Guest: A Mystery (Hardcover)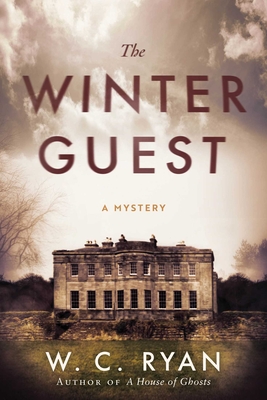 $26.99

Usually Ships in 1-5 Days
Description
---
A haunting, atmospheric mystery set against a country divided, by the author of A House of Ghosts.

January 1921. Though the Great War is over, in Ireland a new civil war is raging. The once-grand Kilcolgan House, a crumbling bastion shrouded in sea mist, lies half empty and filled with ghosts, both real and imagined, while it shelters the surviving members of the Prendeville family. Then, when an IRA ambush goes terribly wrong, Maud Prendeville, Lord Kilcolgan's eldest daughter, is killed, leaving the family reeling. Yet the IRA column behind the attack insists they left her alive, that someone else must be responsible for her terrible fate. Captain Tom Harkin, an IRA intelligence officer and Maud's former fiancé, is sent to investigate. He becomes an unwelcome guest in this strange, gloomy household.

Working undercover, Harkin must delve into the house's secrets—and discover where, in this fractured, embattled town, allegiances truly lie. But Harkin too is haunted by the ghosts of the past and by his terrible experiences on the battlefields. Can he find the truth about Maud's death before the past—and his strange, unnerving surroundings—overwhelm him?

The Winter Guest is a gripping and immersive read for fans of classic mysteries by the likes of Agatha Christie and Dorothy Sayers along with Charles Todd's Ian Rutledge series, Ann Cleeves, and Jacqueline Winspear.
About the Author
---
W. C. Ryan is also known as William Ryan, who has won acclaim for his historical crime novels in the Captain Korolev series. The first book, The Holy Thief, was shortlisted for a Crime Writers' Association's New Blood Dagger, a Barry Award, the Kerry Group Irish Fiction Award, and the Theakston's Crime Novel of the Year. The second, The Bloody Meadow, was shortlisted for the Ireland AM Crime Novel of the Year, and the third, The Twelfth Department, was also shortlisted for the Ireland AM Crime Novel of the Year as well as the CWA's Historical Fiction Dagger and was a Guardian Crime Novel of the Year. His books have been published in eighteen countries. William lives in London and teaches creative writing at City University.
Praise For…
---
"A stunning book, beautifully written. . . .  I'm haunted by it. . . . I felt the chill of the house and the sadness of the situation. And cheered at the end."—Ann Cleeves, New York Times bestselling and award-winning author of the Vera and Shetland series
 
"A perfectly crafted mystery that evokes the precise chilly atmosphere of Ireland after the Great War, limping towards independence through blood sacrifice and brutality. Vivid, compelling and deeply moving, it is a triumph both as a crime novel and a work of historical fiction."—Jane Casey, Sunday Times bestselling and award-winning author of the Maeve Kerrigan series
 
"Haunting and exquisitely written. Part intricate mystery and part ghost story. This book will stay with me for a long time."—Anna Mazzola, author of The Unseeing

"A haunting, gripping novel . . . hugely evocative, with some absolutely beautiful writing which captures the profound unease of the times and the bleak nature of the landscape. I really loved this book."—Elodie Harper, author of The Wolf Den
 
"Works superbly on several levels. . . . This is a most welcome winter guest indeed, to be greeted by the fire with drink in hand."—Irish Times

"A murder mystery, ghost story, and historical novel all wrapped up in one. In this beautifully written book, set in rural Ireland shortly after World War I, Ryan does exactly what many historical fiction writers strive to do: organically and convincingly builds a mystery within a historical reality."—Historical Novel Society

"Evocative, atmospheric, a superb historical mystery written with understated elegance . . . W. C. Ryan draws us into the world of Tom Harkin, a shell-shocked soldier from the First World War, now playing a shadowy role in Ireland's War of Independence."—Globe and Mail, "100 best books of 2022"

"The decrepit rural estate called Kilcolgan House is a fit setting for the political complexities of civil-war-era Ireland in W.C. Ryan's The Winter Guest. An aristocratic Protestant woman allied to the movement for independence has been killed at the gates of the property. Was she an inadvertent victim of the IRA or is someone else to blame?"—New York Times Book Review, "A Cornucopia of Stories from the Past"

"A treat . . .W. C. Ryan evokes this moody, gothic atmosphere with convincing skill. Harkin is a sensitive, complex character and his quest to solve the mystery is deftly plotted."—Times (London)

"A ripping yarn . . . Deft and assured. . . . Like le Carré, Ryan's novels converge at the point where crime fiction, the historical novel and the spy thriller intersect. . . John Buchan [is] another writer with whom Ryan shares an affinity."—Sunday Times (London)

"A bewitching whodunit . . .  A serendipitously timed, impeccably researched and utterly intriguing historical mystery that lays bare the societal fractures caused in Ireland's fight for freedom."—Irish Independent

"Wickedly clever . . . A tasty, Irish-flavoured cocktail of murder and mystery, liberally sprinkled with spooky atmospherics and best read in the glow of a roaring fire. . . . Perfectly pitched, The Winter Guest is a multi-layered, twisting turning masterpiece that moves deftly through a claustrophobic miasma of bitter recriminations, divided loyalties, ghostly shadows, deadly deeds, dangerous double-crossing, and thrills that chill to the bone."—Lancashire Evening Post

"[A] fine mystery . . . Fans of Charles Todd's Ian Rutledge series will want to check this out."—Publishers Weekly

"Both a sobering, salutary Irish history lesson and a clever whodunnit with a bracing whiff of the supernatural."—Daily Express

"A beautifully taut and evocative thriller."—Sarah Hilary, author of the Marnie Rome series

"Superb . . . I could not put it down."—Elizabeth Buchan, international bestselling author

"Atmospheric and genuinely eerie, this is an ideal winter read."—Sinead Crowley, bestselling author of the DS Claire Boyle series

"A terrifically atmospheric, gripping novel."—Amanda Craig, author of The Golden Rule

"Haunting, beautifully crafted, and full of heart. Perfect reading for dark days."—A. K. Benedict, author of The Christmas Murder Game

"Beautifully written, haunting and unmissable."—Cass Green, bestselling author of The Woman Next Door

"Excellent murder mystery/ghost story set during the Irish war of independence and as usual with W.C. Ryan, beautifully written."—Liz Nugent, international bestselling author of Lying in Wait

"Intriguing, haunting, romantic and beautifully written, I cared as much about the fate of the characters as about the gripping mystery."—Laura Marshall, Sunday Times bestselling author