Transition Thunderstorms (Paperback)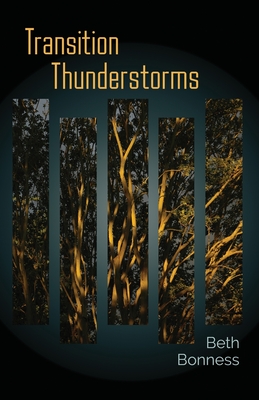 $14.00

Usually Ships in 1-5 Days
Description
---
Finalist in The Poetry Box Chapbook Prize, 2021
All her life Beth Bonness tingled with the sight of approaching thunderstorms-watching them over the wide expanse of a lake or far away mountains-the electrifying steel blue background with the sun on her back reflecting an eerie Tuscan yellow light of a childhood-giggled "storm's a coming" cast on unsuspecting trees and anything else between you and the rain, the thunder and lighting, and unexpected life events that soak you to the bone. The poems in Transition Thunderstorms are about life's soaking you to the bone.
"In
Transition Thunderstorms,
poet Beth Bonness takes us inside the stroke victim's mind with poems playfully organized on the page to show how in the midst of a thunderstorm or a stroke, the normal rules do not apply. Her 'thanksgiving with a side of no thank you' poems show the fear and frustration, the outer and inner struggles with rare honesty and clarity."
-Sue Fagalde Lick, president, Oregon Poetry Association, author of Gravel Road Ahead andThe Widow at the Piano
"Anyone who has had a stunning body-breakdown can relate to Beth Bonness' exquisitely written journey into (and thru) the thunderstorms in her brain. Her words resonate with fierce beauty, angst and resilience."
-Anne Mendel, award-winning authorof Etiquette for an Apocalypse
"Transition Thunderstorms
offers breathtaking insights into life events we find hard to talk about with the people we love most. The book is a tender and honest lifeline to reconnection. Her poetry articulates truths of recovery with gentleness and compassion and resonates hope."
-Roxanne Colyer, award-winning artist, writer, and bio-energy healer